The Web3 Crypto On/Off-Ramp Guide
This guide covers the essentials of crypto on/off-ramping, explaining how to buy and sell crypto using fiat currencies. It discusses the benefits, how it works, and the options available.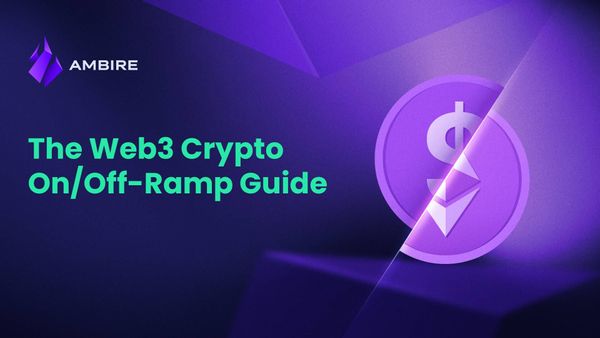 Buying and selling crypto with fiat (government-issued) currencies like USD, EUR, or GBP, e.g., is much easier nowadays - multiple providers offer this service now. This gives crypto users a wider choice in how and where they want to purchase crypto or maybe send funds to their traditional bank account.
In this guide, we will showcase the different options available to help Ambire users and otherwise make an educated decision when it comes to managing their assets.
Key topics we will cover:
What are crypto on/off-ramps
Their benefits
How do they work
What on/off-ramp options are available
What payments methods are supported
Which on/off-ramps are available in Ambire Wallet
What Are Crypto On/Off-Ramps?
Firstly, why the word choice of 'ramps'? Because traditional currencies and cryptocurrencies are two separate monetary systems, you could say you would need a ramp to go into one or the other.
In a nutshell, crypto on-ramps are services that allow you to enter the crypto ecosystem if you are new or invest further funds if you are already a crypto user. They simply let you buy crypto with fiat currencies - be it USD, EUR, GBP, or another currency of choice. Some will let you use a credit card, others your bank account. For example, you can purchase ETH using USD.
An off-ramp respectively lets you sell your cryptocurrencies and receive fiat in return - using the same example as before, you can sell your ETH and receive USD in your bank account.
Here it is important to note that while crypto, in its essence, is considered anonymous, on/off-ramp providers will most likely ask to do some sort of verification, also known as KYC (Know-Your-Customer). Usually, this happens after a specific amount threshold, but some may ask for it upfront. Since traditional finance is regulated, this is a mandatory requirement to prevent money laundering, fraud, abuse, etc.
Benefits of Crypto On/Off-Ramps
There are obvious benefits to on/off-ramp solutions: after all, they aim to convert fiat to crypto and vice versa, a fast and uncomplicated process. They allow new users to get into crypto - but also exit at any point or simply withdraw a part of their assets to use in their everyday life.
This offers convenience and flexibility, which in the past wasn't there - it was difficult to get into crypto unless you, e.g., asked a friend to buy some from them or invested a lot of time, effort, and funds.
Onboarding new users (while crucial for the ecosystem) is not the only benefit. There are many useful Web3 apps (called dApps, or decentralized apps), but we wouldn't want our funds to be locked in a digital economy. This is where off-ramps come into play, enabling users to sell their crypto or purchase traditional services or goods.
How Does a Crypto On/Off-Ramp Work?
The different methods do work differently, but the idea behind it is that you use fiat currencies to purchase crypto for the on-ramp and sell your crypto to receive fiat currencies to your bank account, a.k.a converting crypto to fiat and vice versa.
Buying is usually quite straightforward: you would enter how much fiat you'd like to deposit, select the cryptocurrency you'd expect to receive in return, and would then be displayed the different methods for paying. Most providers nowadays offer a bank transfer or a credit/debit card payment.
Similarly, for off-ramp solutions, there are various withdrawal methods. Generally, you would enter how much crypto you'd like to sell. You may need to pass verification, as we mentioned earlier. Once the verification (if necessary or not done before) is successful, you'd create a selling order. There you specify to which bank account, e.g., you'd like the fiat to be transferred, and then you would be given a crypto wallet address to which to withdraw the amount in crypto. Once the provider has received the funds in crypto, they will send you the corresponding amount in fiat.
Your Crypto On/Off-Ramp Options
There are multiple ways to take advantage of on- and off-ramps. Find out more about the different options out there to select the one that suits your needs best.
Centralized Exchanges
Centralized exchanges offer crypto on/off-ramps. They are often chosen by new users because the registration process is familiar and resembles registration with any other web2 service.

There you typically create an account using an email address and password (which may be easier for people new to crypto who don't have a crypto wallet yet). You can then send crypto to your newly created wallet address if you have some, or you would be given the option to purchase crypto with fiat currencies.
Some exchanges may let you purchase crypto with fiat (e.g., with your bank account or credit/debit card) up to a certain amount without having to pass verification, others may ask for KYC upon account creation. Exchanges will have their own KYC procedures, but they are similar in nature. Usually, they require a copy of an identity document, a selfie, proof of address, and in some cases, a signature. This is all standard, so as long as you use an established, well-respected exchange, don't be afraid to provide this information to them to take full advantage of their offering. If in doubt, always reach out to them because you trust them with your assets and/or personal information.

They also have their own off-ramp solutions for withdrawing your crypto to, say, your bank account. These would differ from exchange to exchange, but most work similarly to the method we showcased earlier on.
Please note that wallets created at exchanges are custodial. This means you're not fully in control of your assets - the exchange holds the private keys to the account, and you cannot obtain these.
Self-Custodial Wallets with Crypto On/Off-Ramp
Many experienced crypto users prefer self-custodial wallets not just for storing their assets but also for managing their finances, including on/off-ramp needs. Luckily for the blockchain ecosystem, the efforts in recent years have been to make self-custody just as easy and straightforward for beginners - it is no longer a daunting task with complicated seed phrases, the technical knowledge required, etc.
Nowadays, self-custodial wallets are a great alternative to centralized exchanges. They have a number of benefits. Starting with the fact that the registration process for some is equivalent to an exchange registration with email & password or social login. Furthermore, they allow users to keep full control over their crypto assets and do not require any personal information to use. They offer greater security and privacy because the wallet owner is ultimately responsible, and they do not rely on an exchange to exist and operate. Many also have features unavailable for custodial wallets, e.g., combining transactions, adding or removing signer keys, etc.
There are, of course, some minor risks associated with self-custodial wallets. The first of them is security. They rely on you keeping your devices and private keys secure, e.g., if it is a hardware wallet, you could lose the device, or it could get stolen - then your funds are gone too. Or if it requires a seed phrase for recovery and you lose the paper you wrote it down on. Some of them may also require some technical know-how to use the wallet to its best ability.
Self-custodial wallets often employ 3rd party providers for on/off-ramp to allow users to use fiat for transacting.
Payment Methods for Crypto On/Off Ramping
The most popular payment methods for crypto on/off-ramping are credit or debit cards, bank accounts, and mobile solutions like Apple or Google Pay. We'll quickly look at them below:
Credit Card Payments for Crypto On/Off-Ramping
With some providers, you can use your credit card to purchase crypto quickly and easily. When it comes to off-ramping, some crypto companies will offer a credit or debit card which is connected to their services. For example, one such card is the CL Card powered by the hardware wallet Ledger. It allows users to top it up with crypto, use it as collateral, or spend it with traditional businesses. It instantly converts crypto to fiat currency at the moment of purchase.

These cards can offer several benefits: e.g., convenience as they're fast and easy to use - just like any credit or debit card payment, cashback, instant fiat conversion, etc.
Bank Transfers for Crypto On/Of-Ramping
Bank transfers are another popular payment method for purchasing or withdrawing crypto to traditional financial institutions. We already gave an example of crypto off-ramping with selling orders earlier on. You would provide your bank details (a.k.a link your bank account to your crypto account), then send crypto to a specified wallet address. Once the provider receives your crypto, they complete the transaction by sending the equivalent to your account as a fiat bank transfer.
Other Preferred Payment Methods for Crypto On/Off-Ramping
Depending on the provider of choice, you may be offered the option to pay with your mobile, too, using Google Pay or Apple Pay - they can be a great quick alternative.
Supported On/Off Ramps by Ambire Wallet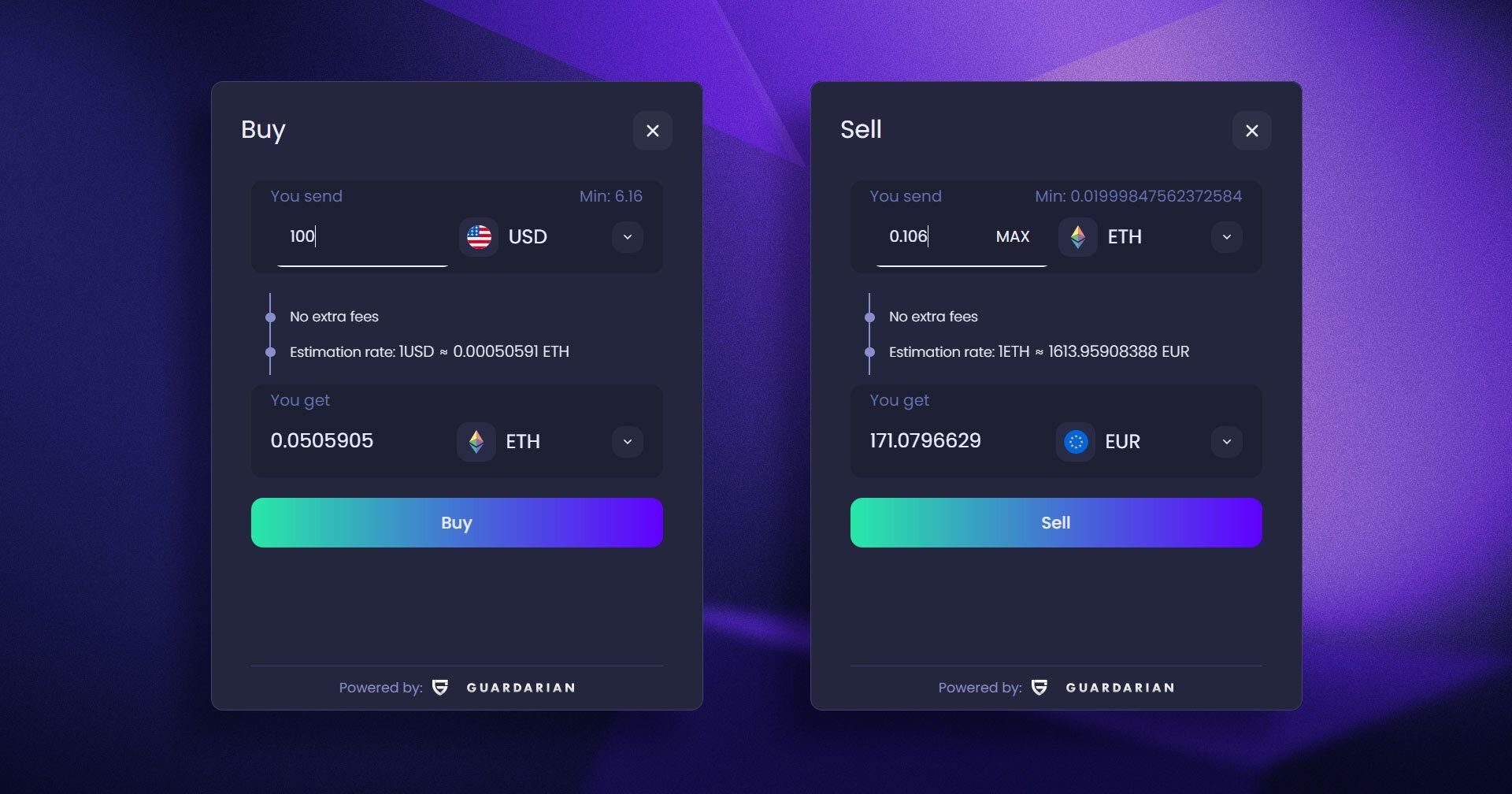 Ambire Wallet is a self-custodial, smart contract wallet that also has integrated on- and off-ramp options. Have a quick look at the available methods:
Guardarian
Guardarian is integrated as an on- and off-ramp in Ambire Wallet for various chains (e.g., Ethereum, Polygon, Binance Smart Chain, etc.). Fiat deposits to crypto offer a variety of options for topping up: Google Pay, SEPA transfer, credit/debit card, as well as Revolut Pay. Most of those options offer instant credit to your crypto wallet, while some (such as bank transfers can take 1 to 3 business days. Most major fiat currencies, as well as cryptocurrencies, are supported. Fees start from 2%.
They offer crypto to fiat withdrawals via bank transfer too.
MoonPay
MoonPay is also there for fiat deposits and withdrawals to your bank account. Multiple chains are supported, including Ethereum, Polygon, Solana, BNB Chain, etc.
With MoonPay, you can buy and sell crypto with your bank account or credit card - 40+ fiat currencies and plenty of cryptocurrencies are supported. Transaction processing times vary based on the preferred method. Fees start from 1%.
Ramp Network
Ramp Network is amongst the pioneers of crypto on/off-ramping. Within Ambire Wallet, you can use Ramp Network to purchase crypto with fiat. More than 40 fiat currencies and 90+ cryptocurrencies are available. Ramp Network is fully integrated with major payment methods, such as debit and credit cards, bank transfers, Apple Pay, and Google Pay. Fees and processing time vary by method and can be as low as 0.49%.
PayTrie
PayTrie is a deposit method available only in Canada. Therefore they only support CAD and accept only stablecoins. They are locally regulated with FINTRAC, which makes it a secure payment method locally. Fees start at 0.6%, and users can utilize e-Transfers for a quick and easy experience. Most major chains are supported.
Swappin.gifts
Swappin.gifts is an alternative to off-ramps. While it is very different from what we have covered so far, it's still a way to spend your crypto for consumer goods and services. Swapping.gifts allows you to purchase gift cards for Amazon, Airbnb, Starbucks, IKEA, etc.
It's just another way to spend crypto without the hassle of having to off-ramp first. The list of cryptocurrencies for purchasing, countries supported, and services available is extensive. Gas fees apply.
The Bottom Line
The payment landscape has significantly changed in recent years. More and more on- and off-ramp methods and providers become available to the users, which is a promising sign. While still far from mainstream in the sense that regular finance is, we see significant improvements and developments which allow us to incorporate crypto into our everyday lives.
What is next? Only time will tell!
---
​​Interested in Ambire? Follow us:
Discord | Twitter | Reddit | GitHub | Telegram | Facebook