Ambire Releases Fiat Off-ramp Feature, Becoming Your True One-stop-shop for Crypto
mbire Wallet enhances its capabilities by integrating with Guardarian to offer a fiat off-ramp feature. Now, sell your crypto and receive cash directly in your bank account.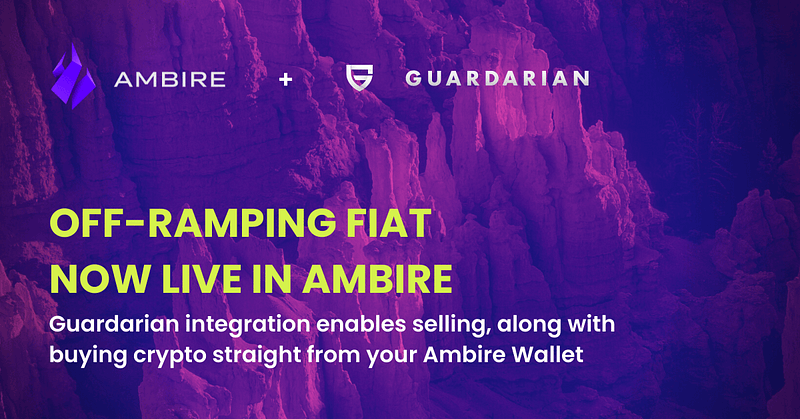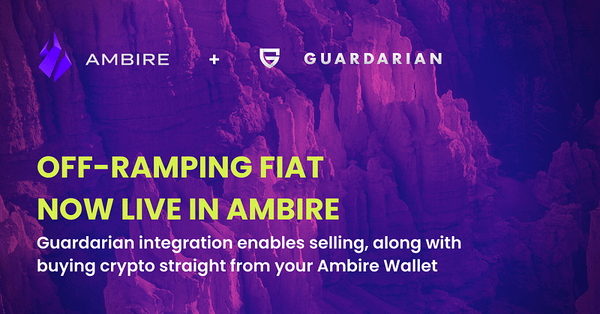 Guardarian integration enables selling, along with buying crypto straight from your Ambire Wallet
📣 News alert 📣
Our dev team has been keeping busy through the hot summer, so today they are releasing the newest feature of our smart wallet, safe&secure: off-ramping is now available directly from Ambire 🥳🥳🥳
Guardarian — the first crypto 💸 cash-out solution in Ambire
That's right, the newest 3rd party integration to hit your Ambire account is that of the Guardarian ramp solutions.
Created in 2017, Guardarian's vision is to be a bridge between the fiat and crypto worlds. Their complex platform engages an infrastructure of fiat-to-crypto products, including cryptocurrency gateways, exchanges, and payment cards.
Ambire Wallet has now incorporated the Guardarian solutions for both on- and off-ramping crypto. That means it's now super-easy to not just get crypto for fiat from your wallet dashboard menu but also swap your crypto for cash directly in your bank account, straight from Ambire 🎉
This also means that you've got yourself a crypto Swiss knife 😮
Read 'till the end to see what we mean 👇
🔁 Buy or sell crypto in just a few clicks
To buy or sell crypto directly from your Ambire Wallet, all you need to do is go to the 'Deposit' tab of the main menu of your dashboard (1.) and choose the Guardarian solution(2.):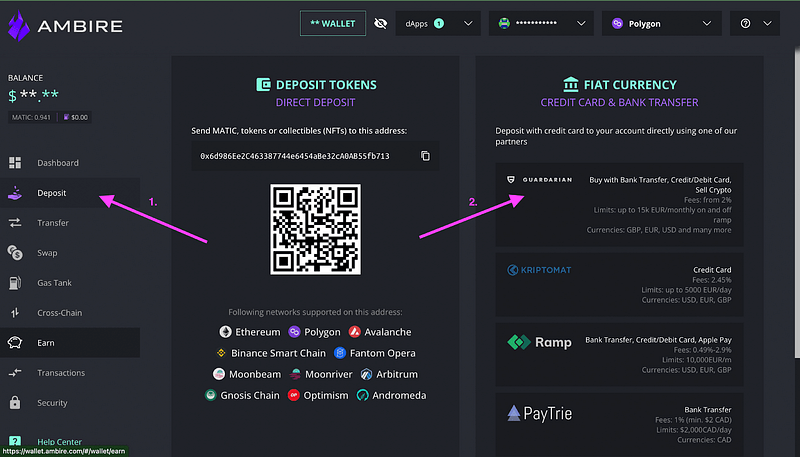 Once the new window pops up, you will need to choose either the 'Buy' or 'Sell' tab, depending on what action you want to perform: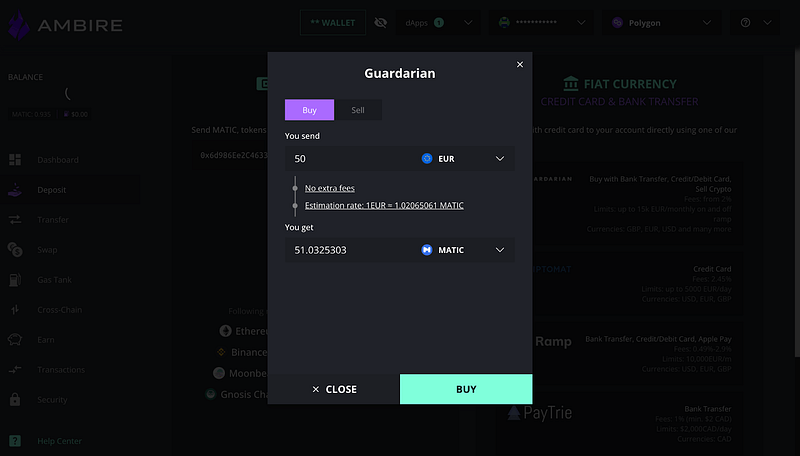 The range of available fiat currencies includes USD, EUR, and GBP, while the off-ramp method allows selling multiple types of tokens on different networks: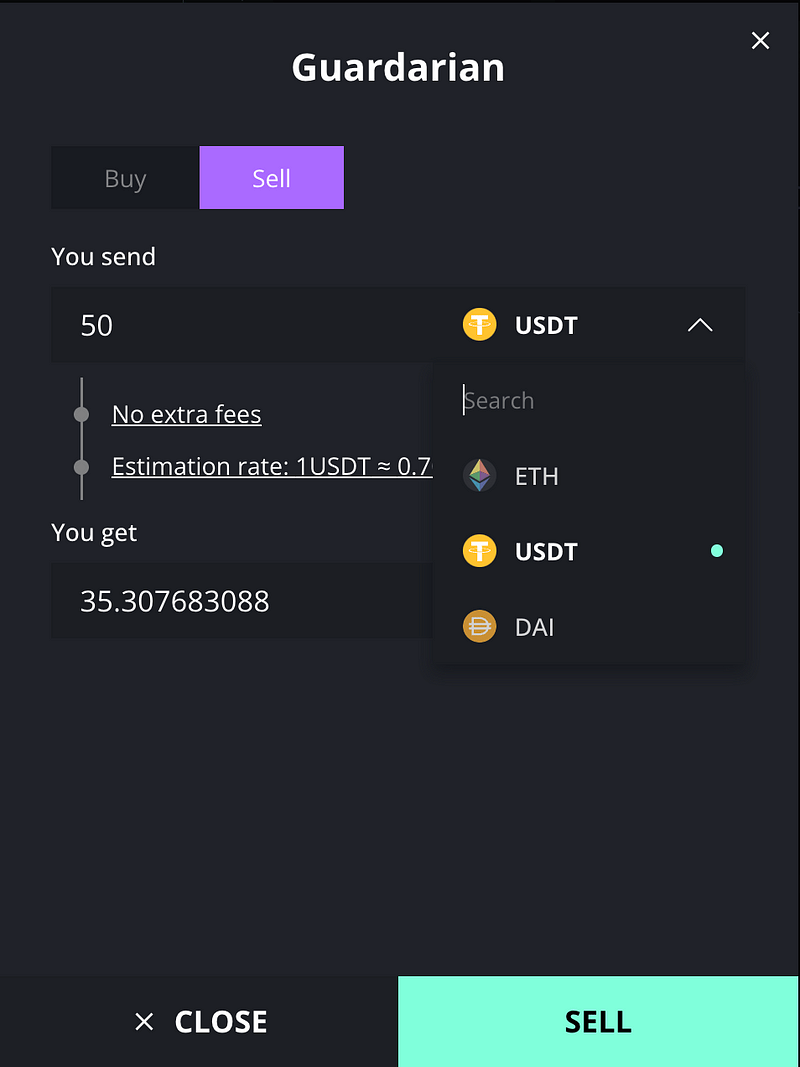 After inputting the desired amount and hitting the Buy or Sell button, the Guardarian platform will ask you to input your name and bank data (either bank account or card info). One KYC step further and… you're done ✔
Notes:
— minimum sum for cashing out/ buying fiat with crypto is 0.017509 ETH or equivalent
— minimum sum for depositing fiat to crypto using Guardarian is 35 Euro or equivalent
— the fiat-crypto exchange solution offers both bank transfer (SEPA) and credit/debit card as payment methods, with fees starting from 2% of the amount transacted
— for off-ramping crypto, there is a bank transfer option available (be aware that it can take up to 3 business days for a transfer to complete, depending on your bank and region)
— there is a limit of up to 15.000 EUR per month, for both on- and off-ramp operations
— crypto collectibles, such as NFTs, cannot be sold/exchanged through the off-ramp solution
✅ Swiss knife mode unlocked, what's next?
Yes, it's official: Ambire unlocked a new level of smart wallet flexibility with its off-ramp feature, becoming the true one-stop shop for managing crypto assets that we knew it would be.
Think about it: leaving aside the simple transfers or deposits and starting with the swap and cross-chain options, dApp interaction and NFT support, going through on- and off-ramp solutions, to native and external earning options, complemented by a friendly and intuitive UI that allows HW support and multi-sigs, boasts gas optimization features and includes the $WALLET token user rewards program — we've got ourselves quite the versatile tool here, ready to serve the most pretentious of crypto-savvy users, in a secure build.
Now, if you think that's a lot, then…. you're right, but guess what? It's not all of what Ambire will end up doing.
Our 🔥 never dies, you know us 😄
We've got a lot more in the making, so be sure to stay close for the ride of your life 🎢
---
Interested in Ambire? Follow us: