FIAT to Crypto Payments Available In Ambire Wallet via PayTrie
Canadian users can now purchase crypto with FIAT through PayTrie in the Ambire Wallet. A quick KYC process ensures a smooth transaction.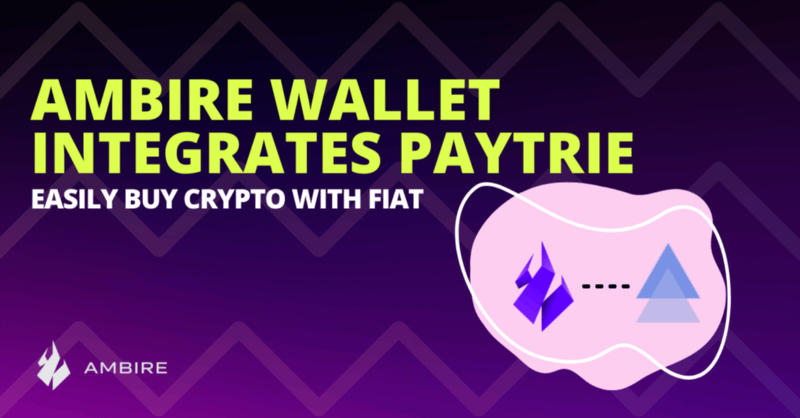 Our PayTrie integration enables Canadian residents to purchase crypto with fiat
Our users in Canada will be pleased to learn that they can easily obtain cryptocurrency with FIAT thanks to PayTrie, one of the on-ramp providers you have at your fingertips in Ambire Wallet.
What is PayTrie
PayTrie is a Canadian on-ramp service — a payment provider that allows people to purchase stablecoins via Canadian dollars. It is integrated in applications, e.g. Ambire Wallet, so that when you buy your stablecoins they go directly into your wallet.
How PayTrie works
PayTrie allows you to buy 8 stablecoins via bank transfer. It is important to have in mind that if you want to buy crypto through PayTrie, you will have to undergo a quick KYC ("Know your customer") procedure and provide proof of your identity.
PayTrie in Ambire Wallet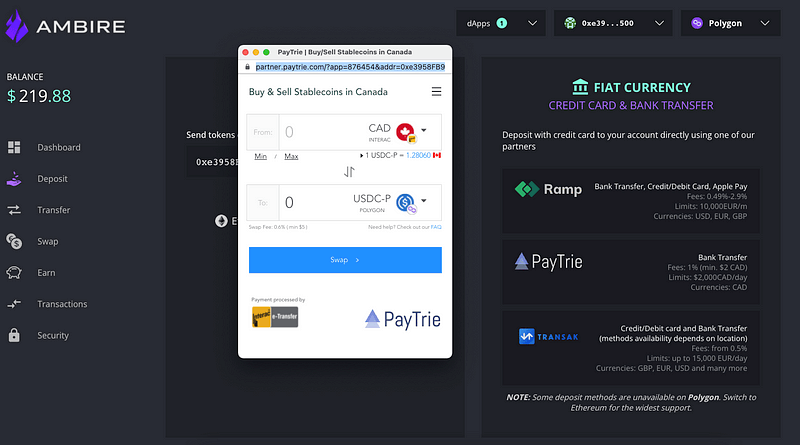 When you choose to top up your account, you will see the Ambire Top-up screen. It lets you choose between:
Direct deposit of ERC20 tokens to your wallet address; and
Fiat top-up via Transak, Ramp Network, or PayTrie.
Choosing PayTrie will open the PayTrie window that will guide you through the process. The process of purchasing stablecoins with Canadian dollars through PayTrie only takes a few minutes.
Read about all major protocol integrations we are launching Ambire Wallet with:
More integrations coming soon!
---
Interested in Ambire? Follow us: