MoonPay Integration Released: Easily On- & Off-ramp Crypto with Ambire
Ambire Wallet partners with MoonPay to provide a seamless on- and off-ramp solution for crypto transactions. Discover how to use this feature and its advantages.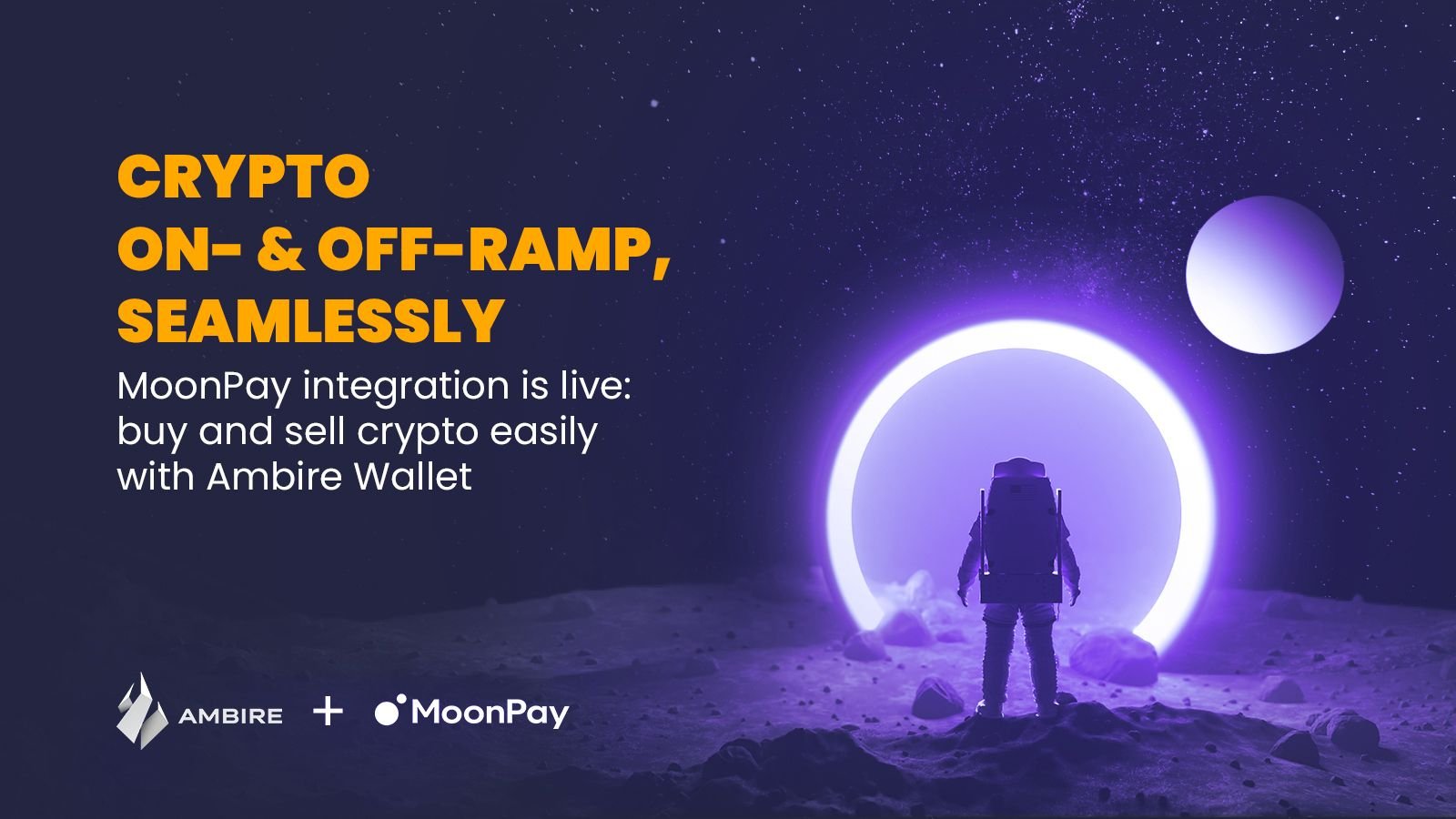 📣  We're back with news of a new integration.
Last summer saw our smart wallet release its first off-ramp integration solution with Guardarian, becoming a true crypto asset swiss-knife 💥

Now, we're upping the game and adding a new fiat-to-crypto partner: MoonPay, one of the most popular platforms worldwide for on- and off-ramping funds to blockchain.
Let's see what they bring to the table 👇
To the Moon 🚀?  We're paving the way 😏
Ambire was created for a future where blockchain and crypto are an integral part of every day, for people from all walks of life. That's still some years to come, but until then we're constantly upping our game and building the platform that provides a wide array of solutions for everything crypto.
MoonPay in a nutshell
MoonPay was launched in 2019 and has since provided a fast and easy way to buy and sell cryptocurrencies online: users can purchase and sell tokens using traditional payment platforms (i.e. Visa, Mastercard, SEPA, wire transfer) as well popular digital solutions like Apple Pay and Google Pay.

Present in more than 160 countries, supporting more than 80 cryptocurrencies and 30+ fiat currencies, MoonPay delivers seamless transitions between traditional finance and crypto, standing as one of the most trusted solutions in its category (they take 100% fraud and chargeback liability).
🔄 Easy in and out of crypto: KYC in under a minute
To buy crypto via MoonPay with Ambire, head over to the 'Deposit' tab of the main menu of your dashboard (1.) and choose this solution (2.):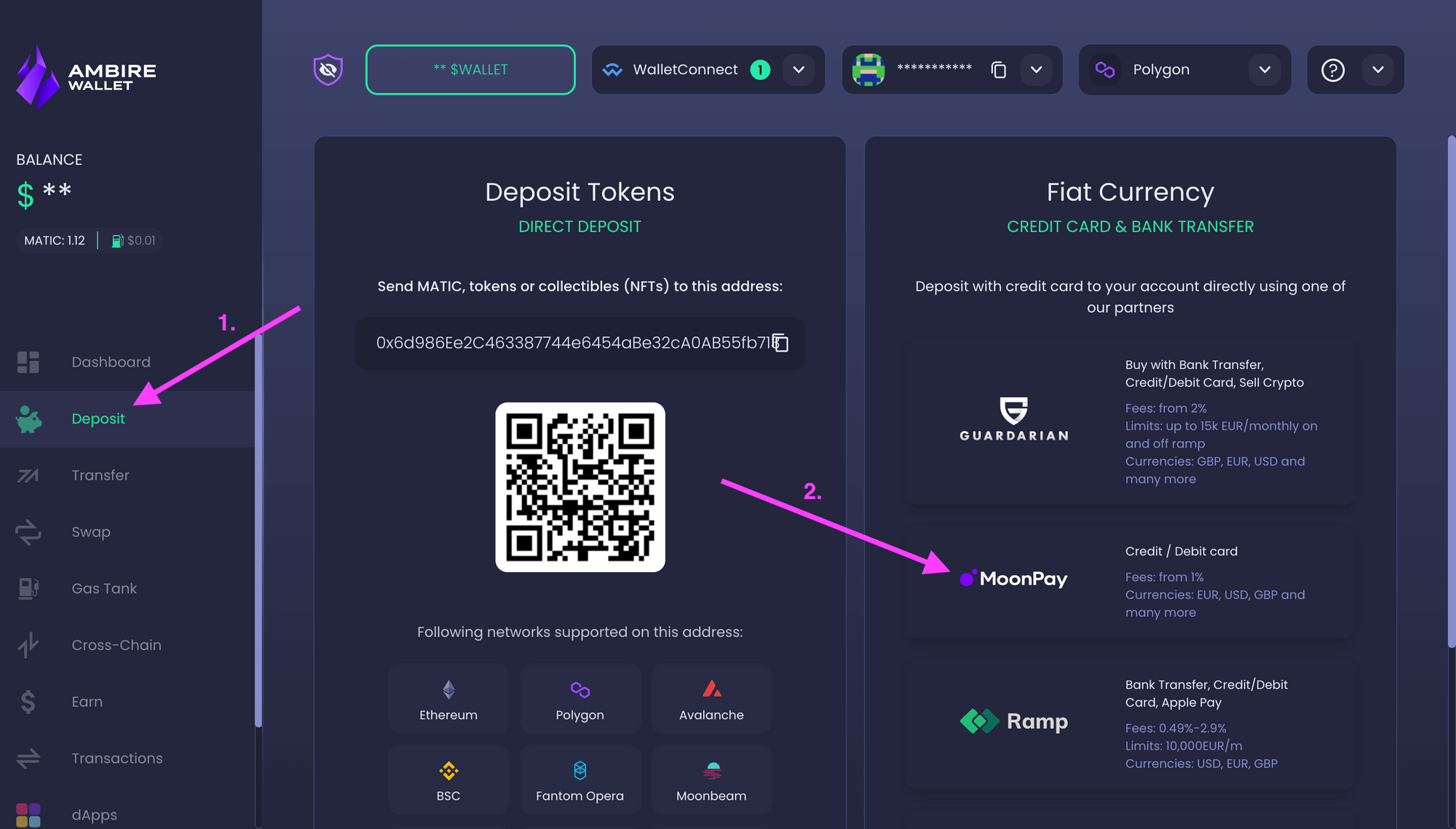 Next, you will be taken to a new tab on the MoonPay platform where you need to insert the required information for the transaction: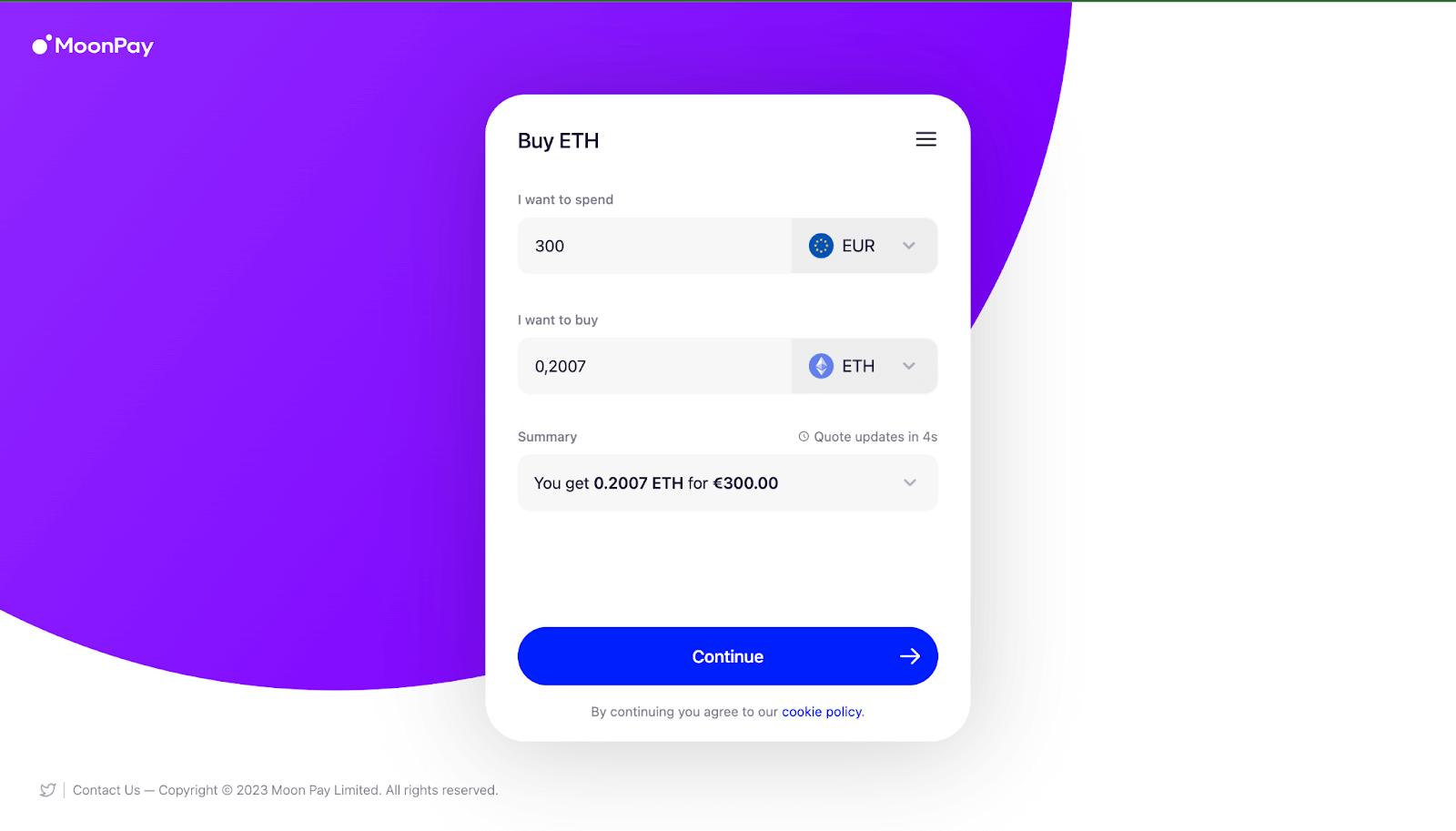 After inputting the desired amount and hitting the Continue button, MoonPay will take you through a simple KYC process, which takes on average less than one minute with automated approval (no waiting periods).
To sell crypto via MoonPay with Ambire, head over to the 'Transfer' tab of the main menu of your dashboard (3.) and choose this solution from the 'Sell crypto' partner inventory (4.):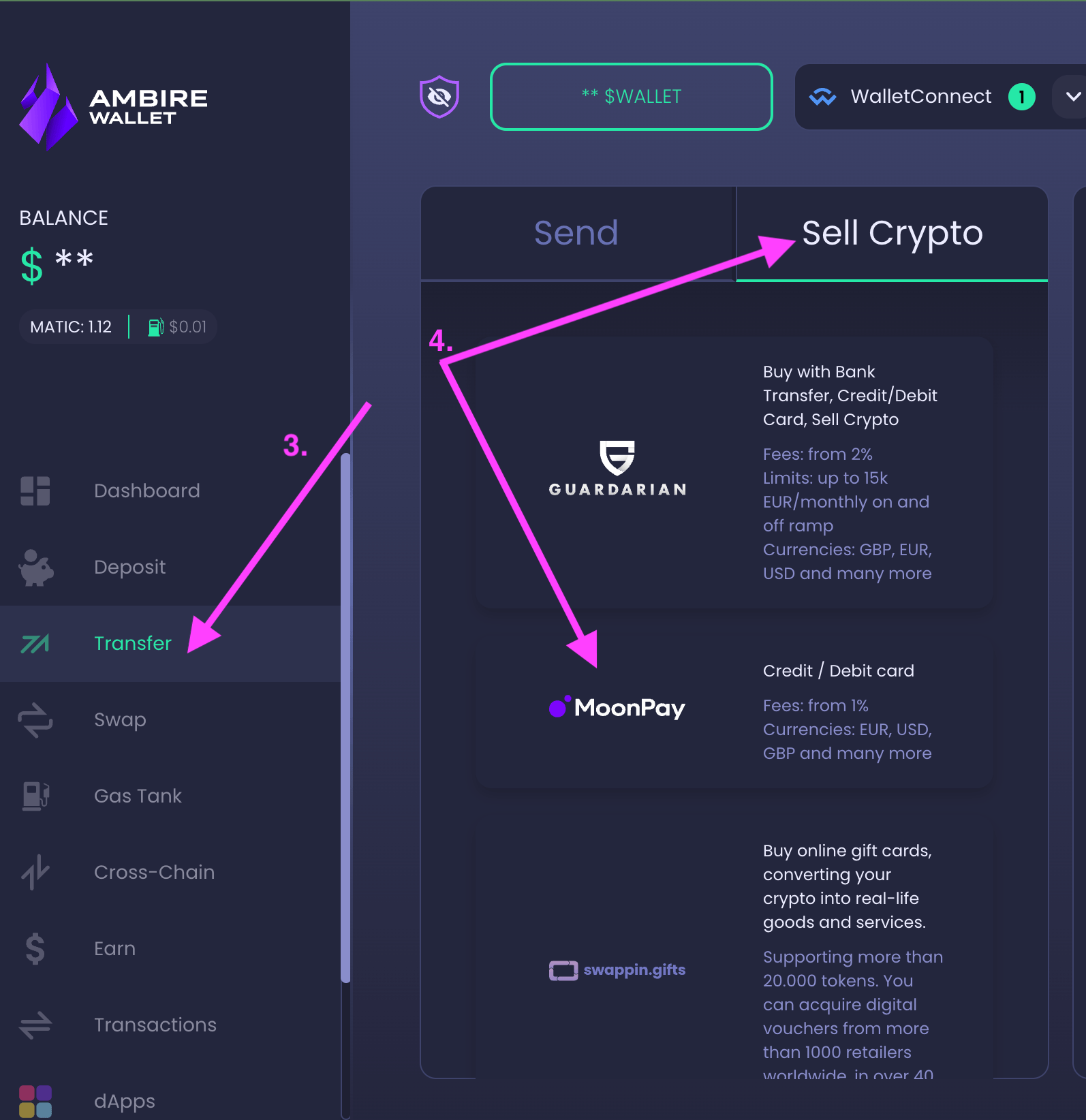 You will be automatically redirected to the MoonPay platform in a new tab, where you must enter the transaction details and go through KYC: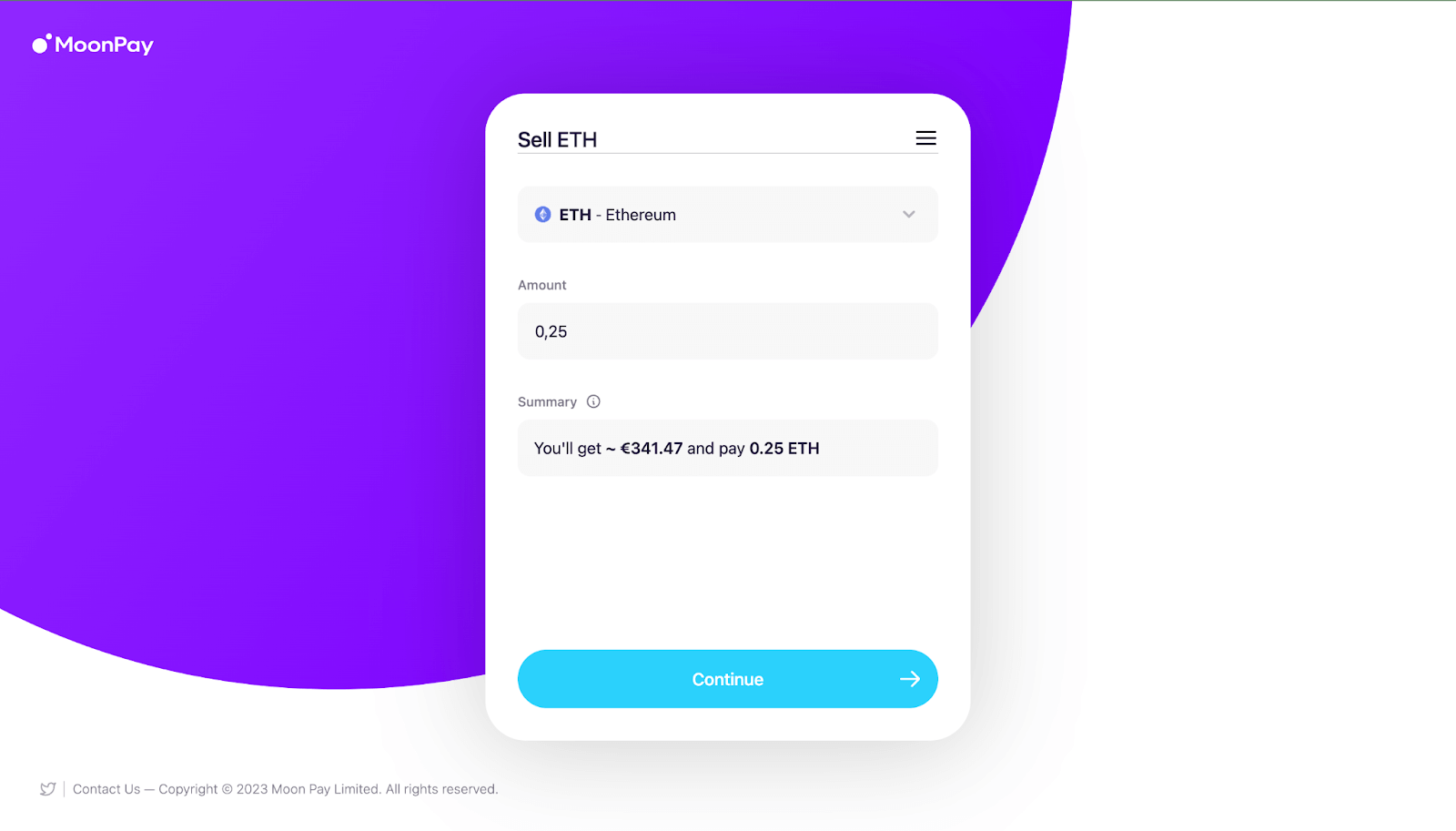 Cool thing is: once a user goes through the KYC flow initially, they will not have to do so again, so this really streamlines the whole process  ✅
As with any crypto-to fiat solution, there are certain thresholds and timings that users need to keep in mind when using MoonPay:
— The minimum sum for cashing out/buying fiat with crypto is 0.0008 BTC/ 0.015 ETH/0.1 BCH/30 USDC/30 USDT  (subject to change due to market fluctuations)
— The minimum sum for depositing fiat to crypto currently is 30 EUR or the equivalent in the local fiat currency (subject to change due to market fluctuations)
— The fiat–to-crypto exchange solution offers both bank transfer (SEPA) and credit/debit card as payment methods, with the following fee structure: Credit/Debit Cards 3.5%/ACH 2.5%/SEPA 1%/PIX (Brazil) 4.5%
— For off-ramping crypto, there is a bank transfer option available; it can take up to 3-4 business days for a transfer to complete, depending on your bank and region
— For on-ramping crypto via card, transaction confirmation takes between a few minutes and a few hours; purchase orders made via bank transfer can take up to 3 working days
What do you think of the Ambire x MoonPay collab? Try it out and let us know on our Discord.
Meanwhile, we continue to #buidl
---
Interested in Ambire? Follow us: