swappin.gifts Launches in Ambire dApp Catalog with Exclusive Promo
Swappin' Gifts, a new addition to the Ambire Dapp Catalog, comes with an exclusive promotion. Learn how to maximize your benefits.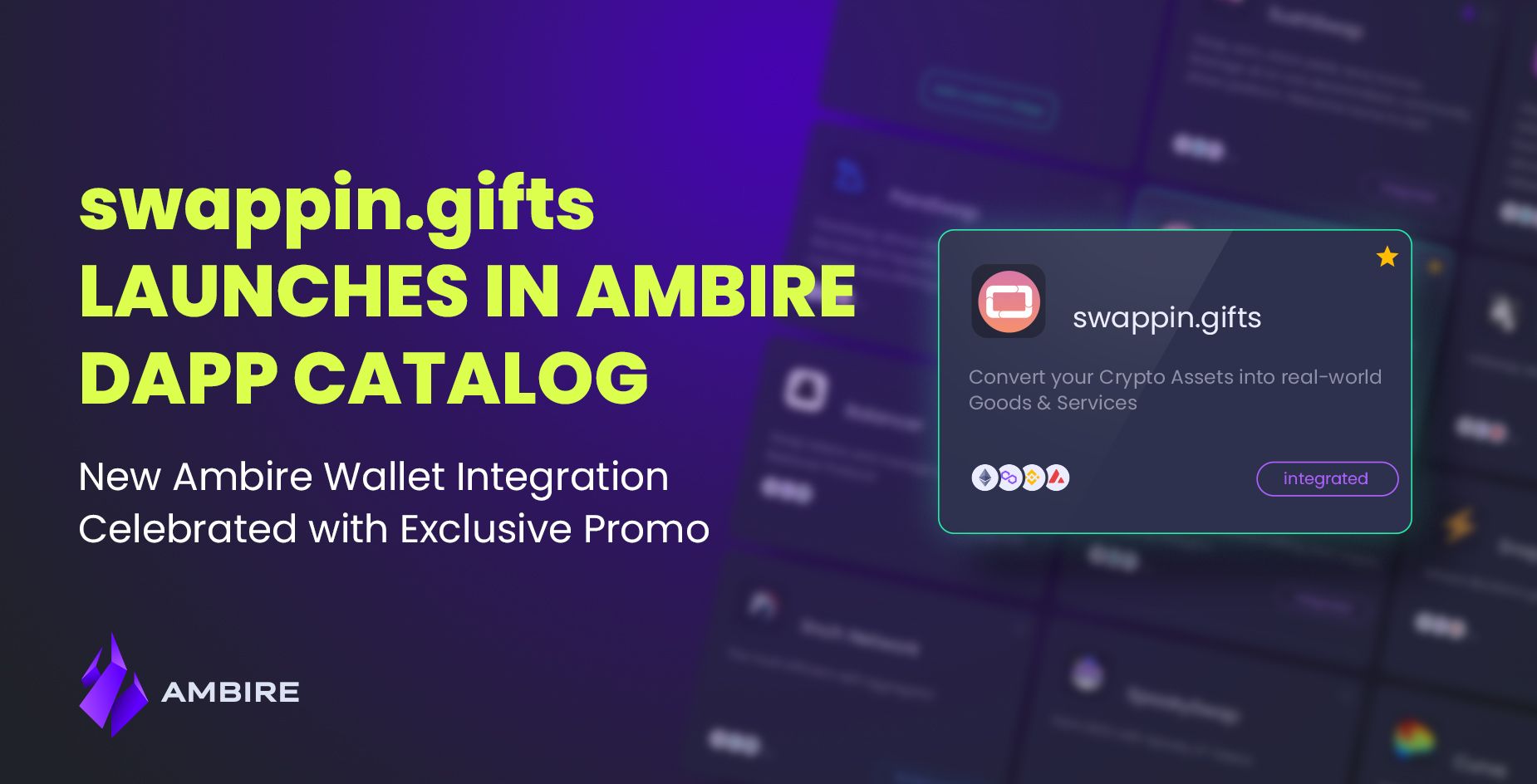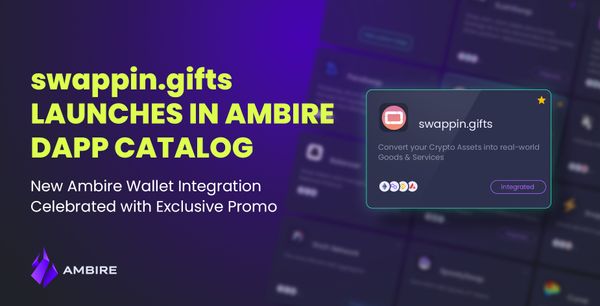 Henlo, Ambirers 🌈 How's your Web3 day shaping up?
Either way, we're here to make it better, since it's… a launch day 🥳
We're going live with the newest entry in our dApp Catalog: swappin.gifts, the gift card app that lets you swap your crypto for cool, voucher-like presents that you can send to frens (and frenemies 😄) - or even to yourself!
To celebrate the release, we've got an exclusive 2-week promo rolling-out 💥
Read on to learn the details 👇
Swap & gift on Web3 with Ambire 🎁
Our latest partnership is with swappin.gifts, whose team has worked closely with us to ensure full compatibility of the two platforms, in a secure format for users.
Starting today, swappin.gifts is integrated in the Ambire plug-in system, and just one click away in the dApp Catalog ☑️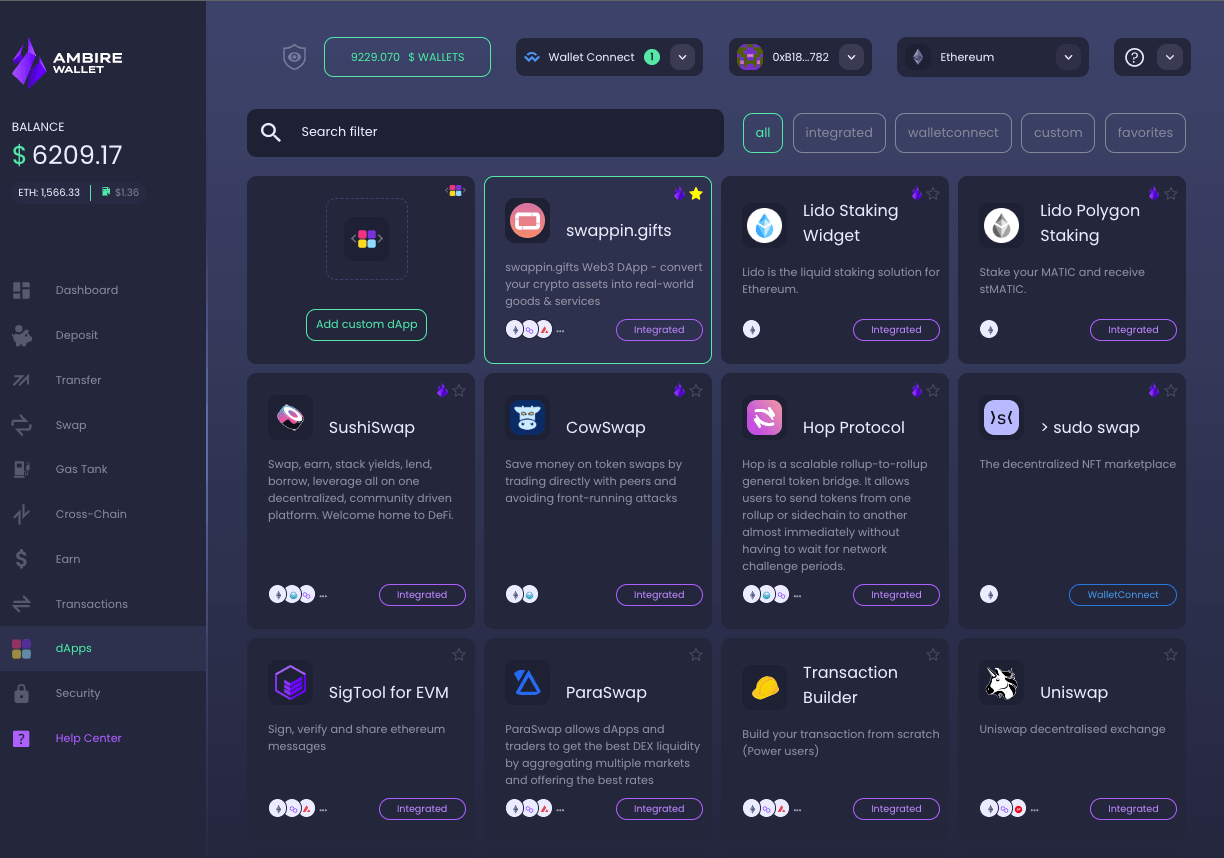 swappin.gifts is made by industry veterans, the product is an elegant solution that allows users to purchase from a selection of thousands of different gift cards with coverage in over 40 countries and supporting thousands of different crypto currencies over several blockchains. Built on Web3 and decentralized settlement rails, swappin.gifts acts as a new and transformative off-ramp solution.
All you have to do in order to use swappin.gifts is log in to your Ambire account and go to the dApps tab. Find the swappin.gifts plugin there and load it - you are now ready to start exchanging your crypto for gift cards and vouchers 🎉
For your first swappin.gifts experience via Ambire we created a dedicated promotion  — 👀 let's see what it's all about ⬇️
Ambire x swappin.gifts: Gifts that Give 🙌
Starting today, a 2-week exclusive promotion will be active, available to all Ambire users who try out swappin.gifts through the dApp Catalog. We've got a 💰$1,000 USD prize pool💰 to be awarded in BNB tokens to 🔥12 lucky winners 🔥
There will be 4 prize tiers:
👉 3 prizes x $200 in BNB
👉 2 prizes x $100 in BNB
👉 2 prizes x $50 in BNB
👉 5 social media prizes x $20 in BNB

To qualify for the first three prize tiers, participants need to:
- Deposit $50 in any crypto token that qualifies for Ambire $WALLET rewards during the promotional period (see the full list of qualifying tokens here)
- Purchase a gift card or a voucher through the swappin.gifts plugin
At the end of the promotional period, all eligible wallet addresses will be entered into a prize draw to determine the winners.
The 5 prizes worth $20 each will be reserved for participants who create a social media post about the Ambire x swappin.gifts collaboration: either a tweet, a TikTok video, an Instagram post or a blog post. To qualify for the social media prizes, participants will need to fill in this short form and provide a link to their post, their social media handle and their Ambire Wallet address to receive the prize, if they win the lucky draw.
---
Promotional terms
The promotion will run between November 3rd and 17th, 2022.
Eligibility criteria: This promotion is open to existing and new Ambire Wallet users. To qualify for the prize draw, participants must:
Deposit $50 or more in qualifying crypto tokens to an Ambire Wallet address during the promotional period
Purchase a gift card or a voucher through the swappin.gifts plugin during the promo period
AND/OR create a public social media post about the Ambire Wallet x swappin.gifts integration and submit this form with a link to their post.
3. Qualifying tokens: In order to qualify for the promotion, participants must deposit any of the tokens listed here.
4. Prizes: The total prize pool of the promotion is $1,000 payable in BNB tokens. Prizes will be distributed as follows:
3 prizes x $200 in BNB
2 prizes x $100 in BNB
2 prizes x $50 in BNB
5 social media prizes x $20 in BNB
Winners will be determined by a lucky draw.
5. Prizes will be distributed within 5 business days of the promotional end.
6. Each user can participate with a maximum of 2 entries: one for deposit, and another one for the social media prizes.
7. Winning addresses will be announced on the Ambire blog and on Ambire Wallet's social media channels.
8. We reserve the right to disqualify any participant on the basis of promotion abuse or other fraudulent actions suspicion.
9. Check the swappin.gifts website for full terms and conditions.

---
Interested in Ambire? Follow us: