The Ambire Mobile App is Out!
The long-awaited Ambire Mobile Wallet is now out on iOS and Android. Ambire Mobile brings the benefits of Account abstraction into your pocket, fully compatible with your existing web account!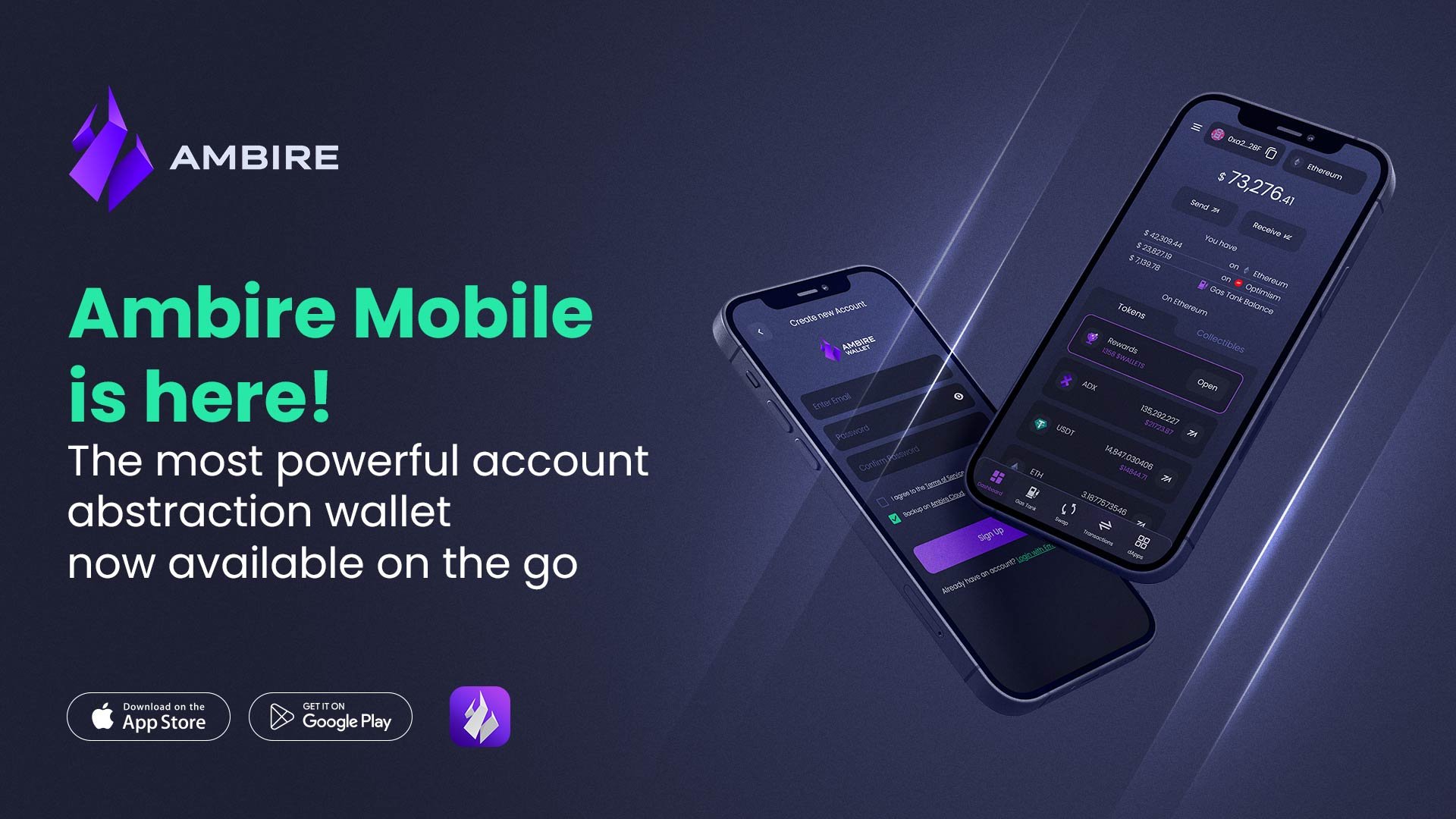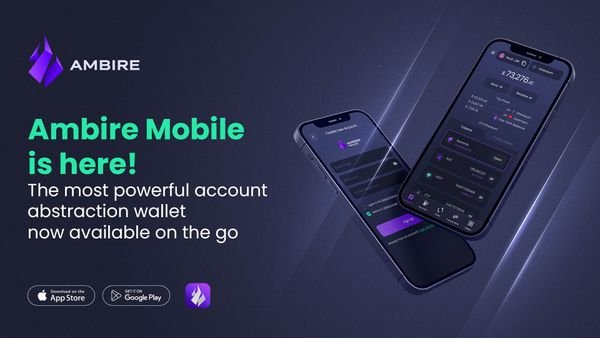 Today marks a new chapter in the Ambire story - the launch of our mobile app on iOS and Android! After serious development, rigorous testing, and precious community feedback, the app is here!
You can now use Ambire anywhere: from the comfort of your desktop setup to the highest mountain (provided there's a stable connection). But why is it so important to use it anywhere?
While current Web3 stats show clear dominance of desktop/browser over mobile wallets, especially when it comes to experienced users, we believe that there is a high chance that mass adoption will be mobile-driven. Having your crypto in your pocket is also important if we want to transition further from speculation toward real-world use cases. This was the main focus when we designed the Ambire mobile app - create a self-custodial smart wallet that you can use in real life. Whether it is sending crypto to friends fast and cheap (on L2s), minting NFTs, or viewing your POAPs on the spot, we've built Ambire mobile for a streamlined and fast user experience.
What makes the Ambire Mobile app so good?
We are not just shipping an app that works but a powerful mobile wallet with some game-changing features you haven't seen yet in any other wallet on the market.
Gas Tank & Cashback
Ambire Wallet's unique Gas Tank allows you to prepay (or set aside funds) for gas in a number of cryptocurrencies - including stablecoins, native tokens, as well as our native $WALLET token. Once you have topped it up, it allows you to pay transaction fees across any network and save over 20% on gas fees! For example, you can deposit USDC on the Arbitrum chain and use these funds to pay for gas on Ethereum.

Aside from saving using the Gas Tank, it also has a "Cashback" mechanism for even more savings! When you request a transaction, you are presented with an estimated fee. It is based on the gas rates at the time of creating the transaction, which in many cases, might be different from the real fee paid at the end of the network when the transaction is mined. When using the Gas Tank, this difference is also returned to you, and this is what we refer to as "Cashback".
Account and Network Management
On Ambire Wallet, you can create a self-custodial wallet with just an email & password: no complicated seed phrase required! Alternatively, if you already have another Web3 wallet or a hardware wallet, you can use those to sign up with Ambire in no time. Forgetting the password is also no longer an issue: email recovery is readily available.
On Ambire, you can manage different accounts easily from a dropdown menu without hassle. You can also use the same accounts on our web wallet and mobile app.
Ambire Wallet currently supports more than 10 EVM chains: Ethereum, Polygon, BNB chain, Optimism, Arbitrum, Avalanche, Fantom, Gnosis, and more. And you have a single address across all networks.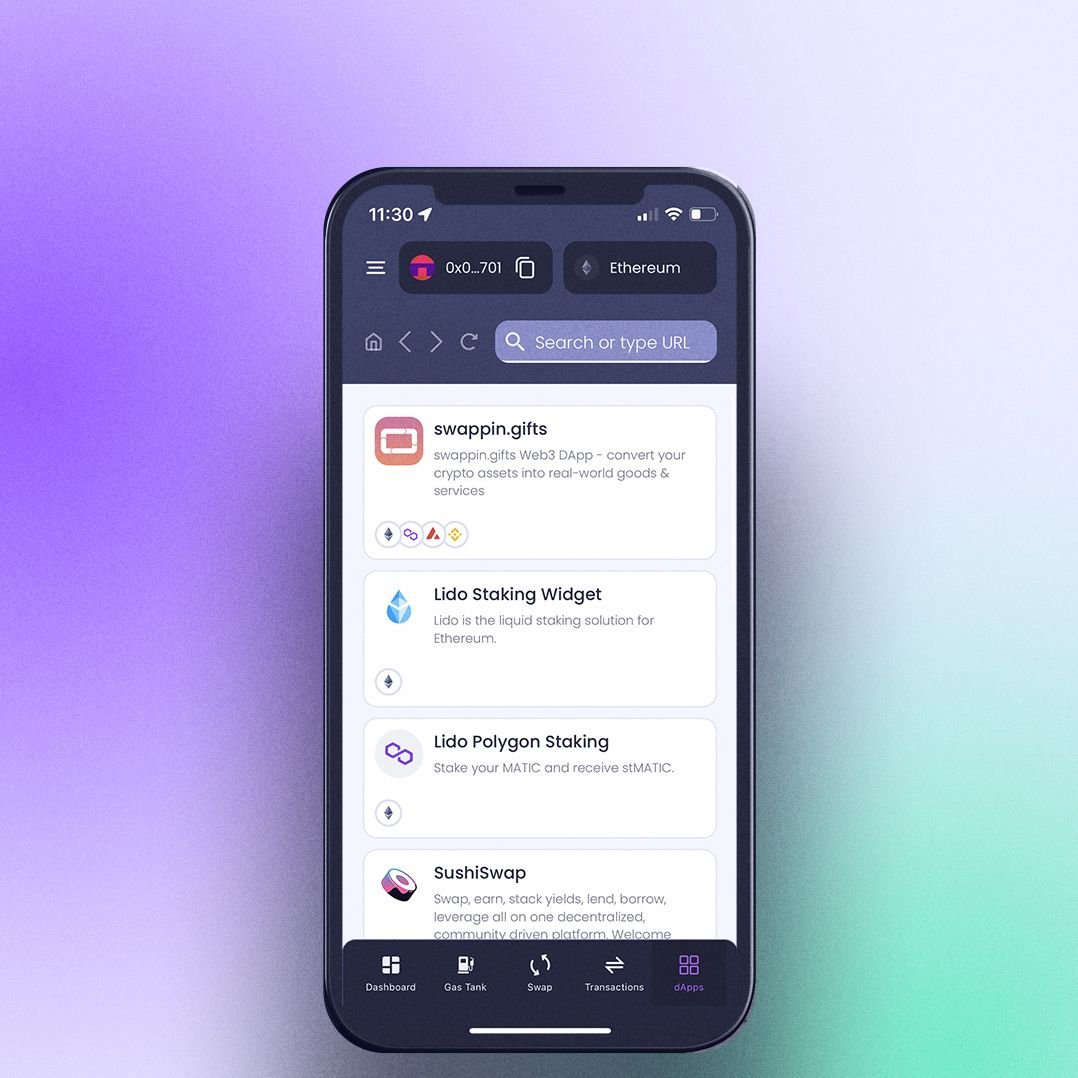 Easy Interaction with Your Favorite dApps
Use your favorite dApps directly in the wallet thanks to an in-built dApp browser where you can search for any dApp you'd like to use. We also have a curated list of popular dApps you can access directly in the wallet.
Transaction Batching
One of the account abstraction-enabled features of Ambire is that you can combine (batch) many transactions and sign them at once. The way it works is you just click on the "Add to Cart" button and leave a transaction without signing it, and this adds it to a batch.
An example of the benefits of batched transactions: with Ambire, you don't need to sign two different transactions in order to do a swap on Uniswap or any popular protocol that has token approvals. On Ambire, the token approval transaction is combined and broadcasted with the actual swap transaction.
How to get the Ambire mobile app?
The mobile app is available on Apple's App Store and Google Play Store. Just head to your respective store and get the app. If you have any uncertainties or face problems while using the apps, you can ask the community or report a bug to our Help Center.
Using Ambire, you can mint our own Guild Pins soulbound NFT after joining the Ambire community. Hurry up, as there will be benefits for early users who minted the NFT.  
All app beta testers who joined our Closed Beta will receive a x1.25 Beta tester $WALLET rewards multiplier. They will get the multiplier in the next 24 hours and will be able to claim the Beta tester role in Guild.
---
​​Interested in Ambire? Follow us:
Discord | Twitter | Reddit | GitHub | Telegram | Facebook