How To Make The Most Out Of Ambire Wallet
Ambire Wallet isn't just your regular crypto wallet. It has a bunch of amazing features other wallets don't have - we're here to help you make sure you're using your smart wallet to its full potential!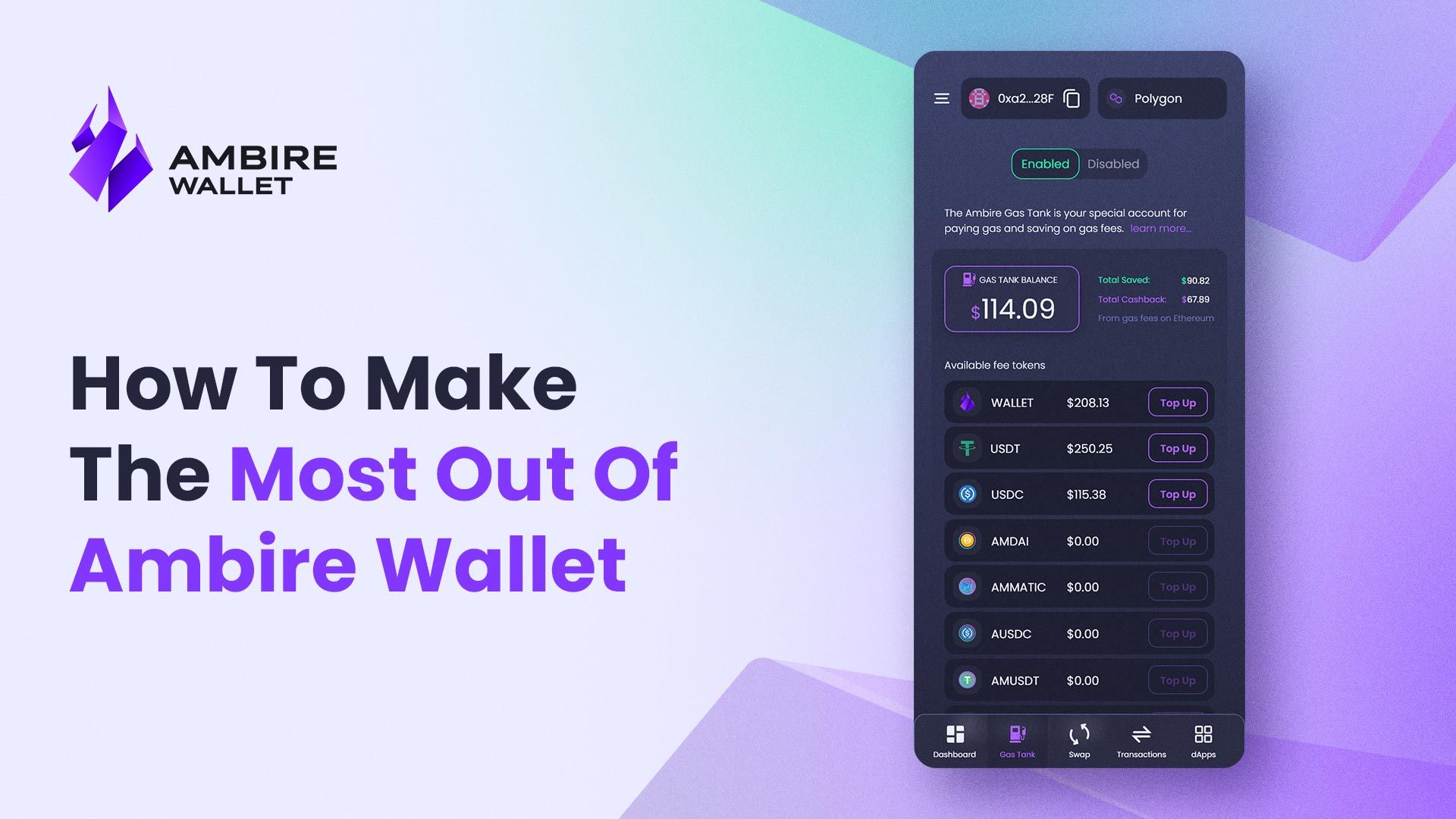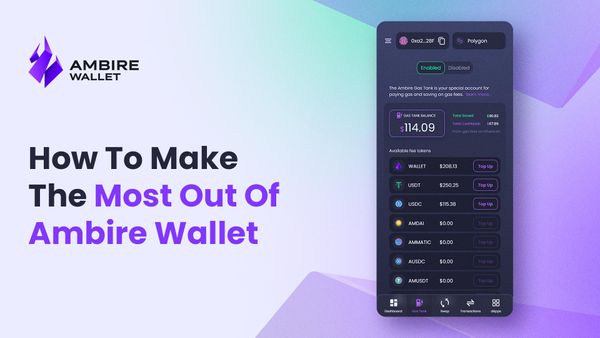 Ambire Wallet is a self-custodial smart crypto wallet built on Account Abstraction that has been meticulously designed to offer both power and user-friendly functionality.
It caters to both crypto newcomers and experienced users alike by providing a simplified user interface that seamlessly integrates with the Web3 ecosystem. With Ambire Wallet, you can effortlessly navigate the exciting world of decentralized finance while taking advantage of its robust features, which include:
Gas Tank & Cashback
Ambire Wallet's unique Gas Tank allows you to prepay (or set aside funds) for gas in a number of cryptocurrencies - including stablecoins, native tokens, as well as our native $WALLET token. Once you have topped it up, it allows you to pay transaction fees across any network and save over 20% on gas fees! For example, you can deposit USDC on the Arbitrum chain and use these funds to pay for gas on Ethereum.

Aside from saving by using the Gas Tank, it also has a "Cashback" mechanism for even more savings! When you request a transaction, you are presented with an estimated fee. It is based on the gas rates at the time of creating the transaction, which, in many cases, might be different from the real fee paid at the end of the network when the transaction is mined. When using the Gas Tank, this difference is also returned to you, and this is what we refer to as "Cashback".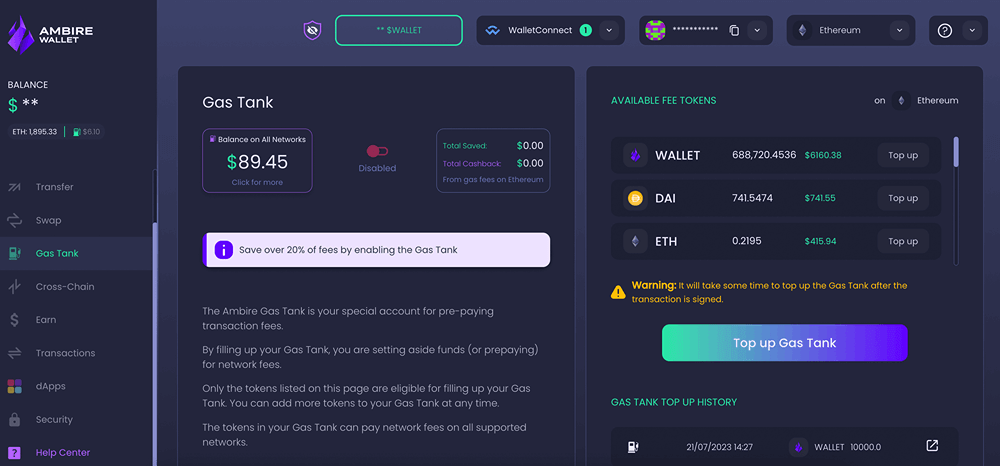 Please note, though, that once you top up your Gas Tank (a.k.a make a deposit into it), you cannot withdraw the funds. They can only be used to pay for gas.
Network Fees Estimation
Did you know that Ambire Wallet is estimating network fees for popular actions all the time so that you can easily check e.g., how much  a swap on Uniswap will cost you. Just click on the gas tank icon in the Web and mobile apps, and you will find gas estimations in a table: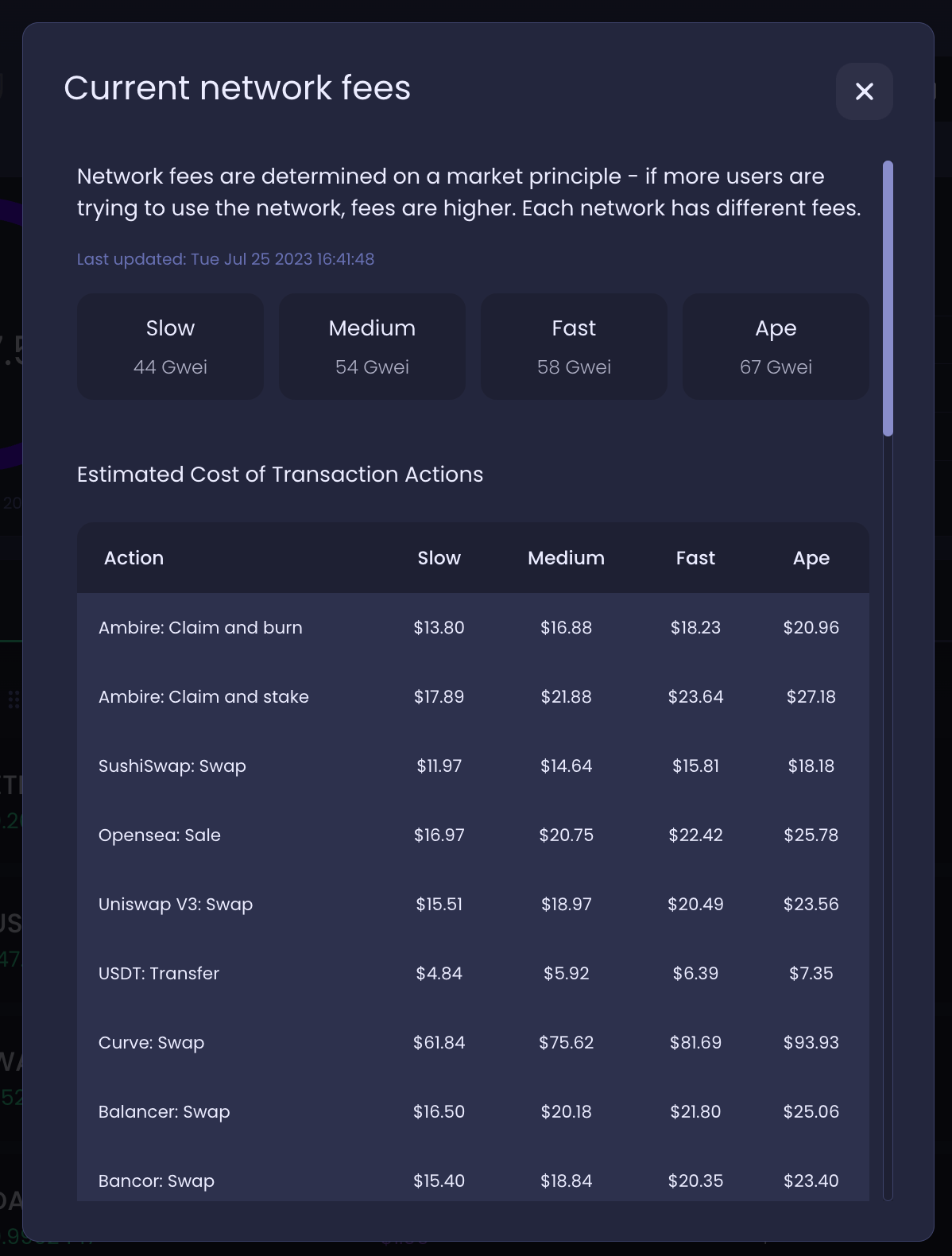 Transaction Batching and Management
First of all, did you know that you can combine multiple transactions on Ambire Wallet and then sign them as one, thus saving even more on gas? Yes, that's correct - you can "bundle" as many transactions as you'd like and submit them all together.
An example of the benefits of batched transactions: with Ambire, you don't need to sign two different transactions in order to do a swap on Uniswap or any popular protocol that has token approvals. On Ambire, the token approval transaction is combined and broadcasted with the actual swap transaction.
Furthermore, the transaction history shows all waiting to be signed, pending, or completed transactions, as well as any signed messages in a human-readable, easy-to-understand format. This means you no longer have to navigate complicated transaction logs or guess what vague descriptions mean. In Ambire Wallet, it tells you exactly what happened in simple words.

But that's not all! We also offer Transaction Simulation: This means that we estimate the outcome of the transaction and show what your balance would be once the transaction is completed. This is not just a useful visualization but also a great tool to prevent malicious transactions.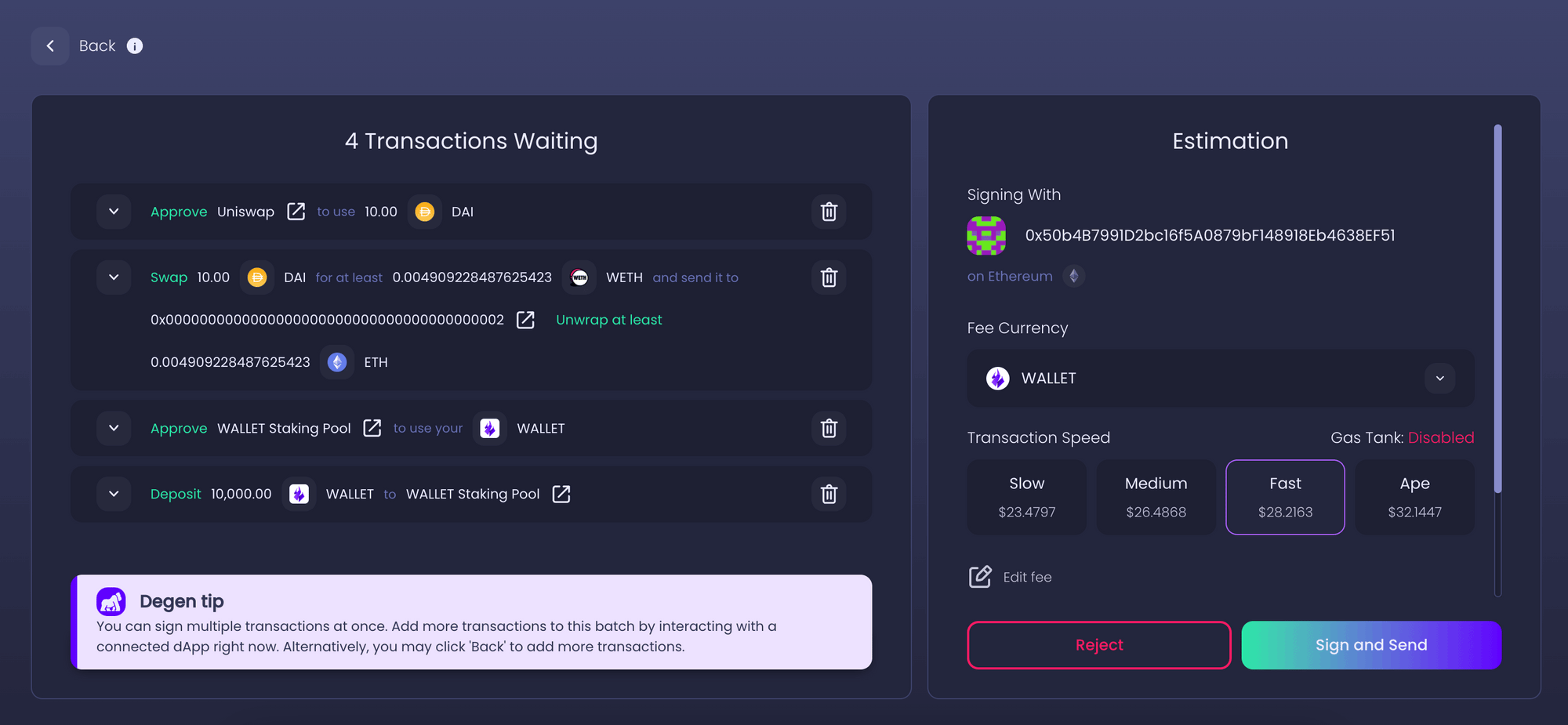 We have some useful articles on transaction history, where to see pending transactions and transaction batching in our Help Center to help you get started.
Account and Network Management
Creating an account with Ambire Wallet is easy peasy - you can create a self-custodial wallet with just email & password: no complicated seed phrase required! Alternatively, if you already have another Web3 wallet or a hardware wallet, you can use those to sign up with Ambire in no time. Forgetting the password is also no longer an issue: email recovery is readily available.
On Ambire, you can manage different accounts easily and switch between accounts from a dropdown menu without hassle - both on the web and mobile apps.
Ambire Wallet currently supports more than 10 EVM chains: Ethereum, Polygon, BNB chain, Optimism, Arbitrum, Avalanche, Fantom, Gnosis, and more. And you have a single address across all networks, as well as an in-built bridge that allows cross-chain transactions. This means you can bridge USDC from Ethereum to Arbitrum, e.g., or swap USDC for MATIC and bridge it from the Ethereum to Polygon chain in one transaction.
Find out how to register an Ambire Wallet with email or with another Web3 wallet, and learn how to switch networks or change or recover your password.
Granular Wallet Security
Ambire Wallet is open-source, audited, and follows the best security practices. It's a common misconception that email and password wallets (or smart contract wallets in general) are not as secure as EOAs with a seed phrase. But this really isn't the case!

Firstly, you can (and should) add 2-factor authentication for your wallet if you register via email. This could be either one-time codes sent to your email address for each action you perform (sign a message, sign a transaction, etc.), or you can use an authenticator app. You can also download the wallet's JSON file to recover the account or use it on another device, e.g.
Signer keys further allow for granular security over the account. These can be an email address, another Web3 wallet, or a hardware wallet, e.g., and only those signer keys authorized by you would be able to sign transactions. And the best part? You can add or remove signers as you please (or if one of them gets compromised, e.g.).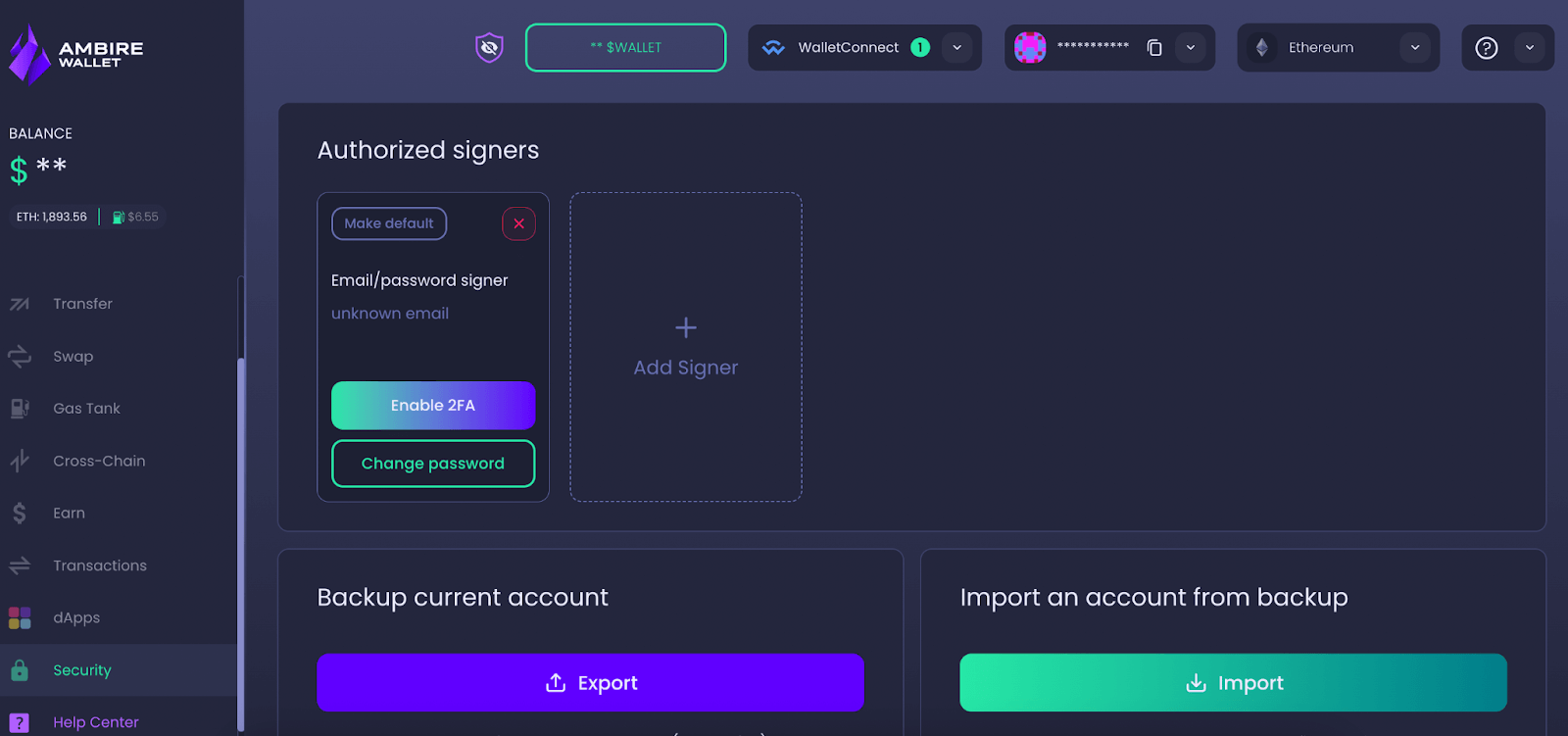 Deposit, Swap, or Send in Seconds
You can deposit tokens and NFTs to your account by copying or QR-scanning the wallet address. If you do not have any crypto yet, don't sweat it! We have in-built on-ramp solutions allowing you to buy crypto with FIAT via credit card or bank transfer, with options from 7 different providers - directly in the wallet. You can sell crypto as easily and receive FIAT currencies or gifts through our various pre-integrated providers.
You can also swap any tokens directly in the wallet - powered by Uniswap. Or swap across chains with our cross-chain bridge.
To send tokens and NFTs to your friends or to another wallet, simply paste an address, or type an ENS or Unstoppable Domains address. If you send funds to some addresses, add them to your Address Book for a more straightforward experience.
Easy Interaction with Your Favorite dApps
Use your favorite dApps directly in the wallet - in the web wallet, we have already added a number of verified dApps in the dApp catalog. You can also add any custom dApps you use regularly to the catalog or use Ambire to connect to other dApps via WalletConnect.
In the mobile apps available for Android and iOS, you have an in-built dApp browser where you can search for any dApp you'd like to use.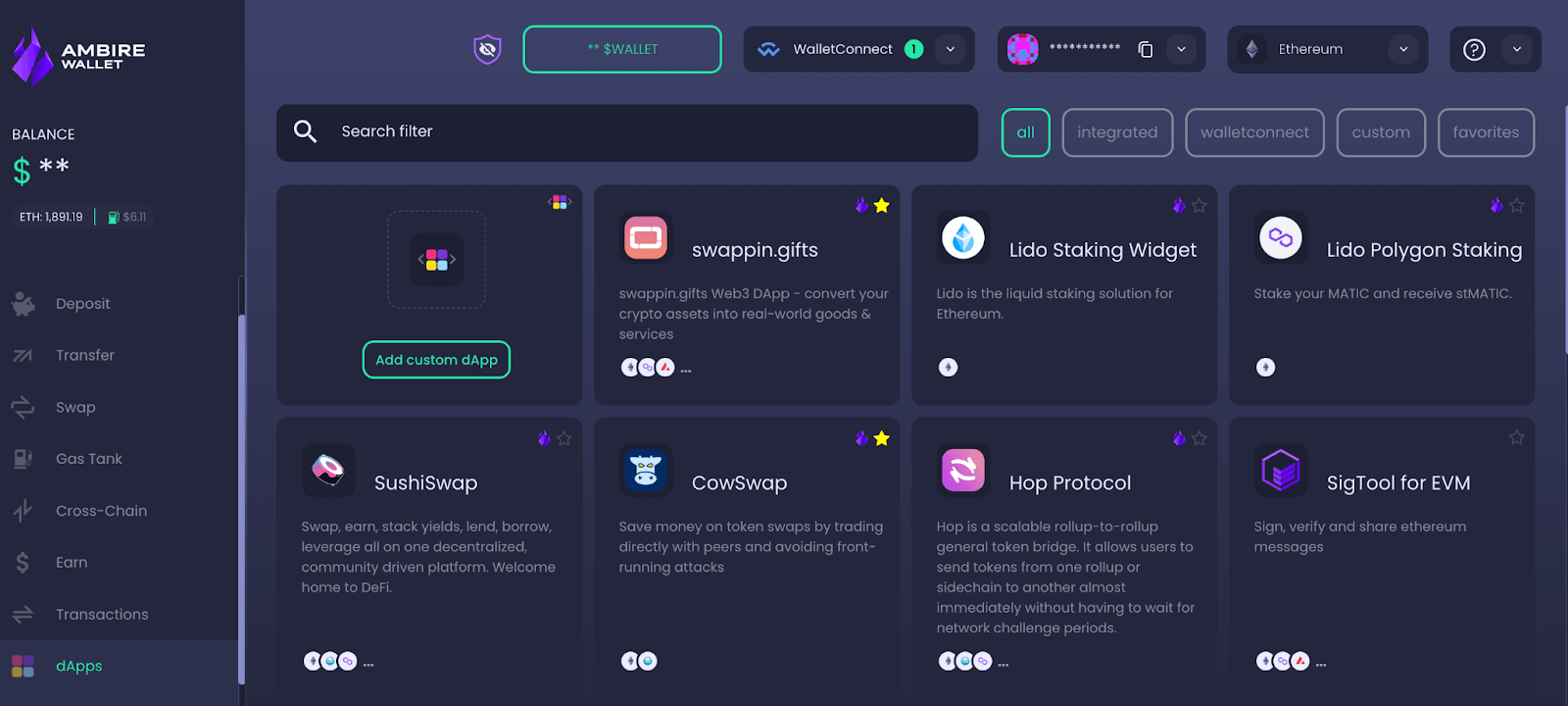 Earning Opportunities
Make your assets work for you! In Ambire Wallet, you can earn interest on your crypto through pre-integrated lending and trading services.  If you hold WALLET or ADX tokens, you can also stake them directly and take advantage of great APYs. Or deposit assets into AAVE & Yearn pools.
Rewards for Simply Using the Wallet
You can earn rewards just by using the Ambire Wallet! As part of our Early User Incentives Program, those users who maintain a wallet balance of more than $1000 in eligible tokens. It doesn't have to be all in the same currency - as long as the total value is over $1000, you would still qualify. Read more about WALLET token rewards.
The Best Is Yet to Come
Stay tuned for more updates from the team as we are tirelessly working on the Ambire Wallet browser extension. It will have even more amazing features than the web version and mobile apps, so you won't want to miss it! Your DeFi experience will be even more of a breeze!
We encourage you to explore our community channels below for assistance in using or understanding our features or if you wish to request a new feature.
---
​​Interested in Ambire? Follow us:
Discord | Twitter | Reddit | GitHub | Telegram | Facebook