Ambire Gas Tank Launches with Exclusive NFT drop
Save on transaction fees and earn exclusive NFTs with the new Ambire Gas Tank feature.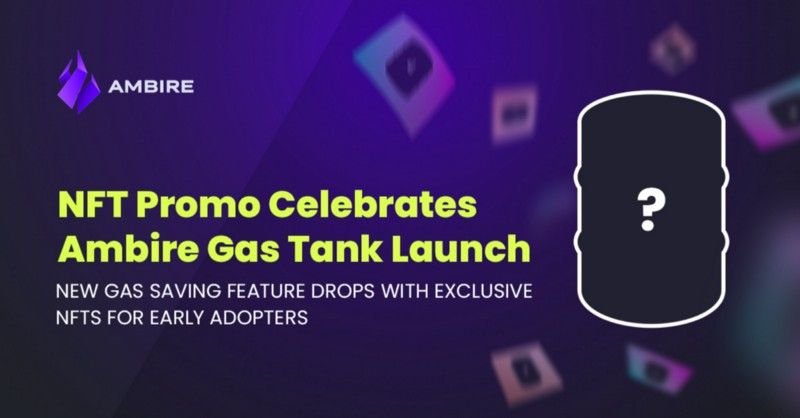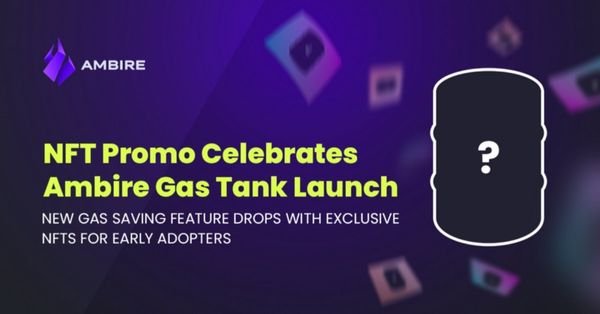 Ambire Wallet releases gas fee saving feature with dedicated NFT promo
🤠 Howdy, Ambire users! Today we're launching one of the features that got our team super-excited: the Ambire Gas Tank.
🎉 To celebrate it, we're also releasing an exclusive promotion that will reward early users of the Ambire Gas Tank with a custom and limited NFT airdrop. Holding these NFTs will bring a special 1.25 multiplier for native $WALLET rewards.
Read on for all the deets👇
⛽️ What's the Ambire Gas Tank?
The Gas Tank is a feature that enables Ambire Wallet users to benefit from savings on transaction fees for the relayer. The relayer is a component that broadcasts your Ambire transactions to the network. Every time you use the relayer, you need to pay a small extra fee for the transaction. The Gas Tank works like a prepay mechanism, crediting the relayer in advance through one deposit to the relayer fee address.
When you enable the Ambire Gas Tank and prepay through token deposits, you will no longer be charged for the additional network fees associated with smart wallet features such as ERC-20 fee payments. This means you will pay less for every new transaction that needs to be relayed while the Gas Tank feature is active, saving significantly, over time.
This is partly due to the savings coming from relayer fees, and partly also because of the difference between the estimated fee signed for at the moment of transaction and the real fee paid in the end, towards the network. This difference is also returned to the user when using the Gas Tank, sort of like a cashback.
To enable the Ambire Gas Tank, just go to the dedicated page in the main menu (1) and make a prepay deposit in the dedicated window (2):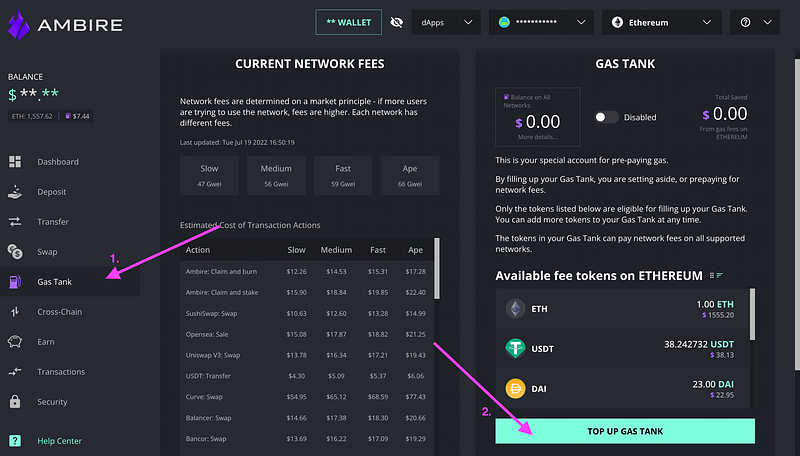 Then, after the transaction has been confirmed and your Gas Tank balance updated, you can go back to the Gas Tank page and switch the Gas Tank on (toggle right to enable — 3).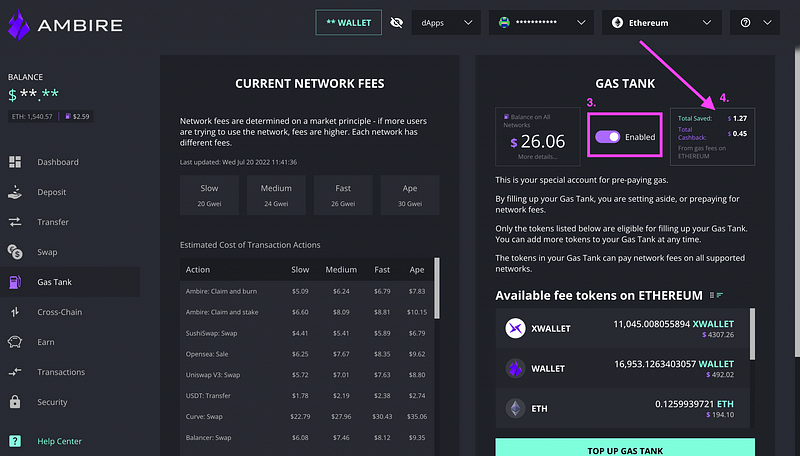 After you pay for transactions with the Gas Tank enabled, you will be able to see on the Gas Tank page exactly how much you save and get as cashback, over time (4).
For the Gas Tank to work/to be enabled, at least one of the fee tokens balance that is deposited in the tank must be enough to cover your needed transaction fee.
When your Ambire Gas Tank runs low or empty, you simply make a new deposit to refill it.
And the 🍒 on top? After you deposit tokens in your Ambire Gas Tank and enable it, you are free to pay for transactions with any token in your Gas Tank balance, on any network — even if it's not natively supported. For example, you could deposit MATIC on Polygon to the Gas Tank, and then use the MATIC to pay transactions on Moonriver, Arbitrum or Optimism, etc. — how's that for full flexibility in DeFi? 😺
More on how the Ambire Gas Tank works here.
☑️ Simple promo mechanics
Awesome things need to be celebrated, so we're launching the Ambire Gas Tank today with a special event: an NFT promo starts today and lasts for ten days, until July 31st.
During this time, all Ambire users who deposit a minimum of 100USD equivalent in crypto to the Ambire Gas Tank will automatically qualify for the NFT drop.
To fuel the Ambire Gas Tank, make sure you hold at least one of the eligible tokens for prepaying your Gas Tank credit — we've got you covered on 10 networks (see whitelisted tokens here).
That's all there is to it, really: no hassle, no jumping through hoops — you qualify for receiving an NFT just by using our new awesome feature 😃.
🤔 Wait, what NFTs are we talkin' 'bout?
There will be 10.000 NFTs awarded in the Ambire Gas Tank launch promo, and they will be exclusive to this event, meaning they will only be available as a one-time reward for the first 10.000 users who qualify during the promotional period.
The original artwork for the NFTs is created by the Ambire design team, and each one of them will have its own unique identifiers:

The NFTs will be minted on the Polygon network and will appear directly in your Ambire Wallet account, once you have topped-up your Gas Tank with the 100USD crypto equivalent.
Most importantly though, holding such an NFT in your Ambire account grants you a 1.25 multiplier on your $WALLET rewards — that means you will not only save on gas fees by using the Ambire Gas Tank but you will also increase your $WALLET bags significantly, proportionally to your Ambire account balance.
So make sure you prepay your Ambire Gas Tank today and qualify for our exclusive NFT drop. Then just sit tight, watch our community channels for news, and enjoy the 🔥🔥🔥
FAQs
— How long does the Ambire Gas Tank launch promotion last?
The NFT launch promo will last for 10 days, from July 21st, 18:00 EEST to July 31st, 18:00 EEST. 2022.
— What do I need to do to qualify for the NFT drop?
To be eligible for the NFT drop, you must:
have an active Ambire account with a positive crypto balance
make at least one deposit of minimum $100USD equivalent in crypto to your Ambire Gas Tank, in a token that is eligible (see whitelisted tokens' list here).
That's all, if you meet these 2 conditions during the promo period, you automatically receive an exclusive NFT 🎁
— How do I claim the NFT?
There is no mint or claim process necessary from the user side for receiving the Gas Tank NFT — we have automated the process so that it will be sent directly to your Ambire account on Polygon network, after the 100USD crypto equivalent deposit is made to the Gas Tank. No effort, no fees: simple and 🆓
— How many NFTs can I collect?
Users can qualify to receive multiple NFTs during the promotion period: one for each deposit of at least 100 USD equivalent in crypto. However, each user can only receive one 1.25 multiplier for $WALLET rewards 💸
— How many NFTs will be awarded?
The NFTs are capped at 10.000 pieces, meaning the first 10.000 accounts that make Gas Tank deposits that qualify for the airdrop will be the ones to receive them ⏹
— How long will the NFT rewards multiplier be active?
The Ambire Gas Tank launch NFTs will have an active multiplier for approximately 3 months, until the end of October 2022 🗓
— What benefits do Ambire Gas Tank NFTs bring?
First of all, these will be exclusive NFTs, a limited-edition original digital series that can be valuable in time due to its scarcity — they are especially created for this event and no one will have NFTs like these ever again. Even if someone would could try to shamelessly reproduce the design, the NFT addresses will be written directly on-chain, so no way of really copying them 💎
Secondly, the Ambire Gas Tank NFT holders will benefit from a 1.25 multiplier for their $WALLET rewards for a period of approximately three months, therefore a potentially significant gain, depending on the user's account balance. And if you add this to the other streams of discounts and rewards in Ambire Wallet — the $WALLET rewards accruing from holding funds, those from staking Ambire native tokens or the gas fee discounts — you've got yourself the cheapest, most efficient and secure ride through crypto and web3 🚀 🚀 🚀
— Can I prepay the Ambire Gas Tank in any token?
The Ambire Tank can only be prepaid/loaded with tokens that are eligible for this feature. See the whitelisted tokens here 📖
— Can I use my Gas Tank deposit/balance to pay for transactions on all networks / chains?
Yes, once you have funds in your Gas Tank, you can pay with any token you choose and is present in your balance, on any network. However, note that you cannot deposit any tokens on any chain, just the eligible ones for each chain (see the options here) 🎛
— Can I withdraw my credit from the Ambire Gas Tank ?
There is no reverse option for the Ambire Gas Tank deposit, as its very function is to allow you to enable and credit it when you know you are going to make multiple transactions in the near future, so that you can save on network fees. This is intended and expected user behavior: similar to a prepaid sim card, once the credit is charged, the user is expected to consume it and, if necessary, recharge 🔌
---
Interested in Ambire? Follow us: