New Interactive Flow: The Ambire dApp Catalog Ensures Smooth Web3 Sailing
Ambire Wallet now whitelists dApps to round-up a sleek & secure UX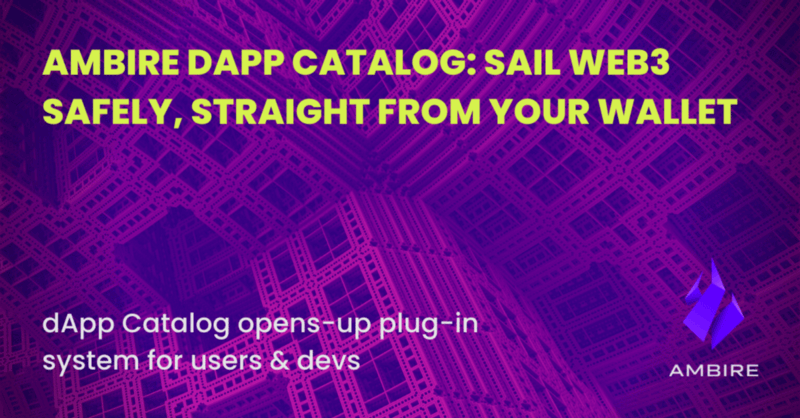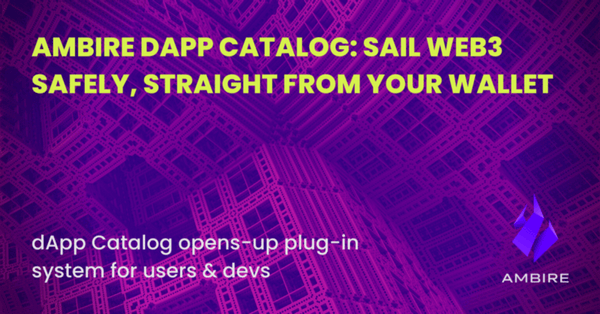 Ambire Wallet now whitelists dApps to round-up a sleek & secure UX
Greetings, fellow Ambirers 🙌
We're so excited to officially share with you our dApp Catalog and plug-in system 🎉
Some of you may have already noticed it in your Ambire accounts, but let's have an in-depth look at this new rockin' release 👇
dApps in your Dashboard ☑️
🎯 You know how Ambire is all about a smooth and intuitive user journey, right? And by now you probably also know that Ambire stands for innovative cool tech 🚀
Well, the 🔥hottest🔥 release to combine both these traits is our dApp Catalog: (a plug-in system enabling) a curated collection of popular decentralized apps, that you can interact with straight from your Ambire dashboard: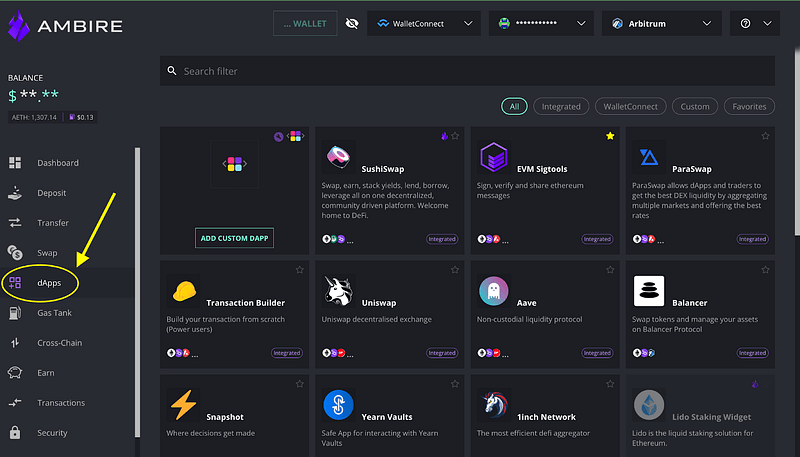 All you need to do is select the dApps button from the main menu, which will open a window with a nice dApp assortment: from exchanges to vaults to DEX aggregators, voting and signing solutions, even 3D virtual worlds (e.g. Decentraland) etc.
You then choose the dApp you wish to interact with, making sure you are on the desired network/chain.
While the old journey for connecting and interacting with dApps meant navigating outside the wallet and switching between apps/tabs to sign different operations while connected, with the dApp Catalog you never have to leave the comfort and safety of your wallet.
🧐 Context & Relevance
The reality of our current crypto world — just like for the physical or web2 ones — is that there are people trying to scam and take advantage of users, refining their tools for this purpose.
And users can easily fall for these scams, no matter how experienced: either beucause they're in a hurry, not paying attention, make a human error or are just newer to the space, they can often slide into a con or miss signals pointing to malicious actors:
Which is why the advantage of the dApp Catalog is double-fold:
at operational level: security model ensures you are invulnerable to the plethora of phishing attacks or fake sites ➡️ users who previously connected their wallet addresses to a URL typed in a browser or found in google search results etc. simply bypass this step, interacting with dApps directly from their wallet dashboard 🪄
at UX level: the marketplace-like app catalog is straightforward and intuitive, making your journey faster/saving time and offering ease of mind ➡️ establishing best category practices is essential for onboarding the next billion users to crypto ➡️ building tools that speak human 😏
💥 That's right, not even one year in, Ambire is becoming the versatile crypto tool envisioned to rule the new web 🔮
⚙️ Under the Catalog's Hood
The Ambire dApp Catalog is in fact the interface for the Ambire Plug-in System, which was created as the secure solution to open-up Web3 for Ambire users and devs.
There are over 20 whitelisted dApps present in the Catalog, already audited (all dApps require security review, among others).
dApps can be inserted in the Catalog via two build structures: compatible either with the WalletConnect approach (featured), or with the [Gnosis] Safe approach (integrated).
Basically, the dApps are loaded to Ambire Wallet via iframe — the user interacts directly with the official dApp from their Ambire dashboard.
Developers can easily integrate their custom dApps through the same UI: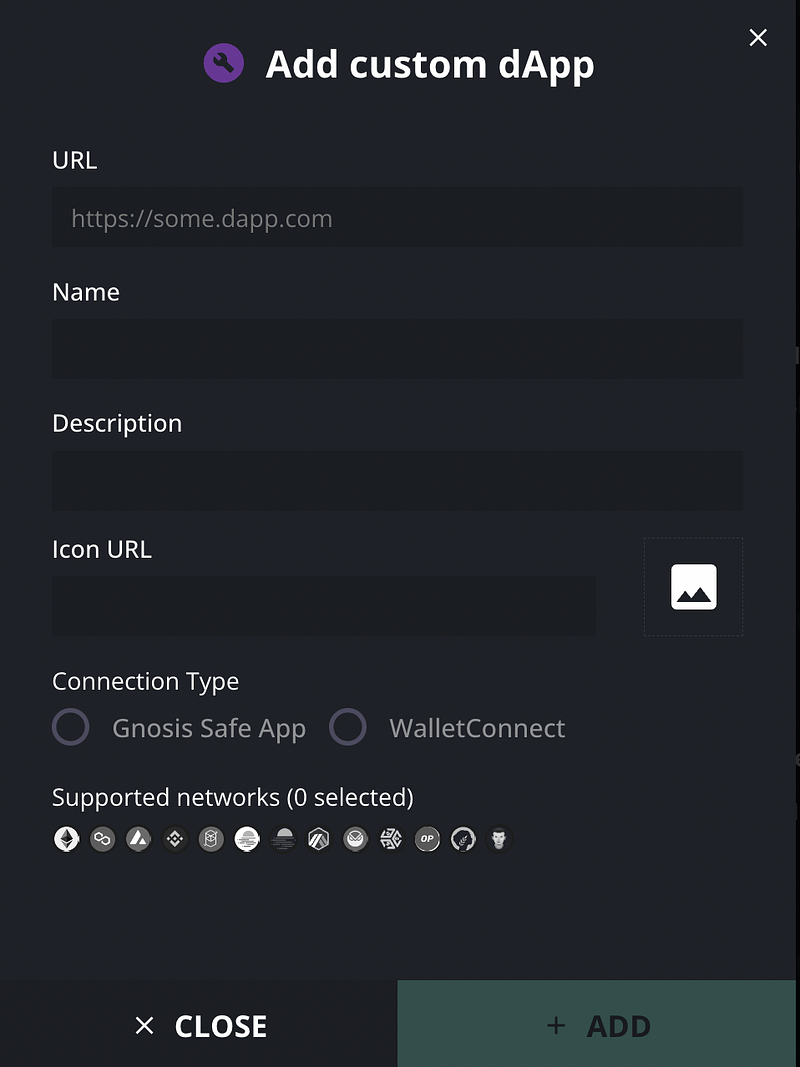 For details on how to integrate new dApps, our short guide on Git is here to help.
🤝 Better Together
For us, the dApp Catalog project started all the way back when we first imagined Ambire 💡
After lots of research and tons of work, we're ready with the version you see live.
But finishing this challenge can only be done together — we're inviting you, our users and community, to help fine-tune our web3 portal 🪞
🗣 As always, we're eager to hear what you think and how you feel about your new Ambire experience, or if there are any cool dApps that could be in the Catalog and aren't yet. So don't be shy and share your thoughts, ideas or questions, either in our Discord servers or directly on Twitter.
And if you haven't already, be sure you start using the Ambire dApp Catalog: we made sure it's smooth web3 sailing, so just enjoy, frens ⛵️
---
Interested in Ambire? Follow us: