Best 5 Account Abstraction Wallets for 2023
The best Account abstraction wallets in 2023: leveraging smart contract functionalities, exploring pros and cons, specific capabilities, and use cases.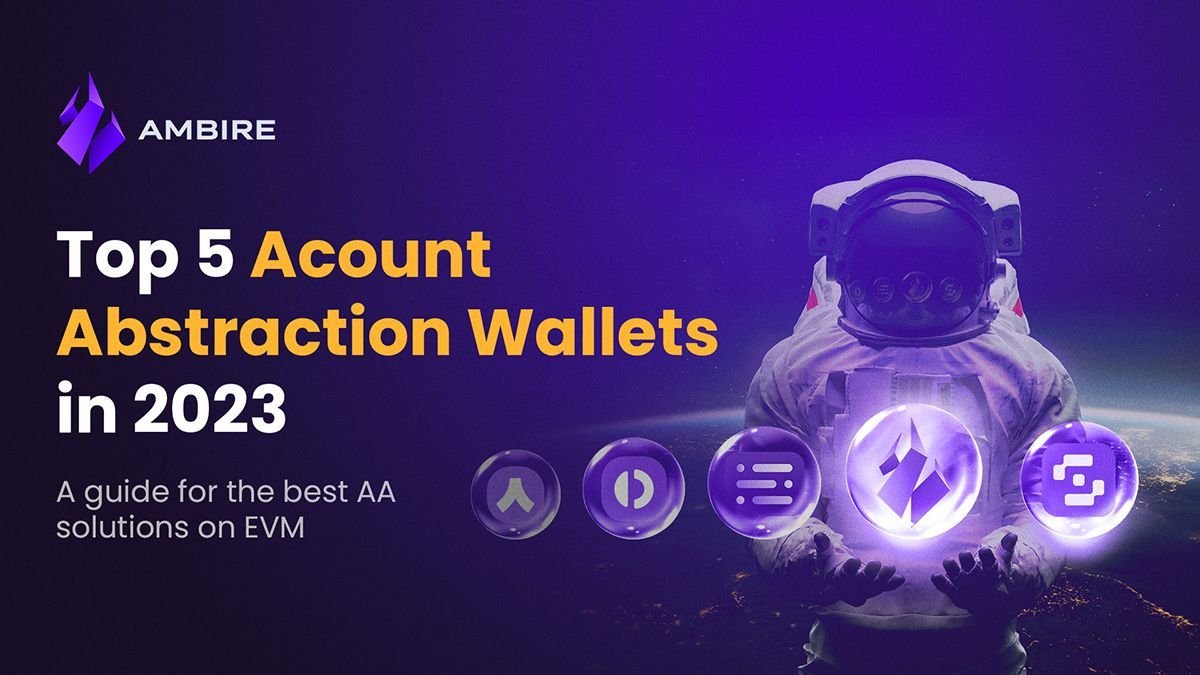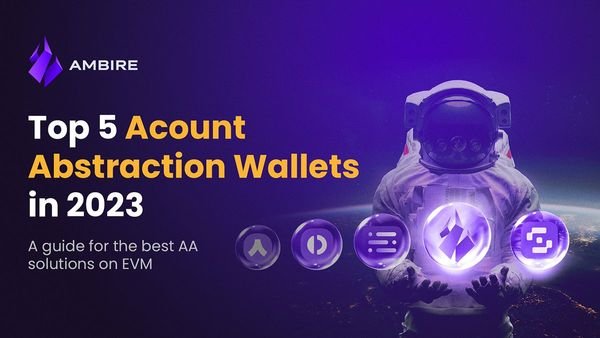 The Best 5 Account abstraction wallets you should consider giving a try:
Ambire — secure & easy-to-use universal Web3 wallet
Argent — Layer 2-driven wallet
Avocado — fresh, network-agnostic wallet
Safe —  popular for governance/collaborative structures
Sequence — best for Web3 gaming
---
Account abstraction has taken by storm both fintech and crypto, as developers and investors have finally understood the true power of smart contracts on Ethereum.
With features like account or social recovery, direct dApp interaction, multisig or gas fee-saving mechanisms,  AA wallets are setting a new standard in crypto asset management. They are also improving self-custody with a more user-friendly approach compared to EOAs (wallets that work with seed phrases).
Smart contracts have actually existed as an Ethereum functionality since the network launched, even though the market for such products only took off with the ICO frenzy of 2017. Some of these veterans are today leaders in their category, while fresh new players and visions are reshaping the road to Web3.
Let's have a look at how the best 5 account abstraction wallets for 2023 leverage their smart contract functionalities:
Ambire Wallet
Launched in late 2021 as an account abstraction native solution, Ambire Wallet offered from the get-go advanced features like batching transactions, multisig, or fee payment in stablecoins on multiple chains. Pivoting from blockchain advertising solution AdEx Network, the company is based in Estonia and has Eastern-European roots, while the team is distributed.
These builders focus on delivering a user-friendly interface backed by a high level of security and operation complexity. This approach makes it a highly versatile tool for crypto — this is why Ambire can cater to newcomers and veterans in the space. They were the first to offer gas fee-saving mechanisms: the Gas Tank helps you save on transactions and lets you pay in whatever token you have. Most notably, they were also the first self-custodial wallet to offer email & password sign-up, bridging Web3 tech with Web2 UX best practices.
Ambire proposes a secure universal wallet with a UI that's informative and easy to understand by anyone, but with highly advanced DeFi features like an in-built bridge, earn and swap functions, as well as a dApp Catalog, making it a smooth tool also for whales and deep-divers in crypto. The wallet supports 10+ EVM chains (Layer 1 & Layer 2), with more to come in the near future.  
Ambire Wallet is available as a web app and mobile app for iOS and Android. The team plans to launch a browser extension and desktop apps, ensuring a complete product line-up for every need.
Argent
Argent is one of the most interesting smart contract wallets out there, targeting specifically newcomers to crypto and concentrating on Layer 2 operations. Hailing from France, the company was part of the pioneering account abstraction projects from 2017-2018, along with Safe and Ambire, and has since gained solid followship in the crypto space.
It offers top smart account features like social recovery, multisig, fee payment in stablecoins, or multicall (bundling operations) at top speeds.
Argent delivers a sleek product focusing on secure self-custody at the most convenient costs, which is what it's currently deployed only on Ethereum Mainnet and Layer 2 chains zkSync and StarkNet. This configuration follows the brand's vision, doubling down on the networks they see as the operational working chains of our future Web3.
A mobile-first wallet, Argent is available on iOS and Android, although Argent X, used for navigating and operating on StarkNet, is a browser wallet.
Avocado by Instadapp
Avocado is built by Instadapp, a DeFi-oriented developing platform that connects protocols and dApps working on EVM. It's the new kid on the block (launched in March 2023), with a fresh look and on a mission to simplify complex DeFi transactions.
It packs most of the features that the pioneers of account abstraction have already mastered and can support multiple DeFi protocols from a single interface (like a blockchain aggregator). This enables users to execute multi-network transactions while being connected to a single network.
However, it's worth noting that transaction fees on Avocado are currently paid only in USDC, thus limiting user use cases. The underlying tech could accommodate other options in the future, so it will be interesting to see how this project grows and stacks up against the already established players in the race toward the crypto wallet superapp.
Avocado Wallet is a decentralized web application (dApp) available on desktop and mobile.
Safe
Safe spun out of the German tech powerhouse that builds and maintains the Gnosis ecosystem, gaining its independence in 2022 and rebranding from Gnosis Safe (previously Gnosis Wallet). One of the oldest smart contracts deployed on Ethereum, this platform focuses on securing the custody protocol and bringing a better ownership standard.
Their efforts are driven by two vectors of blockchain philosophy — autonomy and collaborative ownership — and so far, they've paid off: at the end of 2022, Safe had the largest share of on-chain funds in the crypto wallet space.
By far, Safe excels at offering solutions for collective asset management, being the preferred tool for DAOs and collaborative platforms, and supporting more than 12 EVM chains. Through account abstraction, they also provide advanced multisig options, transaction simulation, and an internal app store to browse and interact with Web3 applications.
Compared to other wallets, Safe seems less focused on streamlining user flows or easy onboarding, having a bit of a complex interface that beginners in crypto might find daunting. Its main selling point remains security — hence its identity.
Safe is available as a mobile app for Android and iOS, as well as a web app.
Sequence
Last but not least, Sequence Wallet is a project that has steadily gained popularity since its launch in late 2022, being developed by Horizon, a blockchain company with an impressive investor roster.
Their initial vision was to create a new kind of FinOps solution for B2B; however, the wallet has slowly but surely adopted most of the best practices and innovation in the account abstraction space, making it an interesting tool for the direct consumer segments also.
Just like Ambire, it focuses on delivering a seamless Web3 journey and leverages a complex tech stack on multiple networks.
Interestingly, the gaming DNA of the mother company is felt in the Sequence offering: it excels as a wallet for gamers in the Web3 space, with features such as the ability to quickly transfer funds between games, support for game-specific tokens, and an integrated chat system.  
Sequence is available as a web app for desktop and mobile.
A Quick Comparison
Weigh the advantages and features of each account abstraction wallet in one short look:
| Feature | Ambire | Argent | Avocado | Safe | Sequence |
| --- | --- | --- | --- | --- | --- |
| No Seed Phrase | ✅ | ✅ | ✅ | ❌ | ✅ |
| Mobile App | ✅ | ✅ | ❌ | ✅ | ❌ |
| Web App | ✅ | ❌ | ✅ | ✅ | ✅ |
| Multichain | ✅ | ❌ | ✅ | ✅ | ✅ |
| Hardware Wallet Support | ✅ | ❌ | ❌ | ✅ | ❌ |
| Multisig / Social Keys | ✅ | ✅ | ✅ | ✅ | ✅ |
| Gas Fee Token Flexibility | ✅ | ✅ | ✅ | ❌ | ✅ |
| Account/Social Recovery | ✅ | ✅ | ✅ | ✅ | ✅ |
| Supports Alt Coins / Staking Tokens | ✅ | ❌ | ✅ | ✅ | ✅ |
| FIAT On- / Off-ramping | ✅ | ✅ | ❌ | ✅ | ✅ |
| Supports Plugin System | ✅ | ❌ | ❌ | ✅ | ❌ |
| No External Account Needed | ✅ | ✅ | ❌ | ✅ | ✅ |
| Open Source | ✅ | ❌ | ❌ | ✅ | ❌ |
Conclusions
Account abstraction reshapes digital asset management, offering users unprecedented flexibility and control in crypto. It has the power to fuel Web3 and steer us toward our future digital world through tools like smart contract wallets.
Whether you're a seasoned crypto enthusiast or a newcomer to the blockchain space, the best account abstraction wallets available today already offer you a range of features that ease and enhance your experience, both on mobile and desktop.
It will be interesting to see how the best account abstraction mobile wallets will fare in the user battle against their browser or desktop counterparts. But with the stakes as high as driving the new digital revolution/converting billions to crypto, we can be sure the builders and makers are going to bring their best to the game.
Choosing the right platform for your digital assets depends on your specific needs and preferences, as well as your level of crypto knowledge and familiarity with blockchain operations. So, as customary in crypto, the invitation is to DYOR/explore and play a little with all these platforms, consider their pros and cons —and only then choose the one you think can best guide you in navigating Web3 securely and with ease.
---
​​Interested in Ambire? Follow us: