Ambire Wallet Development Update November 2023
Check out what we have been up to at Ambire Wallet, including teasers for the upcoming browser extension!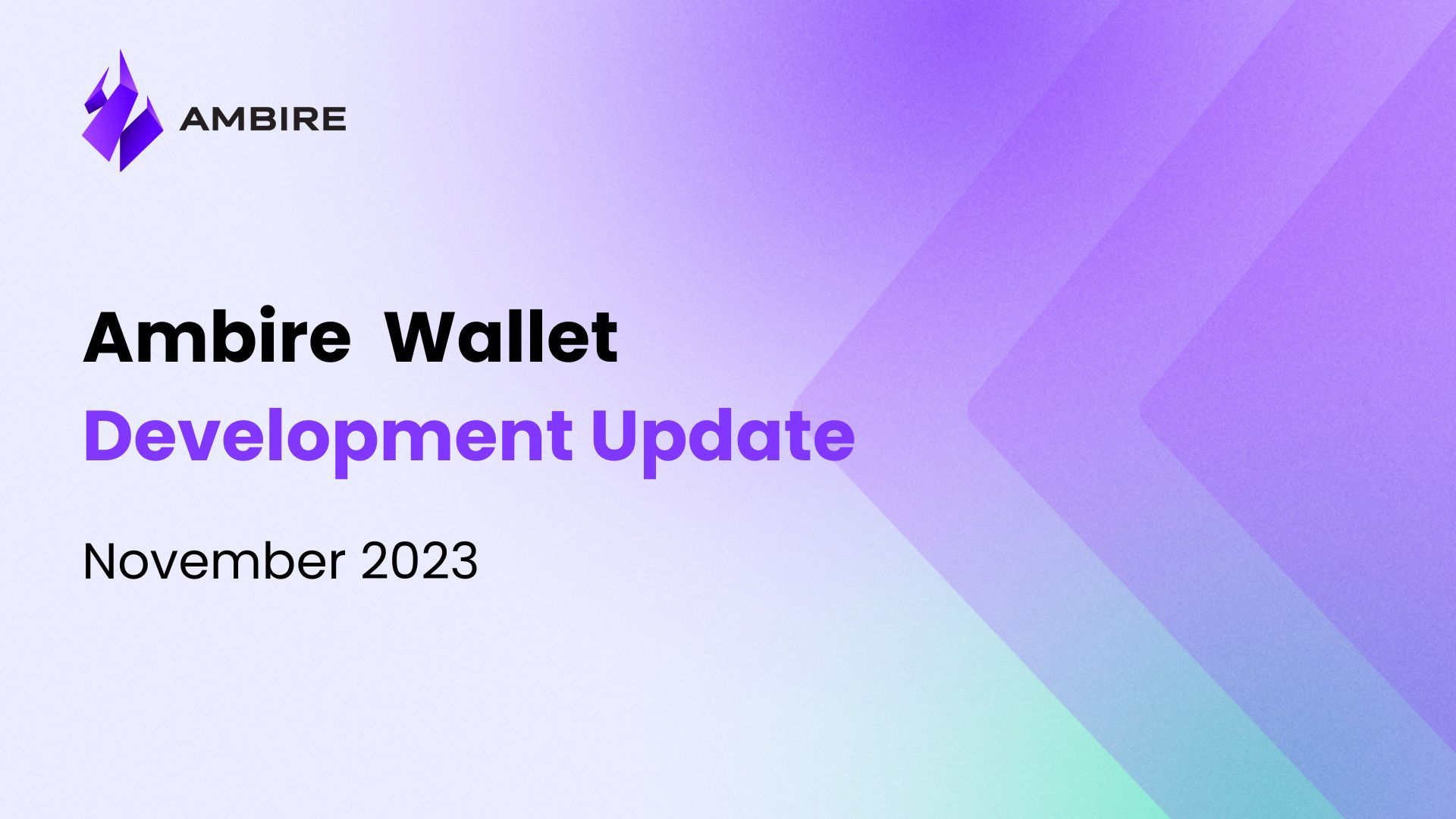 As we near the end of 2023, it's time to look back and reflect on what we have achieved in the year. We also thought, why not give you a quick update on what is happening with Ambire Wallet? Read on to find out what the latest development updates are.
Ambire Wallet web & mobile
We have some fantastic news to share! Our web wallet and mobile apps for iOS and Android are crushing it! The Total Value Locked (TVL) is off the charts, and we're seeing a surge in activity and new registrations. We've now hit a major milestone of over 110,000 registered users!
But that's not all; our development team has been working tirelessly on the highly-anticipated browser extension. We believe this is the next big iteration of the wallet that will take your experience to the next level.
Ambire Wallet browser extension
It's been all hands on deck to deliver the awaited browser extension. While we still have some work ahead of us, we wanted to show you what we have been up to so far and what's in store for the extension. If you follow us on X (Twitter), you may have seen some teasers already (and if you don't, you should follow us to stay up to date). Here, we'd like to summarize the most important milestones and future extension features so far:
ERC-4337 native support & account creation
Ambire Wallet will be the first extension to unleash the full potential of Account Abstraction (AA) with native support for ERC-4337. Let's first look at account creation.
You will be able to create an AA account in no time with either:
A hardware wallet
An EOA wallet (legacy account)
Email address
If you choose to use an EOA or email, your account will be secured with a (recoverable) Ambire Key Store passphrase: a password specific to your device.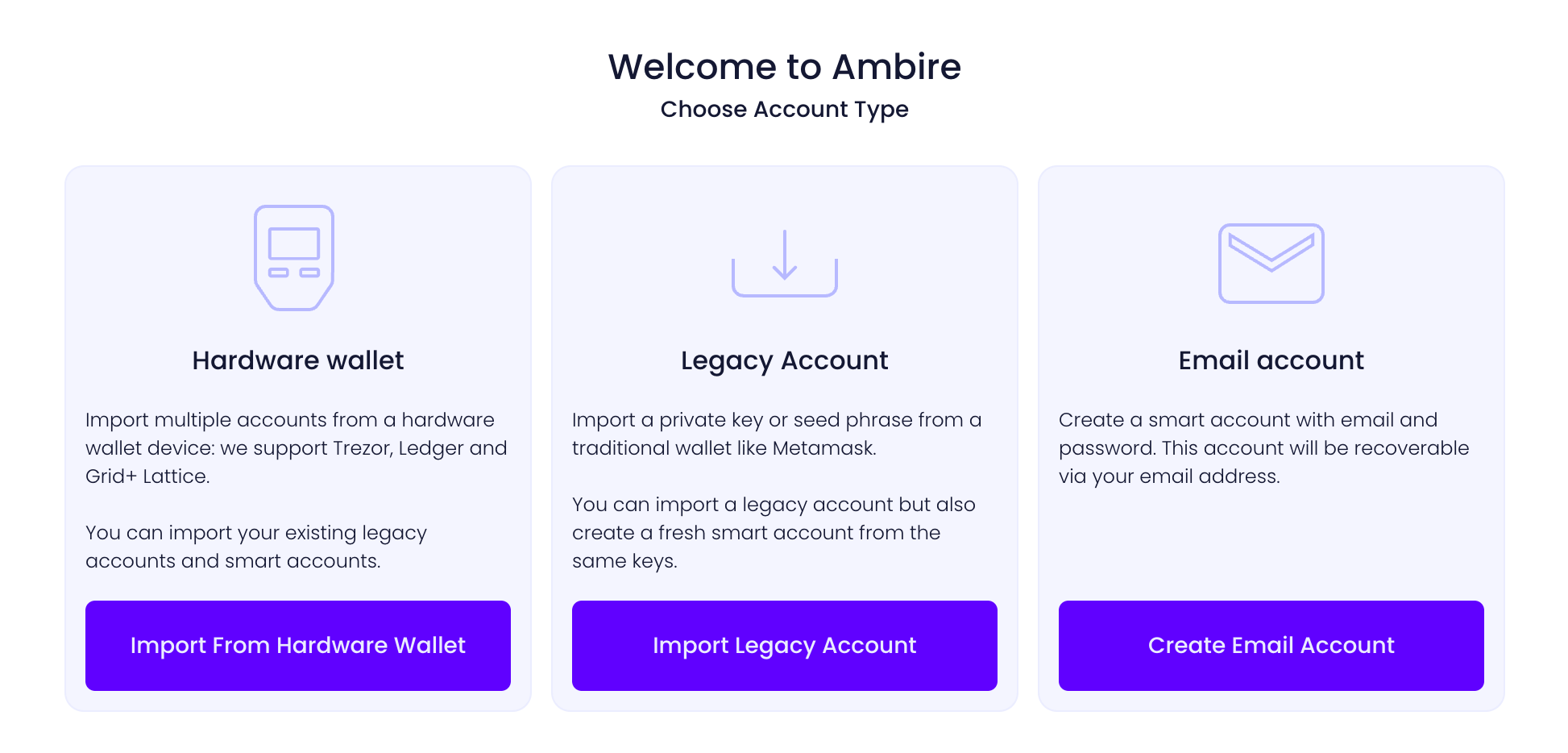 If you already have an Ambire Wallet account, you would also be able to import it via its JSON file.
Now, as for ERC-4337 support, Ambire Wallet is already compatible with it but isn't natively integrated into it as we have our relayer. The relayer processes more transactions on Ethereum than all ERC-4337 wallets combined.
This won't be the case for the browser extension, though, where ERC-4337 will be enabled by default. We chose Pimlico as the bundler solution as the current leader by quantity of on-chain executed transactions.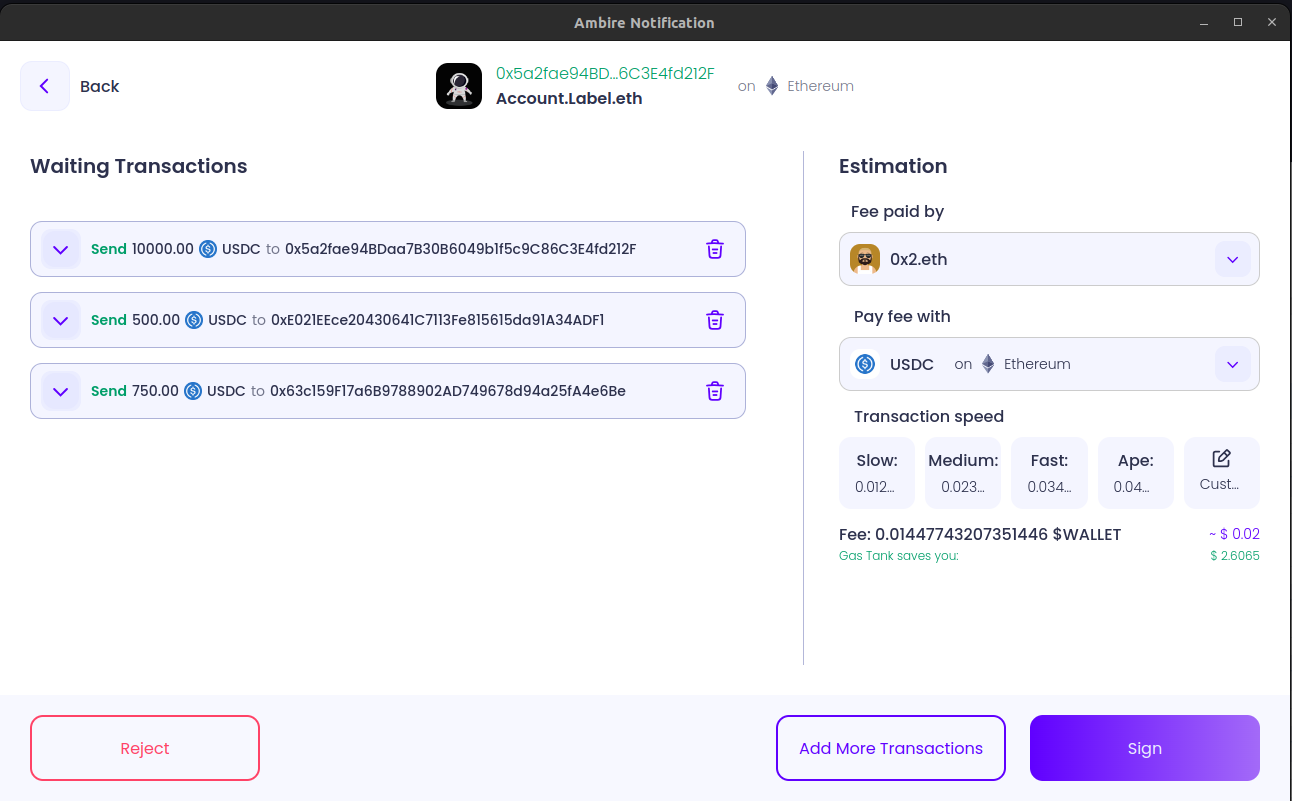 EVM chain support
Currently, Ambire Wallet works on 10+ EVM chains on the web and mobile versions - and any tokens on those chains are supported, too. We often get asked for support for more networks, though - and for now, these need to be added by us.
In October, we achieved a new milestone when our team successfully implemented ERC-2470 into Ambire V2. That means our browser extension users will be able to add new EVM chains without any limitations, independently from Ambire, and continue to have the same address.
What sets Ambire apart and makes it one of the most user-friendly wallets powered by Account abstraction today is the fact that our users have the same address on each EVM chain that Ambire is enabled on. Adding chains in the Ambire Wallet will be like adding chains in any EOA wallet.
Superior transaction simulation
Thanks to transaction simulation, Ambire Wallet improves both the user experience and security. But what is it exactly? As the name suggests, transaction simulation allows you to preview the outcome of your operation before signing it. You can see how the transaction will impact your account balance. Even further, thanks to meta transactions and transaction simulation, you can basically operate with funds that you will have in the future. That is pretty mindblowing, isn't it? Here's an example:
In Ambire Wallet, you can swap WALLET for USDC. Before signing the transaction, you will have your token balance updated with 'pending USDC' now available in the wallet. You can take this USDC (before you even have it) and lend it to any protocol. Eventually, upon signing, Ambire will broadcast three consecutive transactions:
Approve WALLET spend
Swap WALLET for USDC
Lend USDC
Before signing, you can add even more transactions to a batch - and thus save on time and gas fees.
Transaction simulation also helps improve your wallet security. If you use Ambire Wallet to interact with a suspicious contract, transaction simulation will show the outcome of this operation, e.g., funds going out of your account balance, thus alerting you to never sign the transaction. This makes Ambire one of the most efficient scam-prevention wallets out there.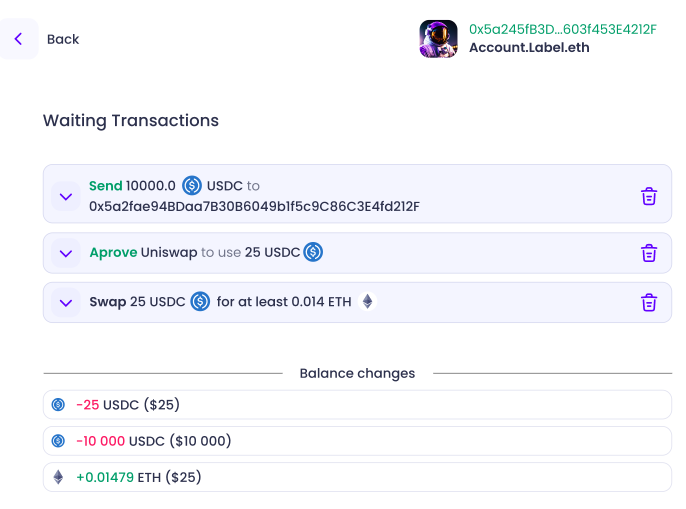 DKIM account recovery
Did you know Ambire Wallet's account recovery mechanism helped users regain access to 117 accounts holding $186,000? These are funds that would have otherwise been lost.
Earlier this year, our team won a grant from the Ethereum Foundation for the development of self-custodial email/password authentication via DKIM. It's an email-based recovery mechanism that is very secure and has DKIM signatures used by most modern email providers.
But what exactly is DKIM? DKIM is a standard email authentication method that adds a digital signature to outgoing messages. Receiving mail servers that get messages signed with DKIM can verify messages actually came from the sender and not someone impersonating the sender.
Ambire Wallet provides a recovery option for email/password accounts if the password or email access is lost. Currently, If a recovery mechanism is triggered, there is a 72-hour time-lock before the user is able to reset their login credentials. However, email recovery with DKIM is being implemented in Ambire's browser extension. That means the time lock will be dropped, and users won't need to wait 72 hours for account recovery. Most importantly, our users will be able to recover their Ambire accounts without sharing any sensitive information with us.
Share your wallet thoughts with us
While we continue to develop the browser extension, we'd love to hear from you on wallet improvements in general. This will help us deliver a wallet and extension like no other, so you never have to use another wallet ever again!
---