Revolutionary Ambire Wallet Launches Publicly with Continuous Early Users Airdrop
Explore how Ambire Wallet is revolutionizing the DeFi space with its public launch, packed with innovative features.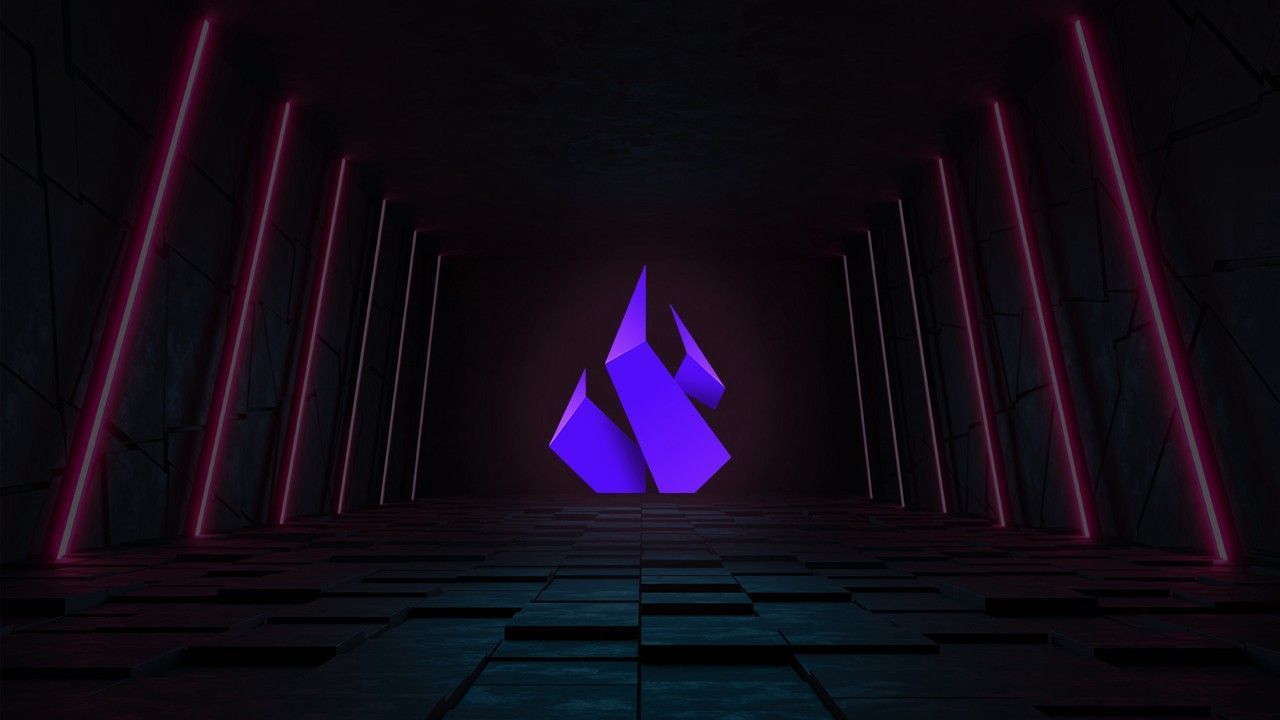 Our wallet is now available to anyone and is poised to be the DeFi game-changer
We are thrilled to announce that starting today, the Ambire Wallet is officially out of beta and open for registration!
Forged at the intersection between the epic vision of our team and the golden age of DeFi, Ambire Wallet is poised to transform how users navigate, manage, and create added value in the crypto ecosystem.
Ambire Wallet is the first open-source, non-custodial crypto wallet with email authentication to be released. Delivering a highly accessible UX and secure, audited tech, the wallet is packed with features that are about to set new industry standards for usability. These include hassle-free onboarding, automatic transaction fee management, built-in ability to swap assets, hardware wallet support, and much more.
If you are curious to review our UI source code and smart contracts, you can do it on our GitHub profile: https://github.com/AmbireTech/wallet.
"Ambire Wallet is the only wallet that lets you sign up within 30 seconds, without installing a browser extension or writing down a seed phrase. You can top it up with a credit card and then interact with Uniswap or any other dApp within minutes. It completely flattens the crypto learning curve," said our CEO, Ivo Georgiev.
Who is Ambire Wallet for
Ambire Wallet was designed for anyone to use, from the absolute beginner in crypto to the degens.
It's ideal for newcomers, as it leads them through a quick and familiar sign up process with email and password. They can then migrate to a hardware wallet later on without having to move funds/positions. The built-in swap feature means that users don't risk phishing attacks by going to different exchanges to swap tokens — everything happens within Ambire Wallet. The intuitive interface helps people avoid stuck transactions, protect their crypto assets, and skip the overwhelming learning curve of DeFi protocols and tools.
At the same time, Ambire Wallet is also the crypto-savvy users' dream. It offers multi-chain support, the ability to batch transactions, the ability to pay gas fees in stablecoins, dApps connection via WalletConnect, Trezor, and Ledger hardware wallet support, built-in cross-chain bridges, frontrunning/sandwiching protection via Flashbots and Eden, and more features that will remodel the way we think of crypto tools.
What to expect from Ambire Wallet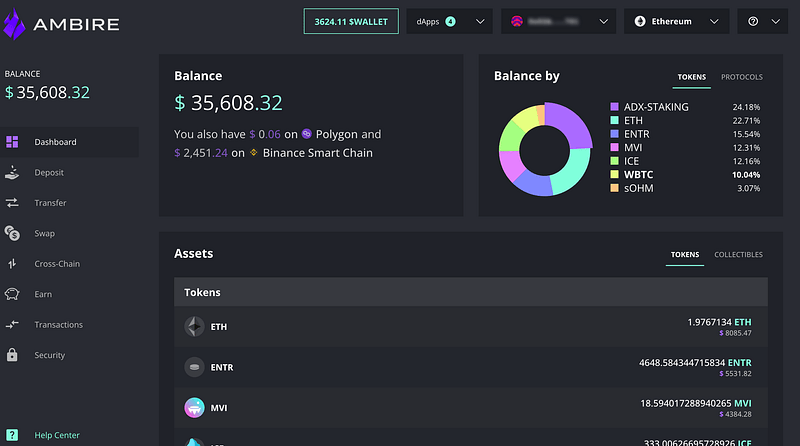 Ambire is a web-based wallet. You can access it from any browser without a need to download or install any extensions (a mobile app version of the wallet is however planned to be released in 2022). Along with the email & password signup, you can create an account using a browser wallet like Metamask or a hardware device — Trezor or Ledger as signers for additional security.
To fund your account, you can send your crypto directly to your Ambire Wallet address, or you can purchase crypto with fiat. This is possible due to our on-ramp integrations. We are starting out with four networks: Ethereum, Polygon, Avalanche, and Binance Smart Chain. You can send or receive any token on the supported networks, and more networks will be added soon. You can view tokens for each network and your NFTs can be neatly visualized under "Collectibles" on your dashboard screen. You can swap tokens into Ambire Wallet thanks to our SushiSwap integration.
Connecting AmbireWallet to any dApp is a piece of cake via WalletConnect.
Last but not least, you can easily tap into DeFi and earn passive income using AAVE and Yearn Finance, again straight from the convenience of your Ambire Wallet.
These are just a few of the wonderful features that you can expect to see in the wallet.
The $WALLET Token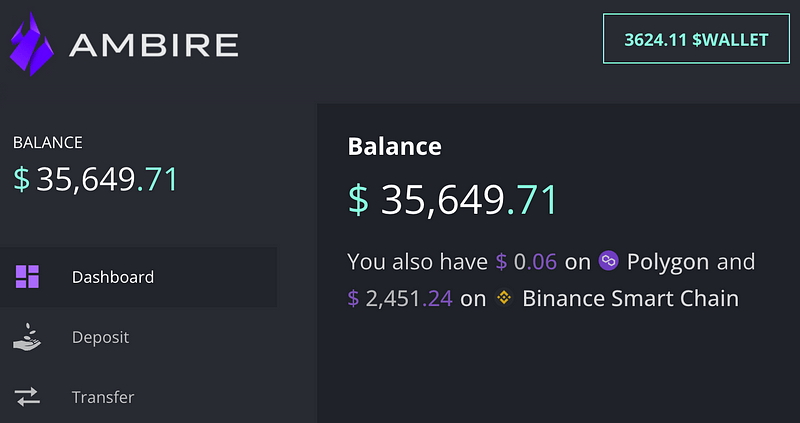 The purpose of $WALLET is to be used for rewarding Ambire Wallet users and to enable governance. Initially, it will be launched on Ethereum, but we plan to bridge it to Polygon and BSC later on.
We will be releasing $WALLET in the coming weeks, so stay tuned for an announcement about it. Early wallet users who are eligible to receive $WALLET rewards will be able to see their reward accumulation in their accounts from the launch of the wallet.
If you'd like to learn more about the token, see the initial $WALLET announcement here.
The Ambire Wallet Liquidity Mining Program
We know our community is excited about the $WALLET rewards — here's what you need to know about these!
A total of 300 million $WALLET tokens will be distributed as rewards to the users in the first 4 years after launch.This distribution will happen like this:
7.5% of the total 1 Billion $WALLET supply will be distributed over the first year, proportionally to the user's portfolio USD value over the total USD value held in all Ambire accounts; after the first year, 4% of reward tokens will be distributed over each of the next three years
Tokens/coins with poor liquidity will be excluded from this calculation to avoid manipulation, as well as NFTs and other low-liquidity assets.
We will count your balance on Ethereum, Polygon, BSC and Avalanche together.
How are rewards calculated
The distribution of the 300 million reward tokens will happen at approximately 2.3782 $WALLET per second. This means that if there are a total of $100 million held in Ambire Wallet accounts, and your account's worth is $1 million, you will be getting 1% of 2.3782 WALLET every second.
The rewards are calculated with the following formula:

This formula is applied every few minutes, and the result gets added to your $WALLET reward balance incrementally.
This process is done separately for the early user incentive and for the ADX stakers incentive.
In simple terms, everyone earns WALLET proportionally to their portfolio net worth in USD at all times, and this gets recalculated every few minutes.
Note: everybody with a non-zero balance is eligible, as long as your balance puts you in the top 50k of Ambire Wallet accounts by balance.
Exclusive rewards for $ADX stakers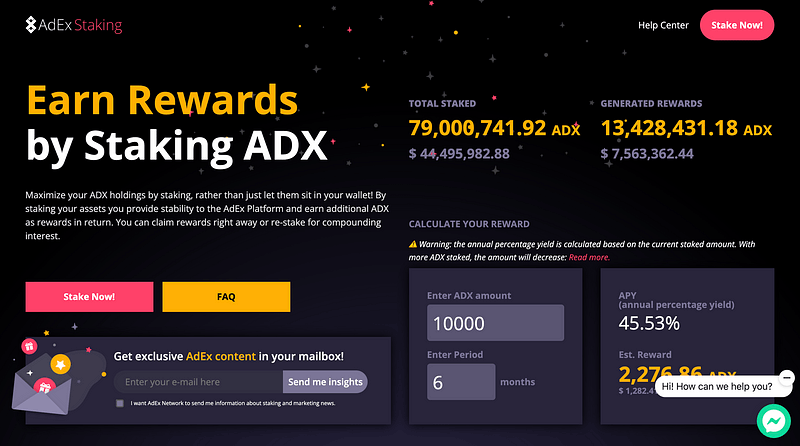 As we have hinted on our community chats, ADX token stakers are eligible for special rewards for supporting our products and ecosystem.
If you are staking, then you know that you hold special tokens that represent your share of the staking pool — ADX-LOYALTY for the Loyalty staking pool, and ADX-STAKING for the Validator Tom pool.
In order to claim the rewards, you will need to move your ADX-LOYALTY and ADX-STAKING tokens to your Ambire Wallet. Here is a tutorial that explains how to do this.
The rewards are calculated based on the same formula above based on the USD value of your ADX-STAKING and/or ADX-LOYALTY tokens.
Please note that ADX-STAKING has a 2x weight to reward locked stakers, i.e. if you have $1,000 worth of ADX-LOYALTY and $1,000 worth of ADX-STAKING, your rewards will be calculated based on a $1,500 value
This reward is independent of the early user reward and you can qualify for both.
---
Interested in Ambire? Follow us: