Last Call to Apply as an App Beta Tester
Ambire Wallet Mobile Closed Beta is starting next week and you still have chance to be among the first to test the best of account abstraction in a mobile wallet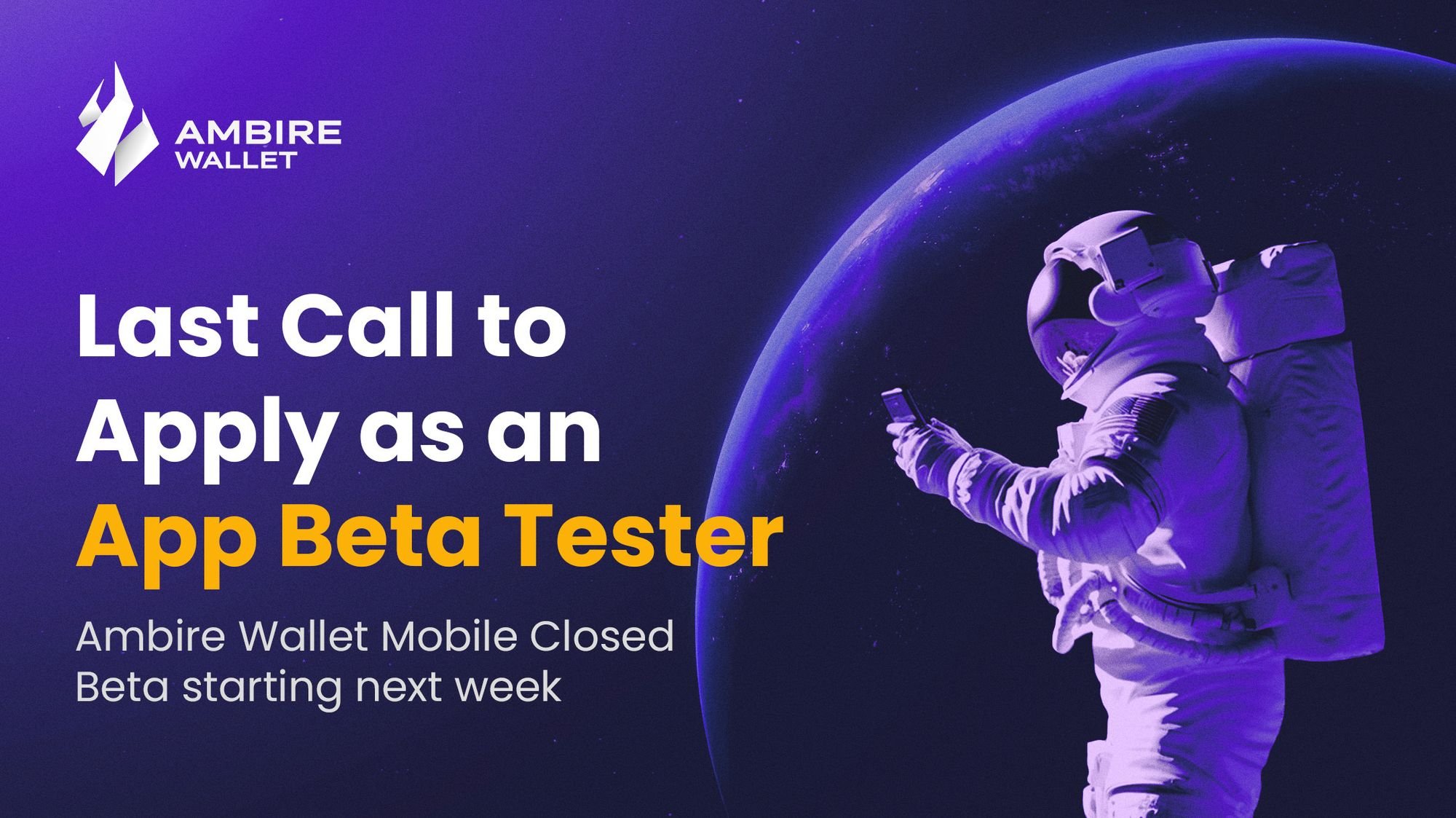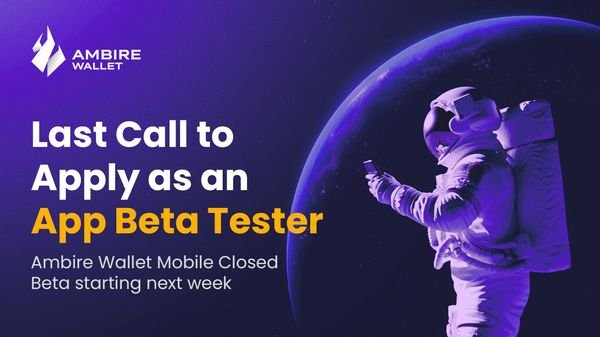 We are thrilled to say that we're nearing the launch of our highly-anticipated mobile apps for iOS and Android, and this is your final call to join the private beta testing campaign and shape the future of smart contract wallets with us!
With the beta testing campaign, we are providing a unique opportunity for you to dive headfirst into the app, submit feedback to help us improve it, and maybe even earn rewards for doing so.
What to expect from the Ambire mobile apps?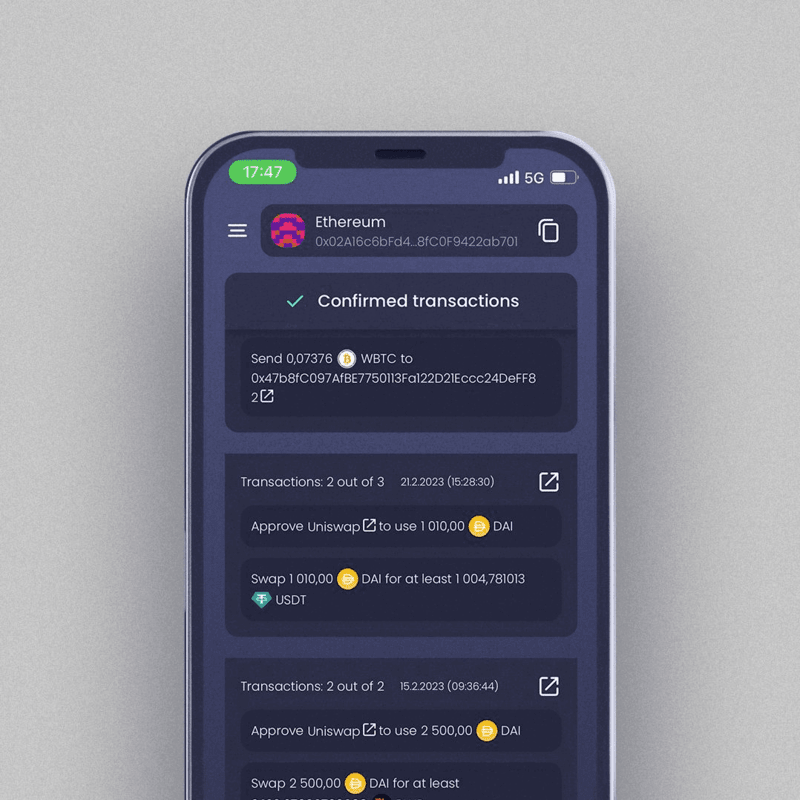 Ambire Wallet is bridging the gap between the ease of use of Web2 and the power of Web3. With Account abstraction, Ambire Wallet brings a level of familiarity and simplicity to the web3 experience that's reminiscent of traditional exchanges.
Email Account Creation and Recovery - One of the standout features of Ambire Wallet is its upgradable security. When you're new to the crypto space, starting with a simple email and password account might feel more comfortable. You can later transition to a hardware wallet for added security.
Transfer Fees Flexibility - With Ambire Wallet, you can pay transaction fees in any ERC-20 token (currently, $WALLET and stablecoins are enabled), pre-pay for network fees (thus saving), and even receive cashback on transactions.
Improved dApp Connection in Your Pocket - Instead of having to navigate through different interfaces, Ambire Wallet allows you to access and interact with all your favorite dApps directly from the integrated dApp catalog.
Solid Security and Advanced Protection - Mobile doesn't mean risky anymore. At Ambire, we've taken special measures to bring you an advanced mobile user experience with improved security. You can connect Ambire Mobile to a hardware wallet, but you can also enable 2FA sign methods. Thanks to account abstraction, you can combine transactions and grant limited token spend approvals to protocols. Furthermore, if you do need to revoke approvals, you can batch multiple transactions in one and revoke all at the same time.
The Ambire Wallet mobile apps have even more to offer, but we'll leave it to the early testers to find out.
App beta timeline and testing instructions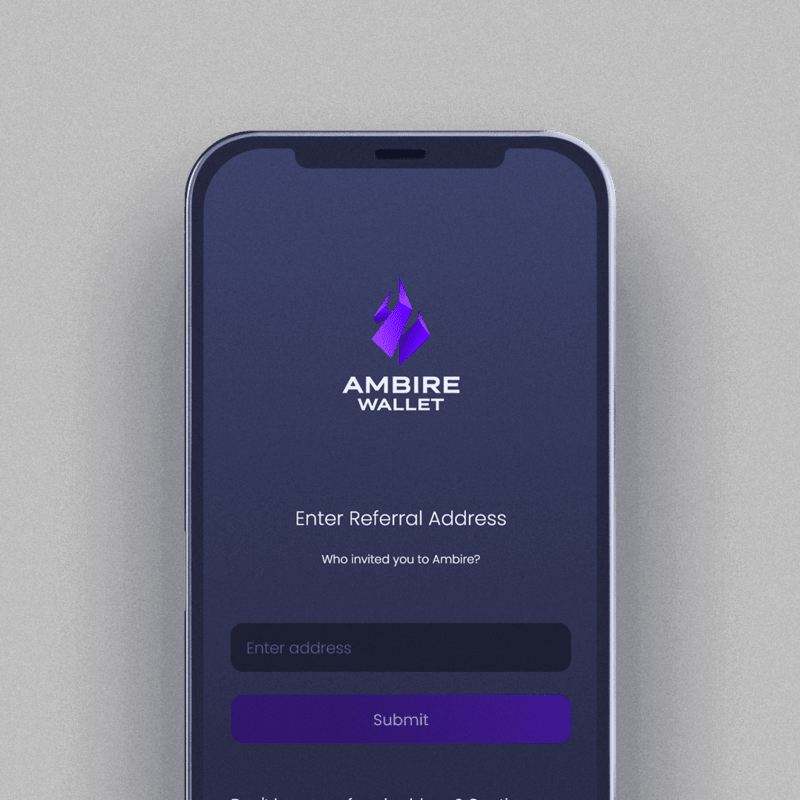 We will start inviting Beta testers after May 29th in waves, following this plan:
1. Exclusive access
Users who signed up via:
2. Normal access
Users who signed up via www.ambire.com/app
Once the gates open, you will receive an email containing a unique code and instructions. We're prepping up a brand new section in Help Center dedicated solely to the Ambire mobile apps!
As always, feel free to reach us on Discord, Telegram, Help center, or submit a support ticket in case of any questions.
What's in for the beta testers?
All Closed Beta testers will have their gas tanks topped up! Yes! We've got your first transactions prepaid by us, so that you can start playing with Ambire and tell us what you think about it.
But that's not all. Expect a brand new Zealy campaign with rewards, a referral program, Discord roles, and WALLET tokens for the most insightful feedback.
The Zealy pre-launch campaign turned out to be a blast (top 3 participants snatched 25k $WALLET tokens),  hence we decided to launch another as soon as possible, so keep an eye on our channels!
We've planned a referral campaign as well, but....let's keep it a secret for now 🤫
We are planning to collect feedback through various channels as seen below, reward the most insightful entries with $WALLET tokens and highlight winners.
How to submit feedback?
Your feedback is of utmost importance to us and we would like to encourage you to submit your thoughts through our dedicated channels after testing the app. We are also preparing a testing guide to lead you through the process.
We will welcome feedback through several channels:
The #app-beta channel on our Discord server
Telegram group
Tag @AmbireWallet on Twitter
Submit a ticket on our Help center

We can't wait to launch and share what we've been working on crazily. If you resonate with our vision, we invite you to share the latest Ambire news with your friends! Check the Ambire Wallet Roadmap 2023 if you're curious about what's coming next.
---
Interested in Ambire? Follow us: