Win 25k $WALLET with Ambire Wallet and Zealy
Ambire Wallet launches a Zealy campaign, offering community members a chance to win 25k $WALLET tokens. Engage in easy tasks and climb the leaderboard.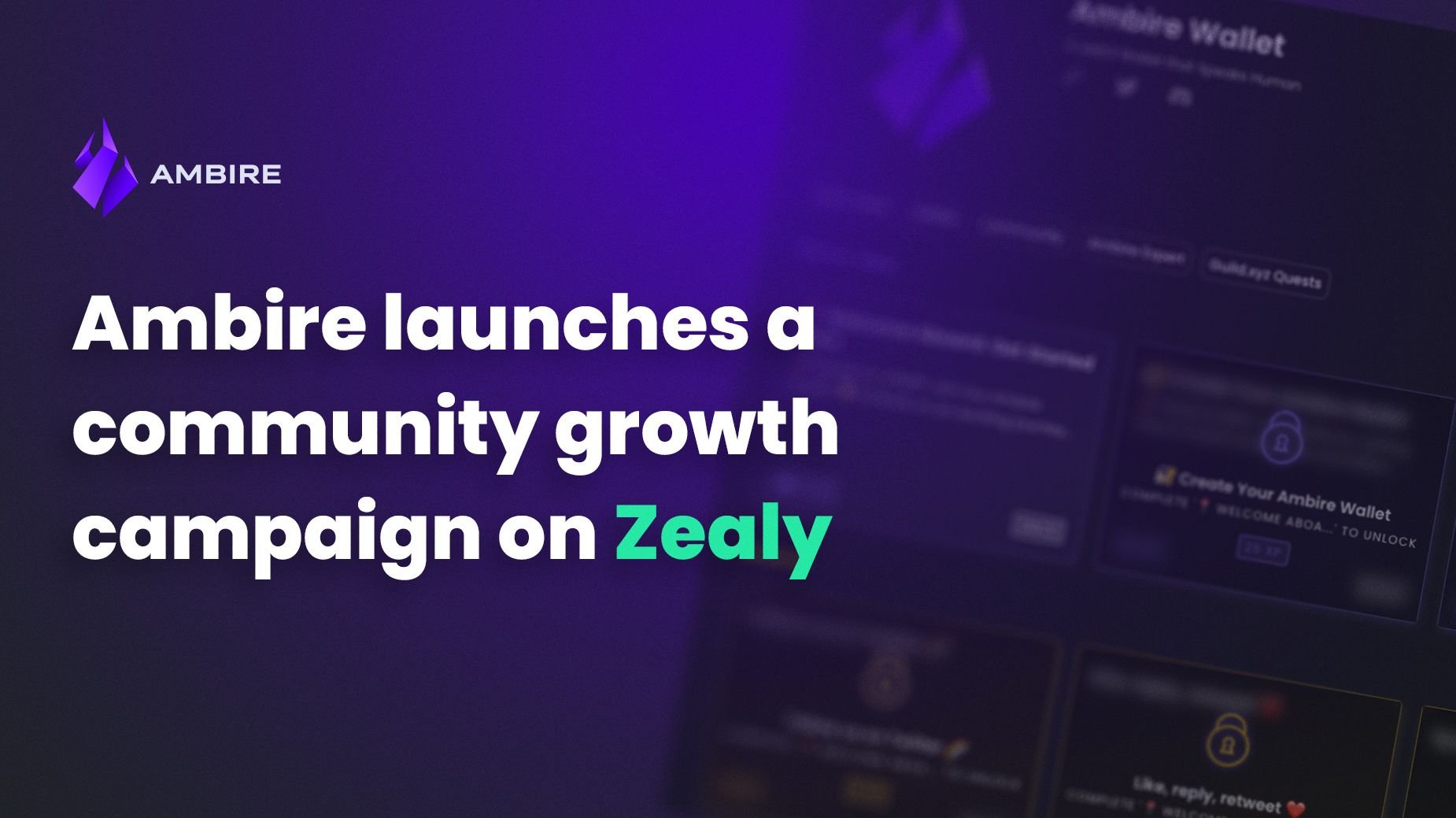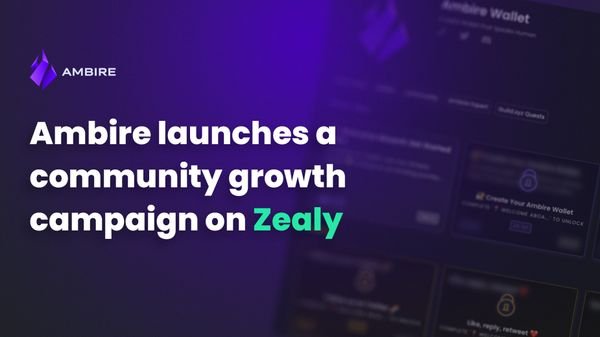 Ambire is launching a community campaign on the popular platform Zealy (former Crew3)! In the following weeks, our community members can join our Zealy campaign, do easy tasks, and win $WALLET tokens simply for sticking around and having fun with Ambire. Read more:
What is Zealy?
Previously known as Crew3, Zealy is a platform that helps web3 (and web2) companies engage with their communities by introducing them tasks that they can achieve in exchange for various rewards. It has become a golden standard for community development tools.
Participating in campaigns on Zealy is super easy and straightforward - users connect their social media accounts and Web3 wallets and participate in fun small quests, learning more about projects and actively engaging with their communities.
🚀 Ready for Liftoff? Join Our Ambire Quest! 🌟
Embark on an exciting journey with us and kickstart your adventure by opening our Zealy quests page. On it, you will see several sections and a variety of quests you can participate in.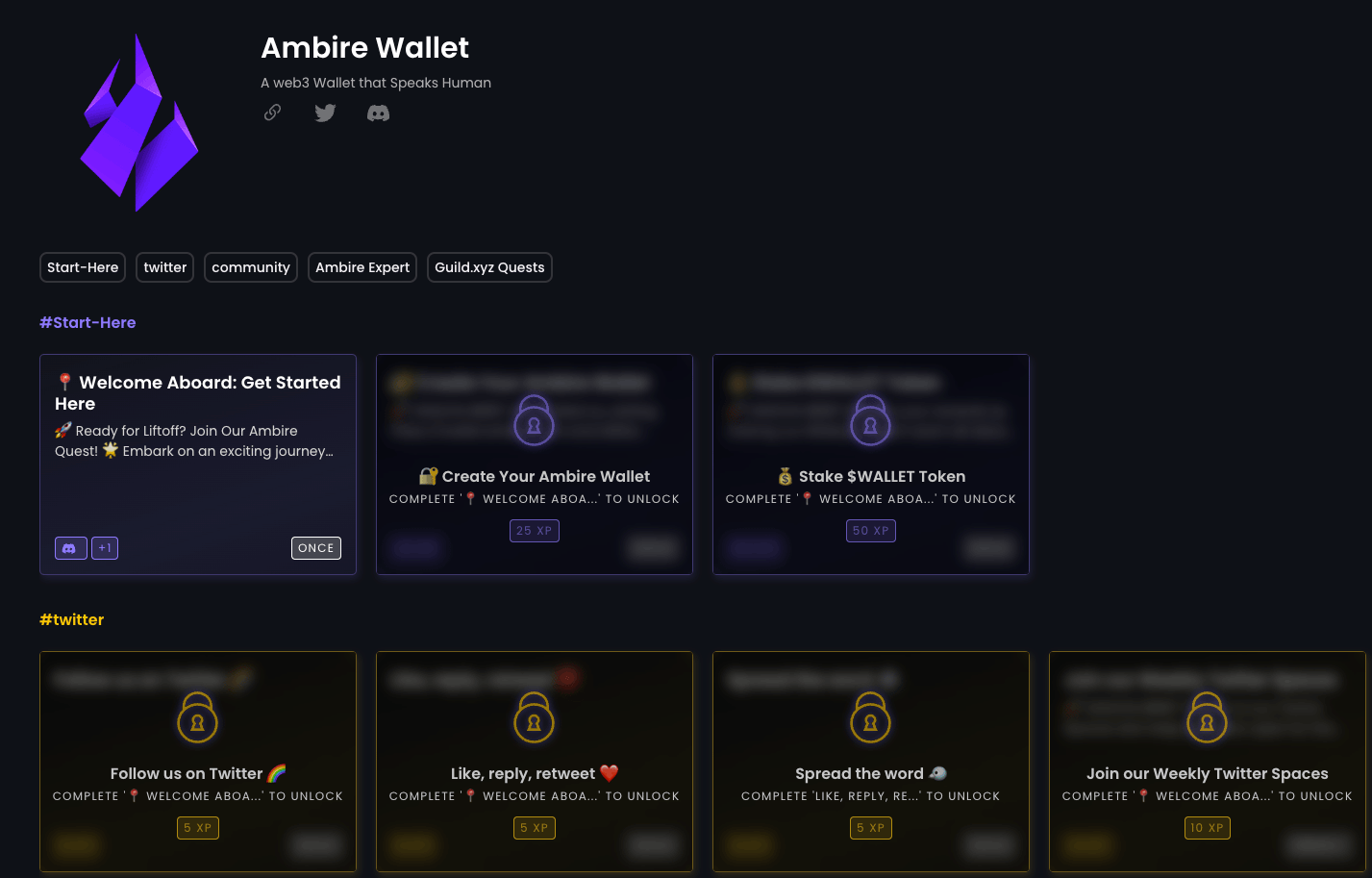 🔗 First, you have to sync your Discord, Twitter, and Wallet with us to receive an instant boost to your Health XP! You will receive XP for every successfully verified quest. You can track your progress on a live leaderboard.
Twitter Quests
For the ones active on Twitter, we have prepared daily and weekly quests involving interacting with our Twitter profile.
Community Quests
Are you thriving in communities? Do you like spending time on Discord servers? We'd love to see you around in our Discord server as well. Just join the discussion and win XP along the way.

Ambire Expert Quests
To snatch some XP points, you can dive deeper into the Ambire-verse and learn more about our project. After answering short quizzes and proving you know Ambire well, you can stack more XP and climb the quest board.

Guild Quests
Join our Guild.xyz guild and snatch some XP in our Guild quests. There are quests for Lens holders and Disco.xyz community members as well - we'd love to see you join our guild.

Win 25k in $WALLET
🎉 Our pre-launch extravaganza is showering more than 25K in $WALLET 🥇 on the highest XP achievers! Climb the ranks and claim your share of the prize! The Ambire Zealy quests will be running for several weeks, but you will be able to re-do some quests every couple of days, so the earlier you join, the higher the chances to win. Don't miss out!🏆
---
Interested in Ambire? Follow us: