AdEx Wallet: Your Gateway to The Best Earning Opportunities
Explore the best crypto-earning opportunities with AdEx Wallet. From staking to yield farming, find the perfect way to grow your assets.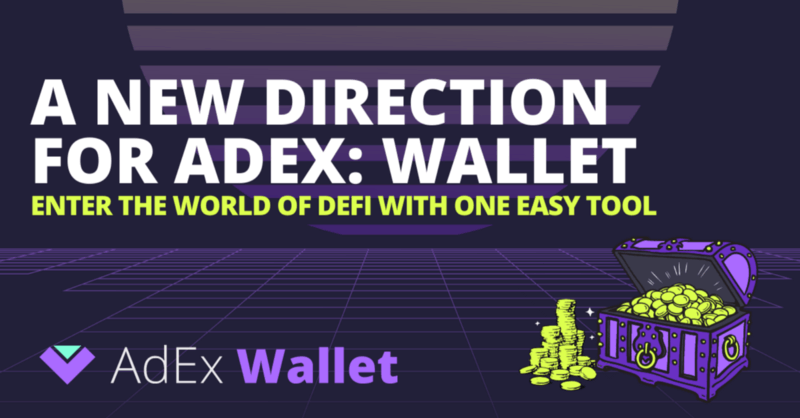 It is with great excitement that we're announcing the news that AdEx is expanding in a new direction and adding a new product to the AdEx Network portfolio.
Over the past months, we have been working on a crypto wallet focused on bringing DeFi exposure to the masses. We are delighted to introduce our brand new product: AdEx Wallet.
It is a tool designed to enable fast, easy and secure access to DeFi investments even to people who don't have any previous experience with cryptocurrencies and decentralized finance.
The AdEx ad platform and staking portal remain a priority for us. This new direction is an expansion of our company — we grow together with the developments of blockchain technology and DeFi, and we broaden our portfolio. We will continue to maintain and develop all of our products to open new horizons for the AdEx community.
Over the years, we've perfected Ethereum-based technologies like our accounts system, which enables gasless transactions, automatic fee management, and transaction batching. In the process, we've also gathered significant know-how in the world of Ethereum, and over the past couple of years, we've also been internally experimenting with and learning DeFi protocols like Compound, Aave, Yearn, Balancer, and Uniswap. All of this tech and experience puts us in a prime position to develop a UX-focused wallet for DeFi.
What is AdEx Wallet
AdEx Wallet will let you easily diversify crypto assets to achieve the maximum potential of your investments. It will let you plug into different DeFi protocols and manage your open positions from a single place.
The idea for it was born when we looked at existing DeFi solutions, and at our needs. Every tool that's available on the market is fairly complicated and requires a steep learning curve. But what if you are new to crypto and DeFi?
This is why we decided to create a cryptocurrency wallet that is easy to use while giving you access to the vast world of DeFi investment opportunities at the same time.
Through our experience with the AdEx Platform, we've realized what the biggest pain points of new crypto users are, and we have come up with solutions to make seed phrase management and transaction management easier.
Why you should use AdEx Wallet
We're designing a wallet so intuitive, even your grandparents will be able to use it.
It will also be extra secure — you'll be able to use AdEx Wallet with a hardware wallet, making sure your money is as protected as it could be.
Here are some of the other benefits that you will get:
A single-step sign-up that is completely anonymous and easy;
Access to crypto with USD/EUR;
Earning high yields and maximizing your DeFi exposure without multiple steps and token approvals;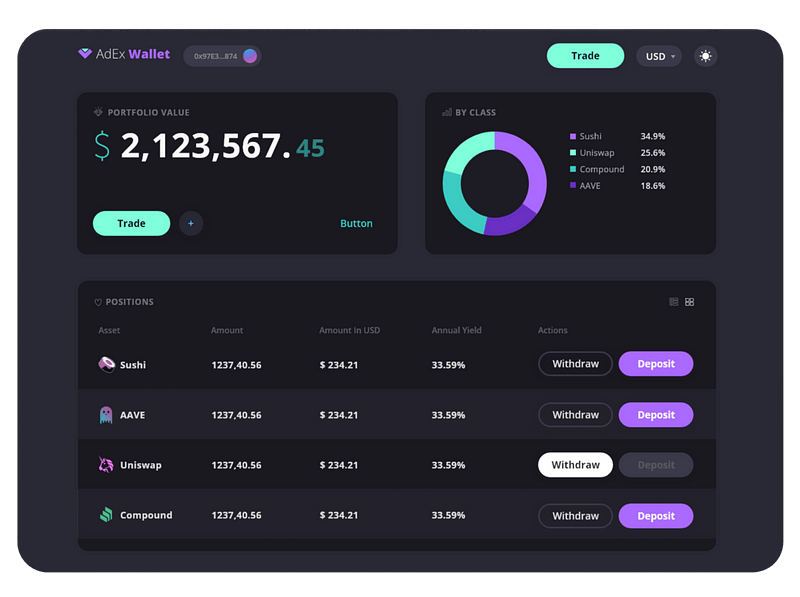 The role of ADX
The ADX token will play an important role in the AdEx Wallet ecosystem. You will be able to easily stake ADX in any of the AdEx Staking pools, but there will be an additional exciting role of ADX in this new upcoming product that we'll announce at a later stage!
Sounds great. I want in!
We will launch the wallet in July. Our exceptional development team is adding the final touches to the AdEx Wallet as we speak, making sure it works flawlessly and delivers on its promise.
To find out when we launch and be among the first people to try it, leave your email in this form, and we will send you a message the minute you can check it out:
📩 👉 Notify me when AdEx Wallet launches! 👈
In the meantime, you can follow us on social media:
---
Interested in Ambire? Follow us: