Igniting Conversations: Web3 on Fire Partners with Rehash
Discover the collaborative spirit of the decentralized web as Web3 on Fire and Rehash join forces to redefine community engagement and decentralized decision-making in podcasting.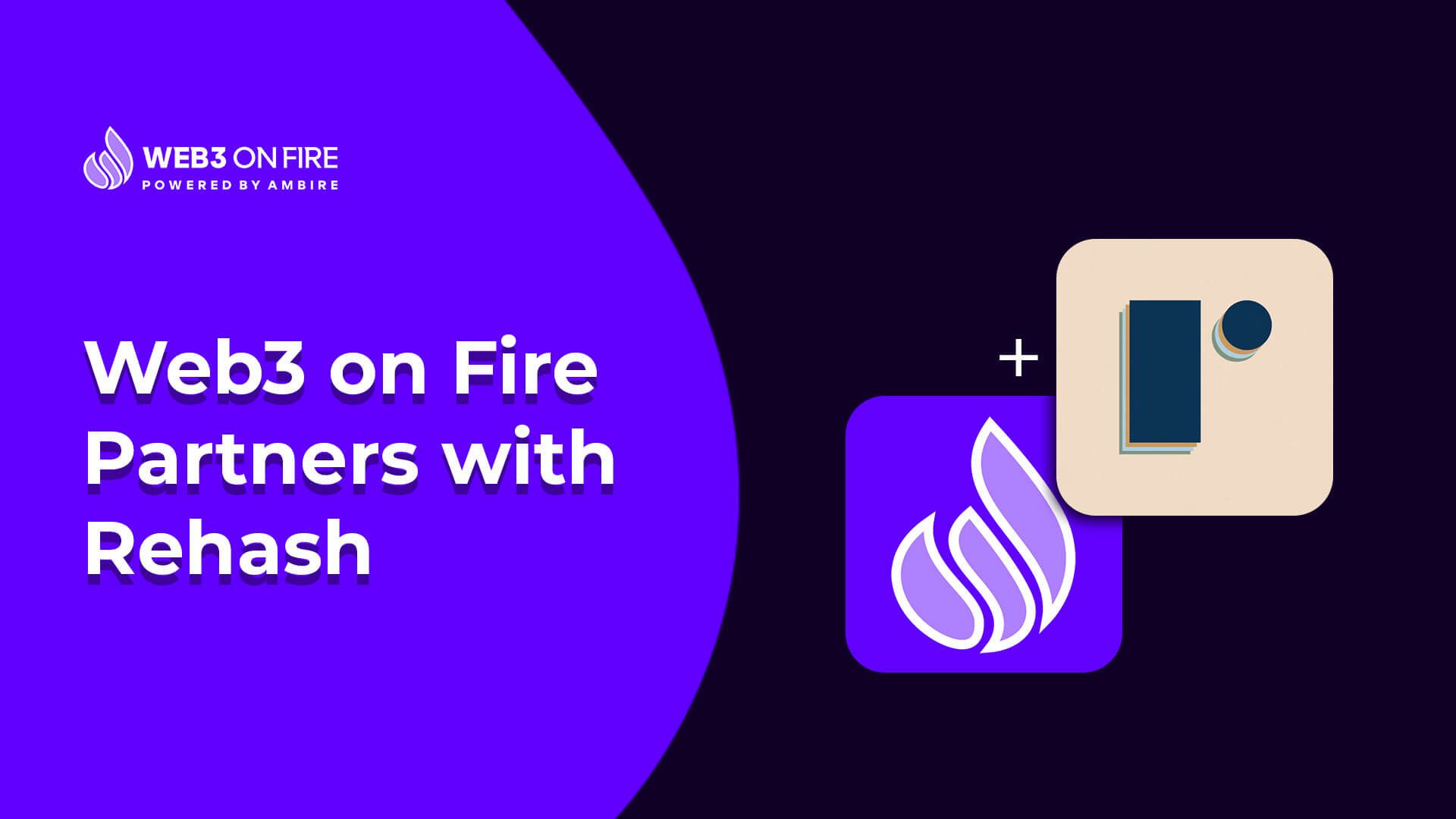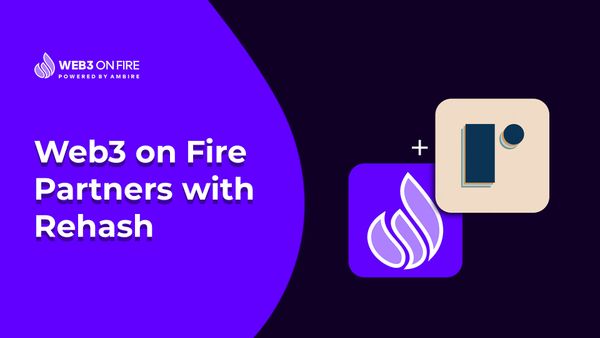 Web3 on Fire in a Nutshell
Web3 on Fire, a podcast series initiated by Ambire Wallet, aims at delving into the heart of Web3 innovations. The podcast, hosted by community builder Rob Edwards, explores a myriad of topics revolving around digital identity, privacy, blockchain technology, and the latest advancements in decentralized systems. Each episode is a journey into the core of community building and the transformative potential of Web3, featuring discussions with notable figures in the decentralized technology landscape.
Rehash: The Community-Driven Podcast
Rehash is the first community-owned podcast and thrives on audience engagement. The podcast runs on jokerace, a decentralized application (dApp), and each season, they run a contest where listeners and NFT holders get to nominate and vote for guests. The contest embodies the essence of decentralized decision-making, allowing the community to have a say in content creation. With a rich history of episodes and a vibrant community, Rehash has established itself as a platform where Web3 enthusiasts can converge, share ideas, and learn from industry experts.
Web3 on Fire Partners with Rehash
In a recent Web3 on Fire podcast episode, Rob and Diana, the founder and host of Rehash, talked about an idea she had to help guests nominated but not voted onto the podcast by the community. In a tweet, she asked if someone or a podcast would be interested in taking those guests onto their show. We reached out immediately, and the rest is what you see here.

▶️ Check out the clip from that episode here:
We partnered with Rehash to create a new jokerace to decide which guests will be hosted on upcoming Web3 on Fire podcast episodes. This is a great opportunity for both our communities to participate in on-chain governance in a lightweight and fun way for a real purpose.
This partnership will deepen our shared audiences' understanding and appreciation of Web3 technologies. Our podcasts and communities are different but have amazing overlap in our love for Web3, community, and collaboration. So get ready for an amazing jokerace, open to both communities to vote for their favorite guests, collude with other voters, and ultimately drive a community-centric content creation process and gain a unique perspective by having them on Web3 on Fire.
Unveiling the jokerace Contest
Introducing Ambire x Rehash - jokerace collab, a brand new jokerace contest where the communities vote for their favorite guests to appear on the Web3 on Fire podcast. Votes for Season 06 of Rehash have been tallied, and the top 11 guests have been decided for their upcoming release. That leaves 15 guests that received at least 1 vote. We'll be voting on those 15 for new Web3 on Fire episodes. We are adding eligible voters from previous seasons of Rehash and adding Ambire Wallets + our community, empowering a huge group of people to vote for their favorite topics and guests. The contest will span 5 days, featuring a diverse list of guests and topics up for voting.
How to Participate in the Contest
Everyone that was eligible to vote for guests in the last Rehash S06 contest is on the allowlist. Ambirers, community members, and $WALLET & $xWALLET holders will be eligible to vote, too.
Voting will open on Monday, October 2nd @ 00:01 UTC and continue until Friday, October 6th @ 23:59 UTC.
Connecting to jokerace is simple. Just link your wallet to the dApp and cast your vote for the person on the list you'd love to hear from.

▶️ Check out the tutorial video below:
Final Words
The partnership between Web3 on Fire and Rehash is more than just a collaboration; it's a journey towards sparking engaging conversations, bringing communities together, and exploring the exciting realm of Web3 through the lens of experts from various fields. We are filled with anticipation for the insightful discussions and community engagement that this partnership and contest will foster. Join us in this exciting venture as we delve deeper into the Web3 space, one discussion at a time.
Subscribe to the Podcast!
Fuel your Web3 curiosity by subscribing to Web3 on Fire podcast on Google Podcasts, Apple Podcasts, Spotify, or Podchaser. For a video treat, hop over to Ambire's YouTube channel. Stay tuned and stay decentralized!
---
​​Interested in Ambire? Follow us:
Discord | Twitter | Reddit | GitHub | Telegram | Facebook