New WALLET Rewards Multiplier Live in Ambire: Power Users Now Get Special Perks
Ambire introduces a new rewards multiplier feature for power users. Maximize your crypto gains by taking advantage of this new offering.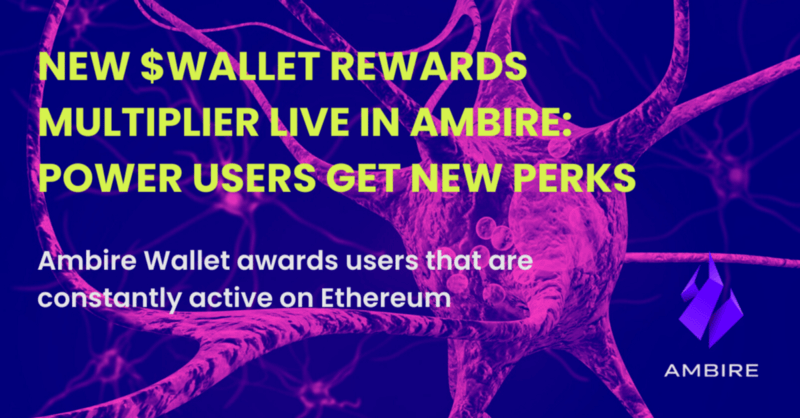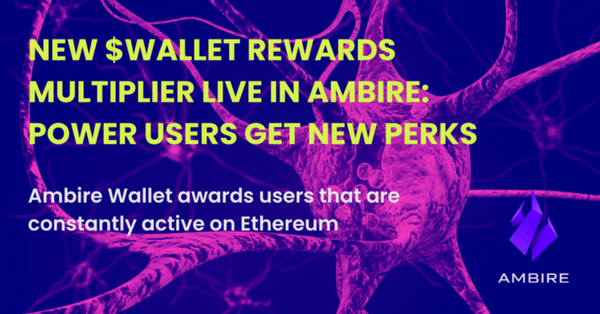 Ambire Wallet awards users that are constantly active on Ethereum
📣 Calling Ethereum 💪power users 💪 — this one is dedicated to you: our newest $WALLET rewards multiplier is here to help you earn even more crypto, on top of those you already keep in your Ambire account (and receive rewards for).
Sounds awesome? You can bet your wallet it is 😏
Read on to see how to get yours 👇
💸 Merit internet money? Yes, please!
We're always thinking of new and exciting ways to reward our users and community, which is why we created the Power User Multiplier: a dedicated perk for those who constantly use Ambire on mainnet. Basically, it means you get 1.25x more WALLET token rewards if you just make lots of transactions on Ethereum💰
This multiplier acts both as a special bonus for Ethereum true believers, as well as an incentive to play with Ambire Wallet constantly. When used in conjunction with our other saving features such as the Gas Tank and those from paying transactions in our native WALLET tokens, the difference in paid gas fees gets also covered by our user-centric ecosystem 🥳
❓How to get the multiplier
By now you know, we like to keep things simple & easy: the Power User Multiplier will be automatically awarded to all users that make at least 10 Ethereum transactions over a period of 30 calendar days — meaning it will automatically appear on your WALLET rewards modal, just like every other multiplier: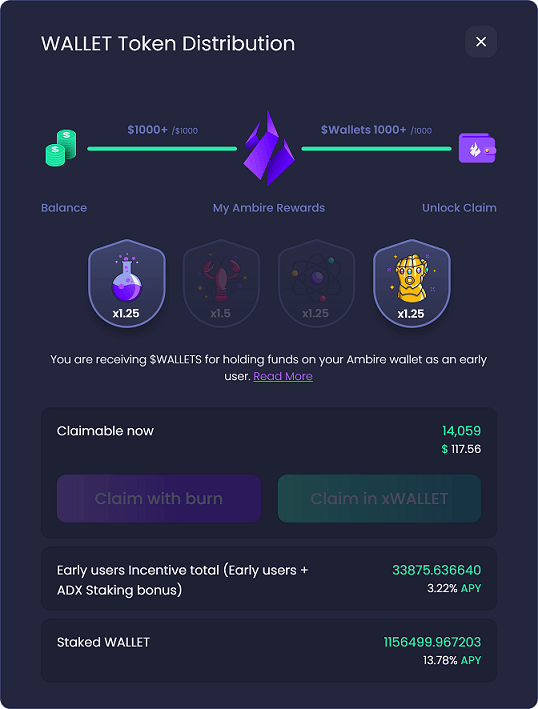 That's right, no extra-steps needed, we're showing our Ambire 💜 in a very straightforward way.
🥰 If you want to give some love back, you can share your thoughts on the Power User Multiplier on Twitter, tagging Ambire and spreading the good news.
FAQs
Q: What are the conditions for getting the multiplier?
A: There are various ways on how to acquire Power User multiplier. For example:
have a balance of minimum 1,000 USD equivalent in crypto in their Ambire account ( to qualify for receiving rewards)
make at least 10 transactions on Ethereum mainnet over a period of 30 calendar days
for exceptionally active users in the community, and specific campaigns
Q: Is there a threshold for transaction value in order to be considered for the Power User Multiplier?
A: No, there is no transaction value threshold: any Ethereum transaction is counted (but keep in mind that you have to make at least 10 transactions to be considered)
Q. How long does the Power User Multiplier last?
A: The Power User Multiplier is constantly calculated, having a 30 calendar days rolling criteria; so if you are constantly making at least 10 transactions on Ethereum during this time period, then you constantly receive this rewards multiplier.
Q: How is the Power User Multiplier calculated?
A: There is a dedicated script in place in Ambire's backend, constantly running for update-incentives based on whether a user has the required number of transactions in the past rolling 30 days.
Q: How many rewards does the Power User Multiplier Give?
A: The Power User Multiplier gives you 1.25x on top of your standard rewards, which are proportionate to your overall account balance (on all networks).
Q: Is the Power User Multiplier combined with other multipliers?
A: Yes, just like every other multiplier, it is combined with all others that Ambire users qualify to receive.
---
IInterested in Ambire? Follow us: