Ambire Wallet Launches Polygon Integration: Transact on Polygon Now
Explore the seamless integration of Ambire Wallet with Polygon, making crypto transactions more efficient and cost-effective.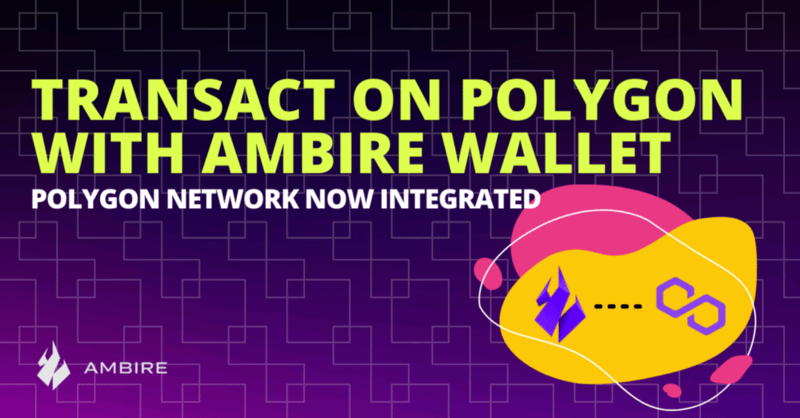 We are thrilled to announce that Polygon is one of the networks supported on Ambire Wallet
Ambire Wallet is designed to support a number of different networks and blockchains. Today we are thrilled to announce that one of the networks supported from the very beginning is Polygon.
What is Polygon
Polygon, previously known as Matic Network, is a Full-stack scaling solution for optimizing transaction speeds and costs.
The Polygon network and framework allow the building and connecting Ethereum-compatible blockchain networks.
Polygon is an open-source project that is centered around the MATIC token (used for governance, staking, and gas fees).
How does Polygon work
As we mentioned earlier, Polygon is a platform for building interoperable blockchains. It offers developers the ability to build networks and take advantage of the following features:
One-click deployment of preset blockchain networks
Modules for developing custom networks
Interoperability protocol for exchanging arbitrary messages with Ethereum and other blockchain networks
Modular and optional "security as a service"
Adaptor modules for enabling interoperability for existing blockchain networks
The consensus algorithm of Polygon is PoS (proof of stake) — this means that it uses a network of validators and finalizes the transactions on Ethereum afterwards.
Polygon and Ambire Wallet
Polygon was one the first networks to find their place in Ambire Wallet together with Ethereum.
The network enjoys a growing popularity among crypto and DeFi enthusiasts. This is no surprise, as Polygon offers flexibility and high-performance capabilities. Last but not least, it is appreciated by the cryptocurrency community for its low transaction fees and speedy transactions.
In Ambire Wallet, you can easily send or receive crypto on Polygon, view NFTs purchased on the Polygon network, swap tokens, and take advantage of the Aave DeFi protocol.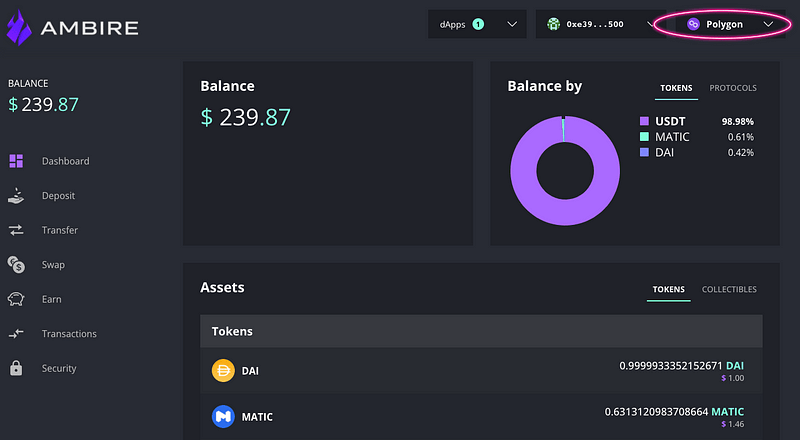 Read about all major protocol integrations we are launching Ambire Wallet with:
More integrations coming soon!
You may also follow Ambire Wallet on social media:
---
Interested in Ambire? Follow us: