Exolix Launches in Ambire dApp Catalog with Exclusive Promo
Exolix joins Ambire's Dapp Catalog, offering users a seamless crypto exchange experience with exclusive promotion.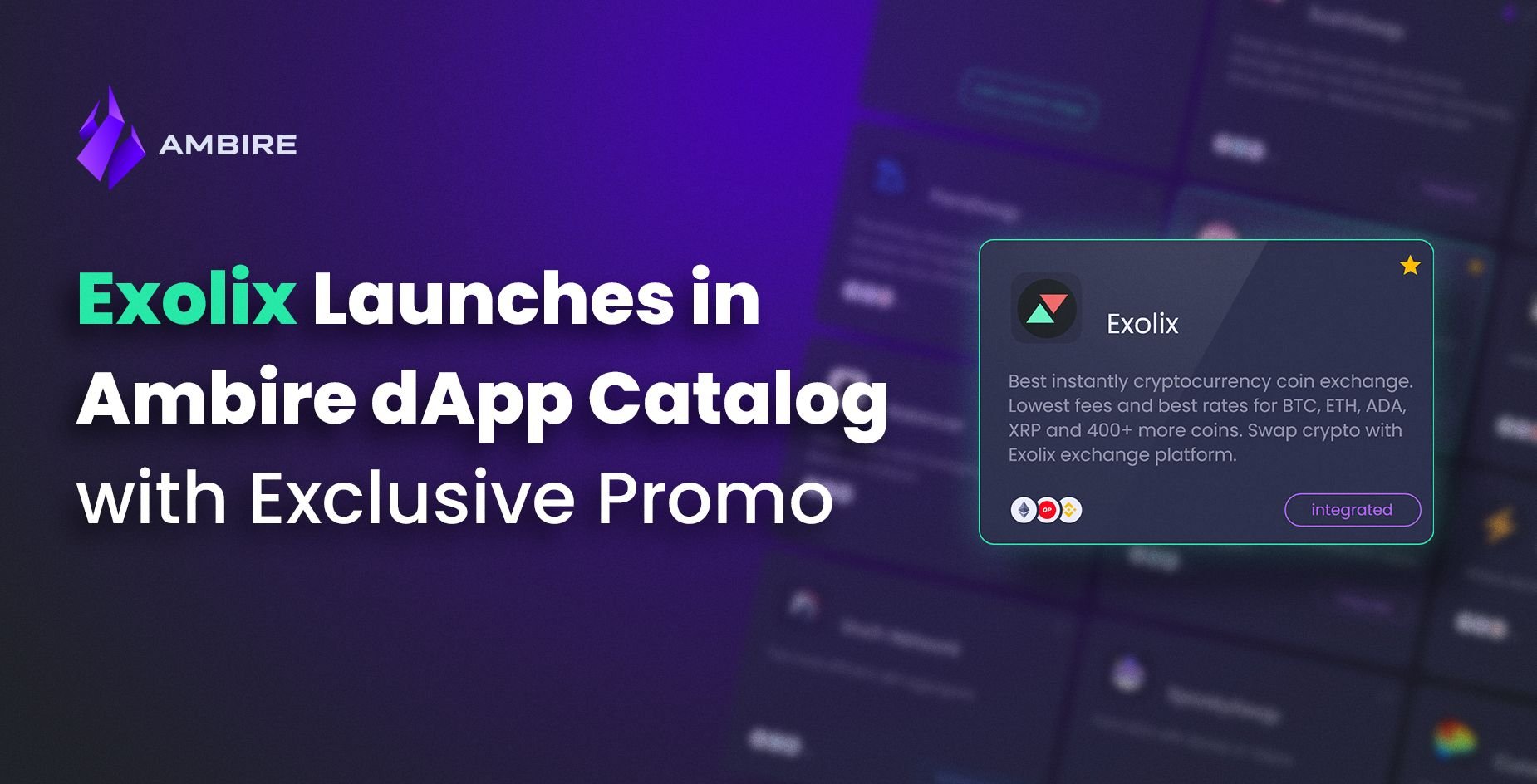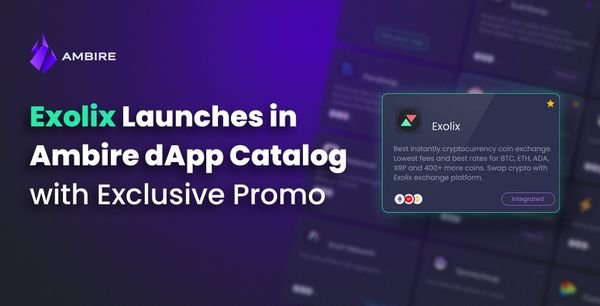 The latest addition to our dApp Catalog is here - and we're happy to kick off with an exclusive promo.

Hey Ambire fam🔥,
We're thrilled to announce that our dApp Catalog has a new member - the Exolix exchange. To celebrate this, we have teamed up with the Exolix team to offer our users a special promotion.
All you need to do in order to win is to make a swap via Exolix on Ambire, follow Exolix and Ambire on Twitter and fill in a short form to register their participation.
At the end of the promo, two lucky winners will grab $100 each in WALLET tokens!
How to participate
In order to be eligible for the prize draw, you will need to follow these simple steps:
1. Make a swap with Exolix on Ambire.
2. Follow Exolix on Twitter: https://twitter.com/Exolix_com
3. Follow Ambire Wallet on Twitter: https://twitter.com/ambirewallet
4. Fill in this short form to register your participation.
How to use Exolix on Ambire Wallet
Swapping on Exolix is a piece of cake with Ambire Wallet, here's how you do it:
Step 1: Go to the dApps section of your Ambire Wallet account
Step 2: Find the Exolix dApp and load it, then follow the instructions on the screen.
Easy-peasy!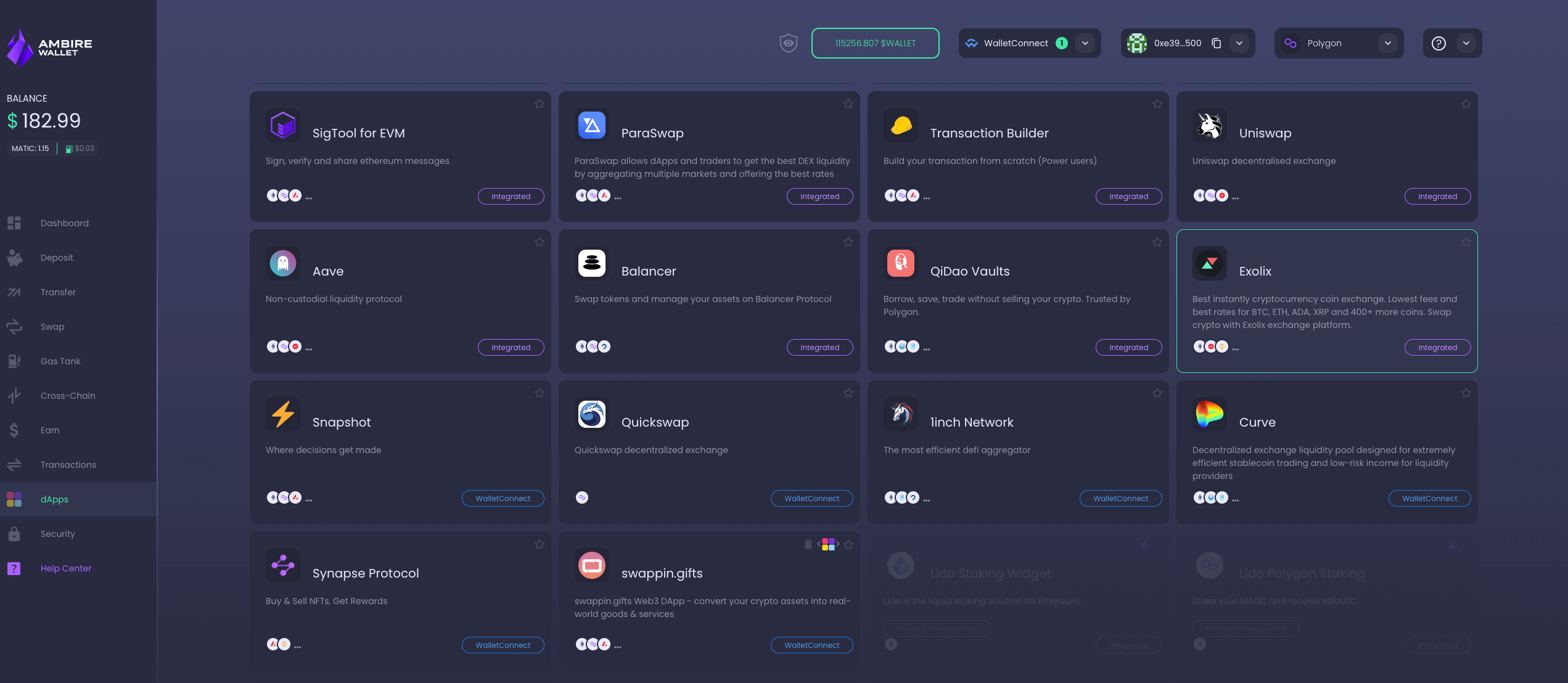 Promotion terms
The promotion will run for two weeks from 0:00 CET on March 27, 2023 to 23:59 CET on April 9, 2023.
In order to participate, users must complete all promotion requirements: make a swap with Exolix on Ambire Wallet, follow Exolix and Ambire on Twitter, and fill in the promotion registration form.
Participants may fill in the form multiple times for each unique swap they do.
Two qualifying winners will be picked at random on April 10, 2023.
Winners will be announced on the Exolix and Ambire Wallet twitter profiles.
Winners will receive $100 each in claimable WALLET tokens in Ambire Wallet accounts.
Prizes: $100 in WALLET tokens awarded to two winners, total prize pool: $200 in WALLET tokens.
Prizes will be distributed within 10 business days of the promotional end.
We reserve the right to disqualify any participant on the basis of promotion abuse or other fraudulent actions suspicion.
About Exolix
Exolix is a secure decentralized exchange with fixed rates. It fixes the exchange rate at the beginning of every transaction to make sure users are protected from market volatility. In addition, Exolix does not have maximum limits, which allows everyone to exchange any amount of cryptocurrencies completely anonymously.
---
Interested in Ambire? Follow us: