$ADX Staking Now Live in Ambire Wallet
Discover how ADX staking in Ambire Wallet can elevate your crypto earnings. Learn the ins and outs of staking ADX tokens and how to maximize your returns.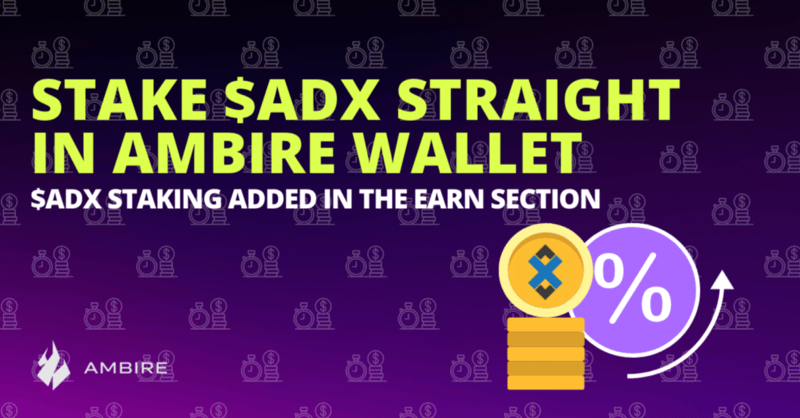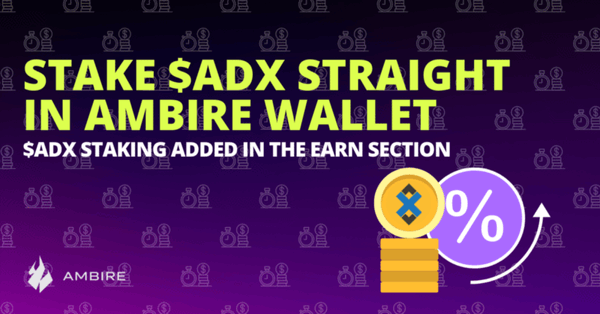 Boost your earning opportunities through new $ADX Staking integration
It's a GM for early supporters and loyalists of the Ambire ecosystem, as $ADX, the native token of the AdEx advertising platform, is now available for staking straight in Ambire Wallet. Thanks to our latest integration — part of the larger crypto asset management functions the wallet offers — you can now receive rewards on the Ethereum Network for staking ADX, with the current pool APY being a generous 39%.
For those more recently joining the Ambire community, more details about the ADX token and its role in the Ambire AdEx advertising network can be found here.
One Step to Staking
To ensure a quick and easy process for ADX Staking, we integrated it as part of the general 'Earn' section of Ambire Wallet.
Similar to the existing staking integrations, all you need to do is choose ADX from the drop-down of the Ambire Staking card and input the amount you wish to deposit: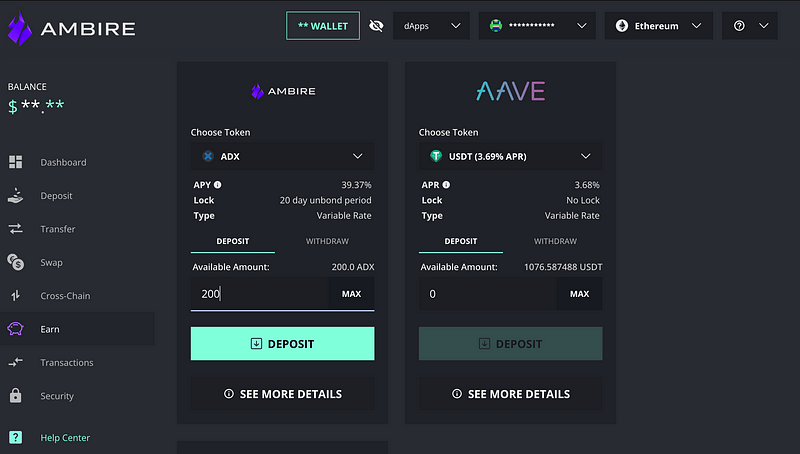 Once you confirm, your new staking position will be visible in the wallet dashboard (your assets list will include ADX-STAKING tokens, which represent your ADX staking position). You can also see your staking position in the 'Earn' section, under Ambire Staking (in the 'Withdraw' tab, the amount of ADX you hold in the pool is visible as a total made of staked tokens plus staking rewards accumulated).
What you need to know about ADX staking
The Ambire ADX Staking pool in the Ambire Wallet is the Tom Staking Pool of the AdEx Staking portal, as AdEx Loyalty pool is retiring.
Here's the TLDR about ADX staking:
The pool's APY is variable and depends on how many tokens there are staked. The staking rewards are calculated based on this formula: remainingADXToBeDistributed / totalADXStaked * (365/remainingDaysOfTheYear)
The ADX staking pool has a lock up period of 20 days. This means that once you decide to withdraw your tokens, you need to request an unbond, then wait for 20 days before your tokens are available to move in your wallet or re-stake. You do not earn staking rewards during these 20 days.
If you wish to unbond without the 20-day unbonding period, you can do that by using the "Rage quit" option. Keep in mind that when you rage leave, there is a penalty of 30% (i.e. you lose 30% of your staked tokens).
You can deposit additional tokens to your staking position at any time.
Holding ADX-STAKING tokens gives you voting power in governance votes regarding Ambire AdEx.
Staking ADX means 4 streams for rewards
As an ADX staker, you are actually in the best position of all Ambire Wallet users as you will be earning rewards from multiple sources.
You get rewards from the ADX Staking pool itself. As we mentioned, the APY of the pool is currently approximately 39%.
Secondly, because you are holding funds in your Ambire Wallet, you are eligible for early user rewards which are distributed in Ambire's own $WALLET token (equivalent of min. $100 USD held is required for eligibility). Both ADX and ADX-STAKING balances are counted for the early users airdrop.
On top of the above two sources, thanks to the $WALLET tokenomics model, you will also benefit from the in-built ADX Staking bonus rewards, which are a significant 10% chunk of the total $WALLET supply, allocated for the first 18 months after the token launch.
Last but not least, if you decide to claim your ADX Staking bonus in xWALLET (i.e. stake your WALLET rewards), you earn WALLET staking rewards as well.
In the end, staking rewards accumulated in ADX-Staking and/or xWALLET positions will continually count to increase the total value of your held funds, meaning they will also count for more $WALLET early user rewards you will receive — kind of like the crypto gift that keeps on giving 😊
---
How to stake ADX in Ambire Wallet
Staking your ADX is very easy.
Firstly, in order to stake ADX you must ensure that you hold some in your Ambire Wallet account: exchange tokens you already hold for ADX ones in the Swap tab of the wallet. Alternatively you can get ADX on a number of exchanges, by sending ADX to Ambire from another wallet, or even by purchasing them on-ramp with FIAT currency.
Once you have acquired ADX, follow the steps below.
Step 1: Go to the Earn tab from the menu on the left in Ambire Wallet.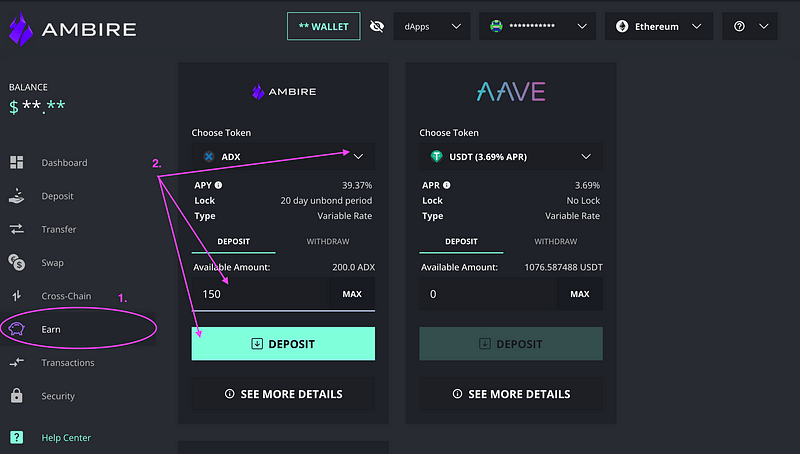 Step 2: Next, simply input the amount of ADX tokens you wish to stake and click the 'Deposit' button. This will take you to the transaction approval screen: here you will see a summary of your transactions (there are two of them, as one is the approval for your account to be accessed by the staking pool, the other is the deposit itself). There you will also see your fee management options: Ambire Wallet enables you to choose what token to pay fees with, as well as the transaction speed relative to the fee amount of your choice.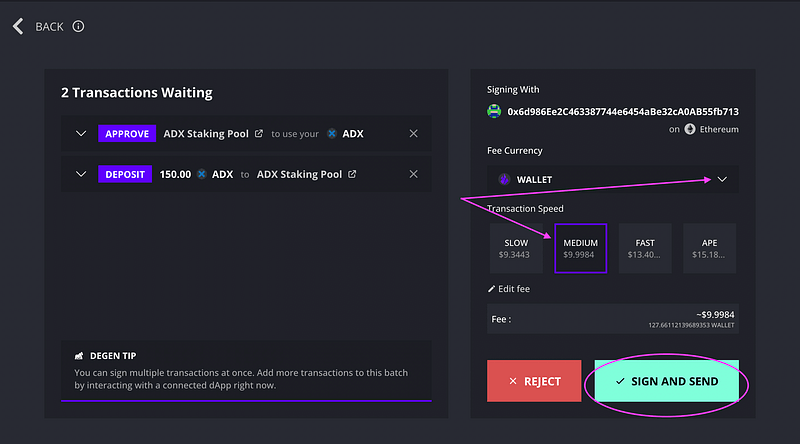 And that's all — you've successfully staked your ADX.
You can then see your staking position either directly in the wallet dashboard, in the list of tokens that will now show how much ADX-STAKING you are holding, as well as in the 'Earn' section, under Ambire Staking, where in the 'Withdraw' tab you will see the amount of ADX staked (as a total made of staked tokens plus rewards accumulated):

Now you can just relax and enjoy accumulating rewards 💸
---
Interested in Ambire? Follow us: