$WALLET Rewards Mechanism Explained: Start Accumulating Value Before the Token is Launched
Gain insights into the $WALLET rewards mechanism in Ambire Wallet. Learn how to accrue rewards by simply having funds in your Ambire account.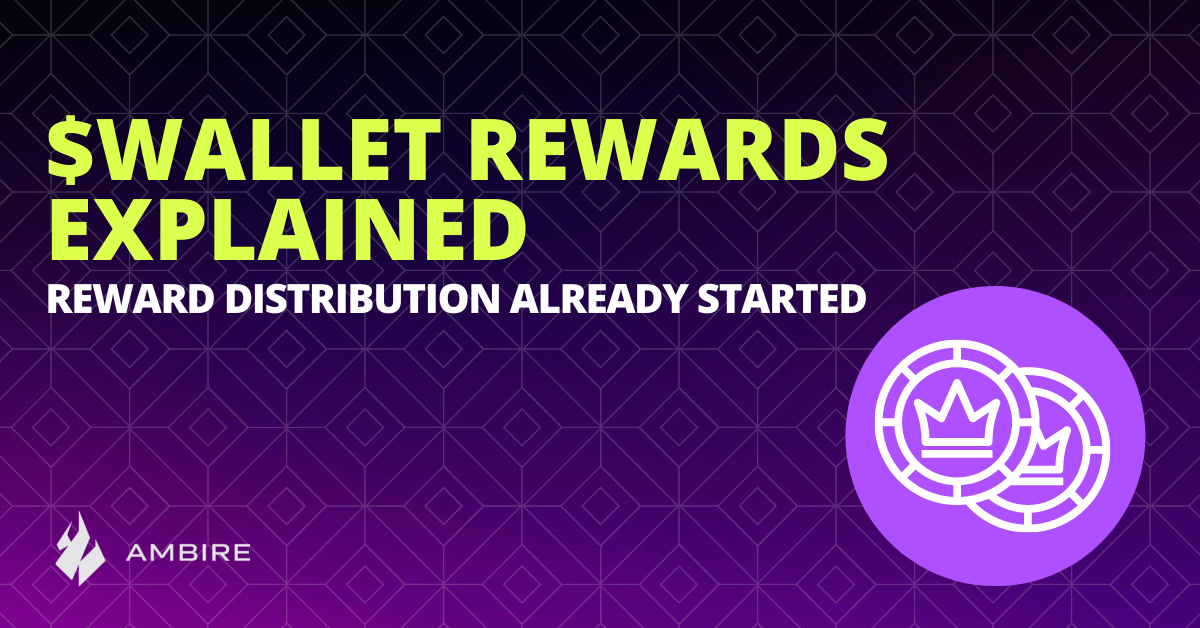 $WALLET Rewards Mechanism Explained: Accumulating Value by Design
The Ambire Wallet community is growing while its organization, enabling decentralized governance is underway — $WALLET is officially released.
How do rewards work?
Bring value to Ambire Wallet, and it will give value back
The first way in which you can accrue $WALLET rewards is by simply having funds in your Ambire wallet. Nothing more is needed, except creating an account with the wallet and moving assets there — once the algorithm recognizes the assets in your portfolio, it will calculate your rewards proportionally to your portfolio USD value over the total USD value held in all Ambire accounts at that moment.
In other words, Ambire is pioneering an early-user continuous airdrop, where the rewards mechanism will take into account your balance on all available networks / blockchains (currently Ethereum, Polygon, BSC, Avalanche and Fantom) together. Оut of the total of 1 Billion $WALLET tokens, 7, 5% (75Million) will be distributed over the first year, followed by 4% over each of the remaining 3 years, totaling approximately 19.5% of the token supply (~195 Million).
Simply put, early supporters earn $WALLET proportional to their portfolio net worth in USD at all times (and this net worth is updated / recalculated every few minutes).
Notes:
NFTs and low-liquidity assets are not eligible (the Ambire reference for eligible-liquidity coins is here)
Every wallet account with a minimum of $1000 balance equivalent in crypto is eligible, as long as that balance puts the account in the top 50k of Ambire Wallet accounts by balance. As of June 2022, there are +80k Ambire Wallet accounts in total.
$ADX Stakers are winners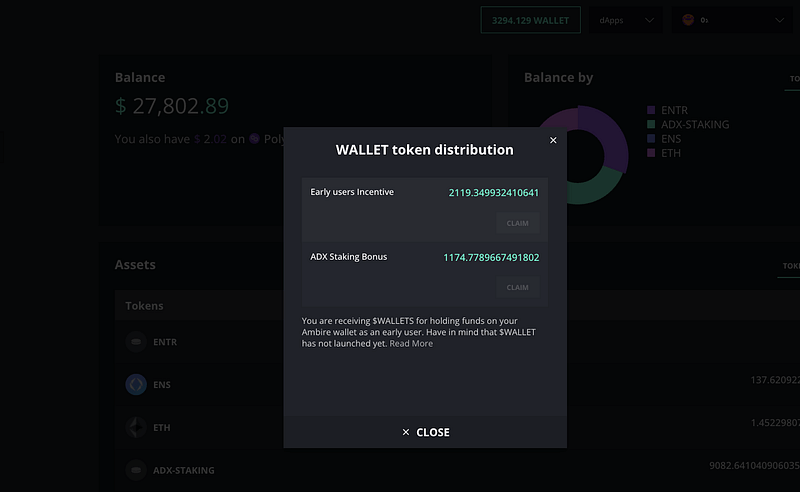 The second way in which you can accumulate rewards is through special ADX-stakers rewards — as a 'token' of appreciation for the veterans of Ambire ecosystem, Ambire Wallet will give exclusive rewards to the ADX stakers that migrate to Ambire Wallet from their current wallet.
Out of the 1 billion total $WALLET supply, a generous 10% goes to ADX stakers, distributed over 18 months as additional staking rewards; this staking reward will be locked (distributed in xWALLET and received only in the Ambire Wallet itself).
The rewards are calculated based on the same formula as early user rewards, based on the USD value of the held ADX-STAKING and/or ADX-LOYALTY tokens. So there's no actual liquidity mining, no need to deposit LP tokens anywhere.
In order to be eligible for these rewards, stakers need to move their ADX-LOYALTY and ADX-STAKING tokens to their Ambire Wallet accounts. A tutorial that explains how to do this in just a few easy steps is also available.
Keep in mind that this transfer does not mean stakers quit any pool, just that the staking tokens are moved from one wallet to another.
Also, worry not about losing staking earnings: when the staking position migrates, all earnings are also transferred, so nothing is lost along the way — a detailed explanation of how it all works can be found here.
What's even more, the ADX-STAKING reward is different & independent from that of the early user reward, meaning an ADX staker actually qualifies for both and thus accumulates from 3 different sources, for the same assets: from the ADX stake itself, from the 10% ADX stakers distribution of $WALLET and from the early user continuous airdrop. How cool is that for a true loyalty reward?
Note: ADX-STAKING has a 2x weight to reward locked stakers, i.e. if you have $1,000 worth of ADX-LOYALTY and $1,000 worth of ADX-STAKING, your rewards will be calculated based on a $1,500 value (1,000 worth ofADX-STAKING + $500 worth of ADX-LOYALTY).
Interested in Ambire? Follow us: