AdEx Network to Become Ambire аnd Pivot to a DeFi Wallet
AdEx Network is rebranding as Ambire with a renewed focus on providing a secure and easy-to-use cryptocurrency wallet for DeFi.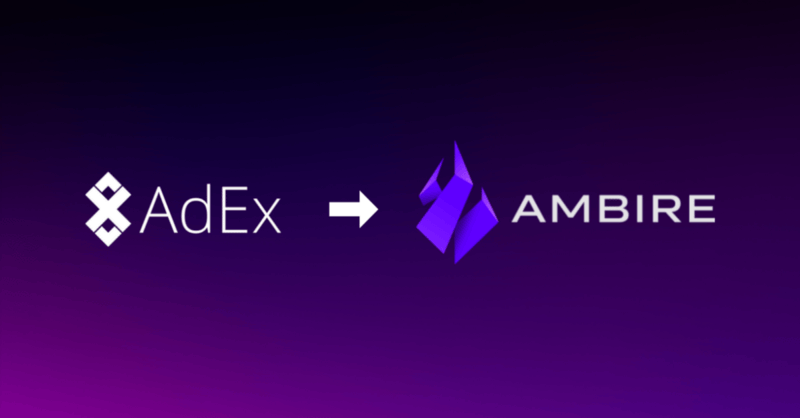 Long story short: we are rebranding.
TLDR: AdEx Network is becoming 🔥 AMBIRE🔥, and we are shifting our focus to Ambire Wallet: a new generation cryptocurrency wallet that will enable everyone to benefit from DeFi easily and securely.
---
We are thrilled to share some big news with you: we are rebranding! With the natural evolution of our company, and of the technologies we use, we found ourselves in need of an updated and refreshed brand.
While our values remain the same, we decided to take this next step and change our company's name and visual identity.
Why are we rebranding
When we founded AdEx Network in 2017, blockchain technology was still in its infancy, Ethereum had almost no adoption, and things were developing at a lightning speed. We were only working on our decentralized ad platform.
A mere four years later, the industry is almost unrecognizable. The only constant that remains is the lightning speed at which technology and products change and develop.
During this time, we created and grew a decentralized ad network from scratch. We launched the AdEx staking portal and reinvented the ADX tokenomics. We rolled out a private beta of the AdEx Wallet. We carried out a number of major upgrades to our smart contracts. We shook hands for a number of meaningful partnerships and collaborations. We never stopped working, learning and advancing.
This is why we felt it was the right time for an update that reflects that growth that we underwent as individuals, as a team, and as a company.
With this rebranding, AdEx Network will soon become Ambire. This name change will affect all of our products: instead of the AdEx Network ad platform, we will be talking about Ambire AdEx, and AdEx Wallet will become Ambire Wallet.
How did we choose the name Ambire
We are a team of multi-national, multi-lingual, multi-faceted people — so we looked beyond the obvious when choosing a new name for our company. What led us were our shared values — the most prominent of which is our ongoing aspiration for excellence and perfection.
"Ambire" is an Italian verb that means "to aspire, aim, strive". And that's what we do. If you've noticed a resemblance to the word "ambition" — you are right; they both come from Latin and are derived from the same word. And both apply to us.
We found that word to be fitting of everything we stand for. It describes our company's DNA rather well so selecting it as our new name was an easy decision.
It also rhymes with fire, hence the logo. 🔥
The rebranding timeline
We decided to roll out the AdEx Network rebranding to Ambire gradually. The process will take place in Q4 of this year and will be finished before we enter 2022.
Shifting our focus
The more mature stage of the ad platform AdEx and staking will allow us to focus our attention on Ambire Wallet and put it in the limelight. Our experience so far and the wallet's private beta confirm our belief that it has the potential to become the diamond in the Ambire crown.
We have taken many steps to get where we are: creating technology that simplifies crypto; seedless logins, paying transaction fees in stablecoins, automating gas fee management, atomic bulk transactions (multi-calls), eliminating ERC20 approvals, etc.
What's more, we managed to onboard a large number of people new to crypto onto an advertising dApp — and we will now translate and transfer this to the Ambire Wallet. This product will manage to open the doors to DeFi wealth to a huge number of people who have never had the right tool for that before.
Our prior experience with the AdEx Platform has put us in a perfect position to transform the industry by creating a wallet that allows anyone to easily access permissionless finance.
We are ready to enter the crypto wallets market and set new standards for usability. Ambire Wallet will be a pure joy to use by people who are new to crypto, as well as by crypto-savvy users.
If you want to learn more about this pivot, you can check out the blog article, in which we explain our new company direction.
In order to achieve all this, we will continue expanding our team and adding new talent to the Ambire family. In fact, feel free to say hi to [email protected] if you would like to work with us.
As for the role of ADX in the Ambire Wallet, stay tuned for further announcements!
What will happen to the AdEx Platform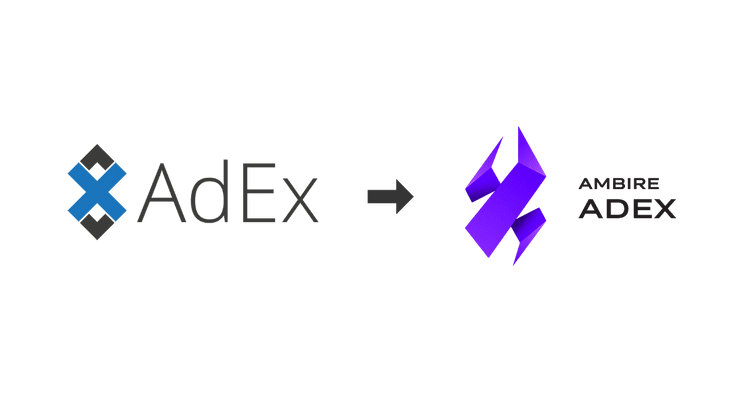 We will continue to support, develop, and upgrade our existing products.
The Ambire AdEx platform has come a long way. Since we launched it, we grew it to 16,000+ registered corporate users. We process millions of ad impressions every day — and each of these impressions is a micropayment on the blockchain; in fact, we are still the biggest payment channels network on Ethereum. We are doing that with the OUTPACE Layer 2 solution that we developed in-house; and much more.
This is why the platform will remain just as important to us as it has always been — we are currently working on a major upgrade (V5) to it that will make it even better for publishers and advertisers looking to escape the inefficiencies of the current ad tech landscape. It is moving toward full decentralization, starting with the ability to run your own validators, tokenomics revamp and community grants — stay tuned for further announcements on this.
ADX staking will remain an integral part of our product ecosystem and will continue to support the operations of Ambire AdEx, and ADX will keep capturing value from increasing ad revenues through our buyback-and-redistribute mechanism
In other words, we are confident that AdEx will thrive under the new brand name!
What does this rebranding mean to you
As we already mentioned, we are not changing our existing products, business models, etc. — we are simply renaming them. The rebranding will not affect your access to our ad platform, staking portal, or wallet. You will likely see visual changes in all of these products, and you will most certainly see a number of meaningful improvements be rolled out over time as well.
---
Interested in Ambire? Follow us: