AdEx Tutorial: How to Create Publisher Ad Slots
This is a quick tutorial on how to create publisher ad slots and start monetizing your web traffic.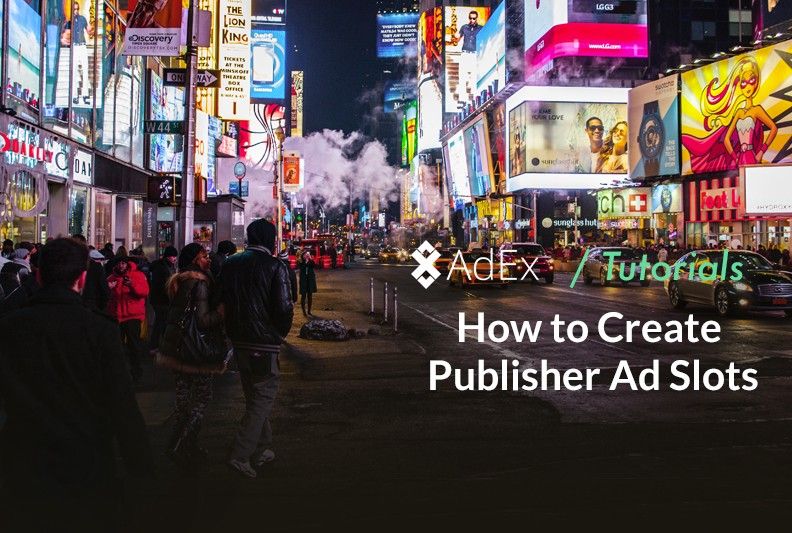 This is a quick tutorial on how to create publisher ad slots and start monetizing your web traffic
In this series of short tips, we will walk you through the AdEx platform to make sure you have all the information needed to take full advantage of it.
Once you have registered your Publisher profile in the AdEx Platform, you can go ahead and add your ad slots — i.e. the ad property that you have available for advertisers. Here is how to do that.
Create an ad slot
Step 1: In the dashboard, click on "Ad Slots" on the left sidebar menu.
Step 2: In the Ad Slots section, click on the "New Ad Slot" green button in the upper right corner.
Step 3: Fill in the name of your ad slot (mandatory) and its description (optional). From the bottom dropdown menu choose the size of your ad slot. Be sure to match the size of your inventory, otherwise the ads won't display properly.
Step 4: Choose passback image options. If you select a passback image and URL, they will be displayed when no matching ads are available for this slot. Otherwise the ad slot will be hidden automatically.
Important: If you choose to use passback image, make sure that the image you upload matches your ad slot size.
Step 5: Time to adjust targeting options for your ad slot. You can add both predefined affinity categories and/or create and add custom targeting categories. For each targeting category you can ad weight from 0 to 100 — defining how strong this targeting category is relevant to your ad slot.
Predefined affinity categories is a set of standard affinity categories you can use if the audience of your media can be easily associated with any of them.
Custom targeting categories are entirely up to you. When you choose "Add new custom target" and you start typing, you'll be prompted: "Click here to create tag". Just add the tag and it will be present in the system.
Example: Let's say you represent a blockchain news media. When you add "Blockchain" tag, advertisers who want to target the blockchain audience and know that you use the tag will be able to choose it.
Step 6: Preview your ad slot settings. Looking good? → hit "Save". Forgot to add something → click on "Back".
Your new ad property item will now appear in the "Slots" section of your account.
Implementing an ad slot to your website
There is just one more thing left before you can start accepting bids for that ad slot (and get rich, hehe): put it on your website.
Step 10: Click on the "View" button for that particular ad slot.
Step 11: Copy the integration <iframe> code, then paste it on your website. Don't worry, it doesn't take Master in CS to integrate <iframe>. Take a look at those tutorials jut in case:
Once the ad slot is properly integrated, ads can start displaying on it.
---
Interested in Ambire? Follow us:
Discord | Twitter | Reddit | GitHub | Telegram | Facebook