We Raised $2.5m in Funding for Ambire Wallet
Ambire Wallet has successfully raised $2.5 million, attracting attention from major private investment firms. Learn how this funding will shape the wallet's future.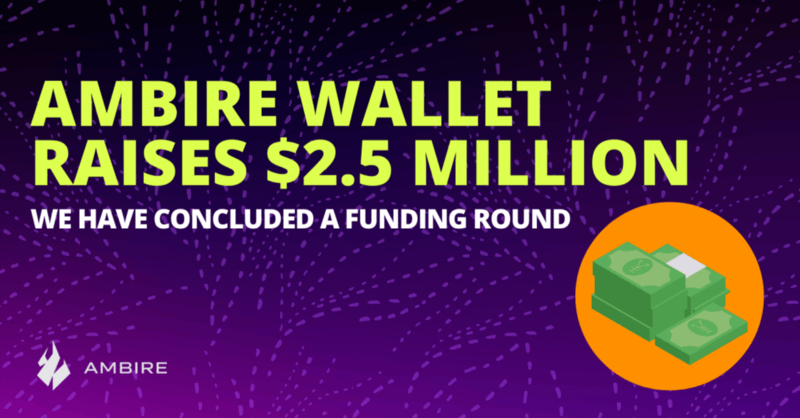 Ambire Wallet is now backed by 12 major private investment firms
As the Ambire Wallet open beta is in full swing, we are happy to announce that we raised $2.5 million in a funding round LAUNCHHub Ventures.
Our DeFi-centric wallet attracted the attention of a number of 12 major private investment firms including Ascensive Assets, Metacartel Ventures, Daedalus and Zee Prime. Danish Chaudhry, the CEO of the bitcoin.com exchange, also came onboard as an angel investor.
'This endorsement of Ambire Wallet is incredibly gratifying for our talented development team, who have worked tirelessly on a wallet that brings DeFi exposure to the masses,' said our CEO Ivo Georgiev.
'The funding will help us refine and market our feature-rich wallet, which we firmly believe the crypto market has been crying out for. The capital will also be used to expand the team, incentivize integrations and provide liquidity for our native token on decentralized exchanges.'
'While there are a great many cryptocurrency wallets in the DeFi landscape, Ambire's latest product has huge promise, appealing to both newcomers and DeFi veterans,' added Todor Breshkov, founding partner of LAUNCHHub Ventures.
'Having already brought several impactful products to market, the Ambire team has our full faith and confidence.'
Ambire Wallet will be controlled by the Ambire DAO (decentralized autonomous organization) and its $WALLET token holders, who will be earning fee revenues generated by the platform. $WALLET will be a governance token and will allow its holders voting power over changes to the proposal and the implementation of new protocols. The token will be launched soon.
If you'd like to join the Ambire open beta, sign up from our website https://www.ambire.com/.
---
Interested in Ambire? Follow us: