This Week 'Smart Wallet' Series Talks UX: Nemo from Daedalus Joins Ambire to Explore the Crypto Seas
Episode 3 delves into user experience and its impact on crypto adoption, featuring insights from Captain Nemo and Ivo Georgiev.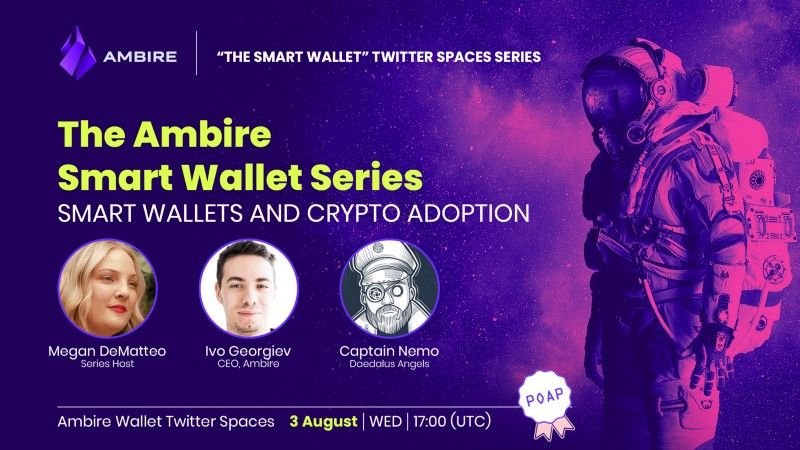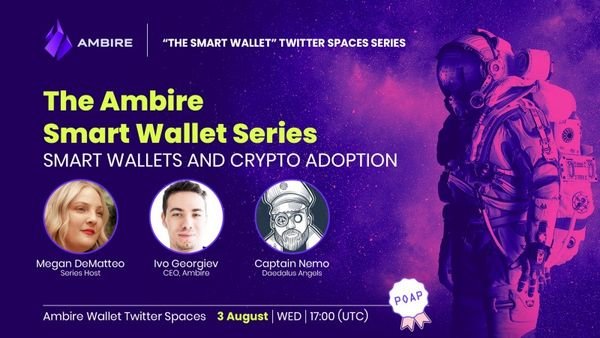 Episode 3 tackles user experience and barriers to adoption for the crypto ecosystem and its communities
Episode 3 recording can be listened to here.
🍉It's a fresh summer week and we've got a new Twitter Spaces episode almost ripe & ready 🍉
This time on Ambire's 'Smart Wallet' series, the conversation will revolve around user experience (UX) and its capacity to catalyze crypto adoption — it's sure to be a spicy one 🌶 so be ready to tune-in.
⎈ Captain Nemo at the Helm
Last week we saw a dynamic conversation around the subject of the multichain crypto future, featuring Arth Patel (Socket) and Ivo Georgiev (Ambire). In case you missed it, you can listen to the recording right here 🎧
This Wednesday, August 3rd, at 5PM (UTC), the third episode of the series will host Captain Nemo as our special guest, along with the usual suspects — Ivo Georgiev from the Ambire team and host Megan DeMatteo.
Nemo is a true veteran of the crypto scene: a trailblazer, active and respected in multiple blockchain initiatives. He is recognized as a member of Daedalus (the angel collective supporting founders and builders) and of the infamous 🦞Lobster community, where he is part of LobserDAO.
As the episode's discussions will revolve around how user experience is created and offered in the crypto-space, Nemo's background and know-how will help us navigate some restless waters — the topic everyone wants to get in on: crypto adoption, its barriers and pragmatic outlook.
Last but not least, we'll also touch on how much of a role communities play in crypto adoption and where they can work best to help it become a reality.
☑️ Community check: Q&A + POAPs
Community has actually been part of the 'Smart Wallet' series, since the very beginning: the format of the show was developed to incorporate community and audience input for each edition.
There is a dedicated Q&A section as a permanent part of the show, and we encourage you to throw your best at us: either live, during the event, or before/after, in our Discord channel — feel free to ask or say whatever you feel is important, on the episode subject and also on crypto in general. (🤫 Best questions on Discord won $WALLET tokens in the previous two episodes.)
Last episode we also started a nice little tradition by creating a dedicated POAP for those who attended the live streams: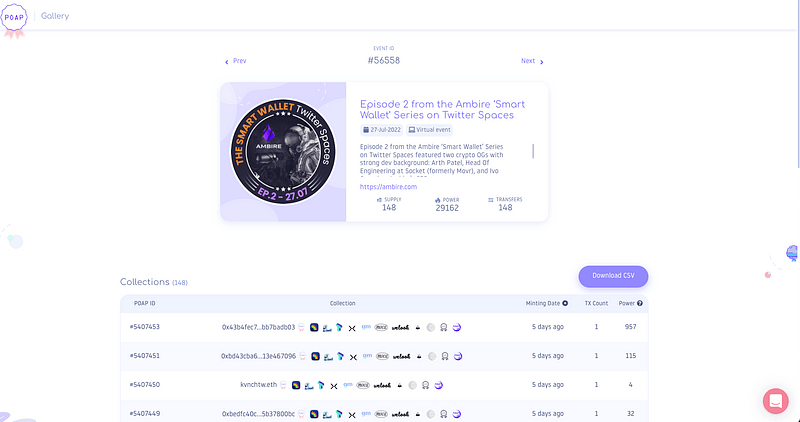 Unlocked by a secret phrase only heard during the show, each episode's attendance badge will be available for claim just during the one-hour window of the live event. Here's our tutorial on how to make sure you mint & claim your POAPs in just a few steps 🪂
---
Interested in Ambire? Follow us: