The Web3 on Fire Podcast Is Here: Pilot Episode with Evin from disco.xyz Now Live
The pilot episode of the Web3 on Fire podcast delves into digital identity, privacy, and blockchain, featuring Evin from disco.xyz.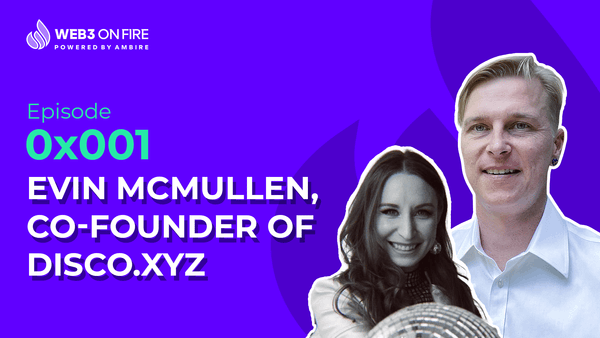 A while back, we at Ambire launched a weekly newsletter called 'Web3 on Fire'. Each week, our team curates a summary of the most interesting developments in the Web3 world: e.g., all-time highs, technological breakthroughs, a pinch of gossip, a helping of memes, etc., and sends it to thousands of our subscribers.
So why a podcast? We simply felt that certain topics could be looked into in more detail and that the people who make Web3 what it is also deserve a spotlight! Therefore we decided to add a series of podcasts hosted by no one else but our own community builder Rob Edwards. In each episode, Rob delves into the heart of the latest innovations in decentralized technology, including account abstraction, smart accounts (aka smart contract wallets), and the future of work in the Web3 ecosystem.
Who's the host?
The host of the podcasts is Ambire's community builder Rob Edwards. Rob has an extensive background in various areas, including community building, DAOs, and tooling. He has a track record of successful projects, with 0xPrimordia, BeanDAO, being one of them.
Rob has been involved in the crypto industry since the early days, having traded in Bitcoins for an ETH Genesis wallet as far back as 2013. He has since then been actively engaged in various Web3 projects, with a particular passion for DAOs and related technologies.
Where can you listen?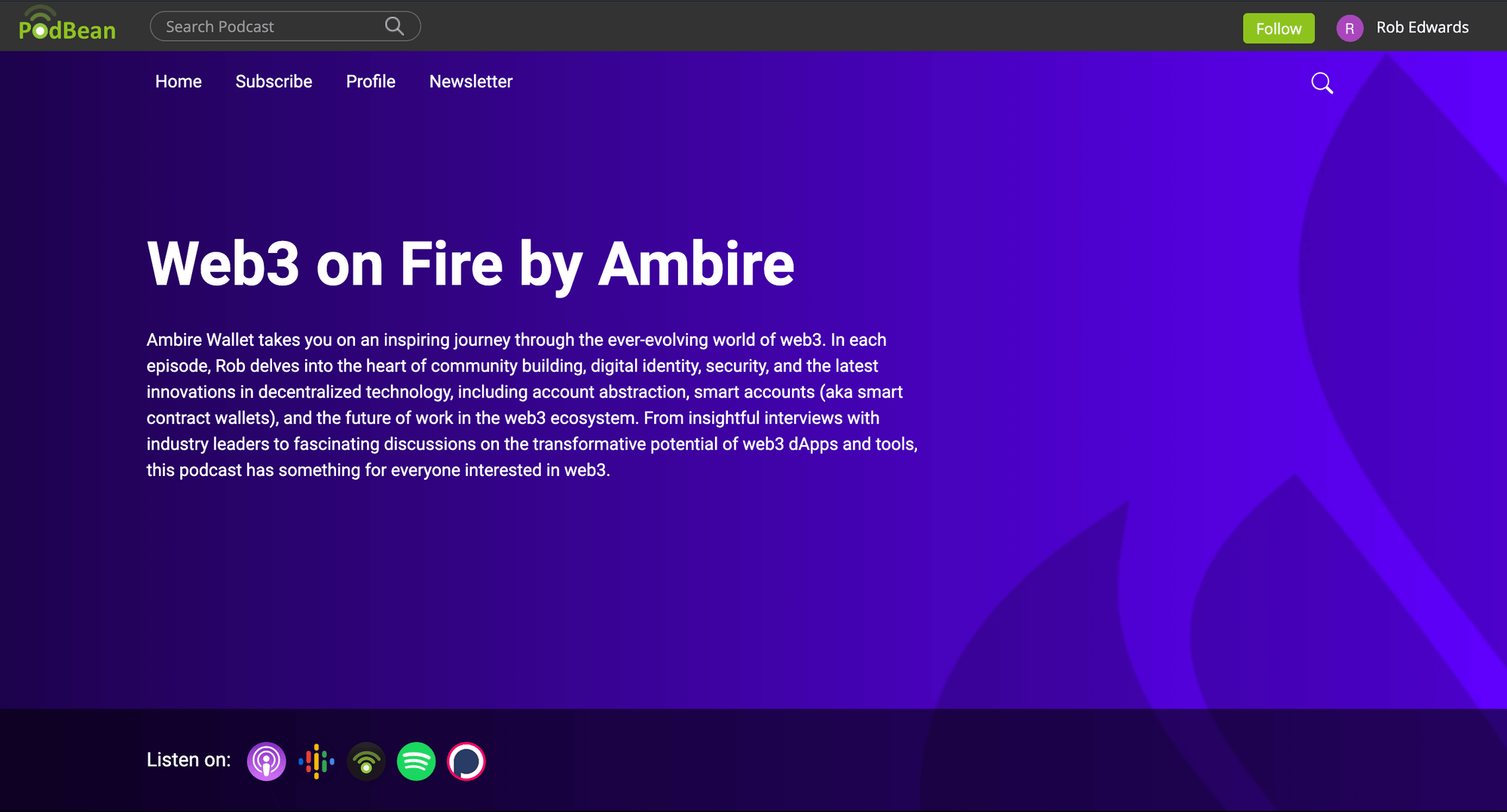 We have created a dedicated page on Podbean where we will be publishing all the Web3 on Fire podcast episodes. You can listen on the page or on their app or use Podbean to add the podcast directly to your phone, or use another platform like Spotify or Podchaser.
Alternatively, we will upload all the podcasts to our YouTube channel if this is your platform of choice. Make sure to hit the 'Subscribe' button so you do not miss out on any new episodes being published.
We have also created a Twitter account for Web3 on Fire - which is both for our weekly newsletter, as well as for the podcast series. Give it a follow so you can stay up to date with the latest developments in Web3!
What is this week's episode about?
In this first episode host Rob and guest Evin Mcmullen, CEO and co-founder of Disco.xyz, will be diving into general topics surrounding digital identity, privacy, blockchains, what should and more importantly shouldn't be shared on blockchains and how Disco.xyz is creating a platform for both users and orgs to make secure digital ids a easy and safe experience in Web3 and beyond.
They'll also be talking about Evin's foray into Web3 and crypto, how she found herself here and what other interesting projects she's working on or being inspired by. We hope our listeners will come away from this episode with a fresh understanding of why their digital ID is important and how to best protect themselves.
Listen to the pilot episode
---
​​Interested in Ambire? Follow us:
Discord | Twitter | Reddit | GitHub | Telegram | Facebook