The Smart Wallet Series Unpacks Devcon VI: Get the Alpha Straight From Ambire's Founders
Ambire founders share their firsthand experiences and insights from Devcon VI.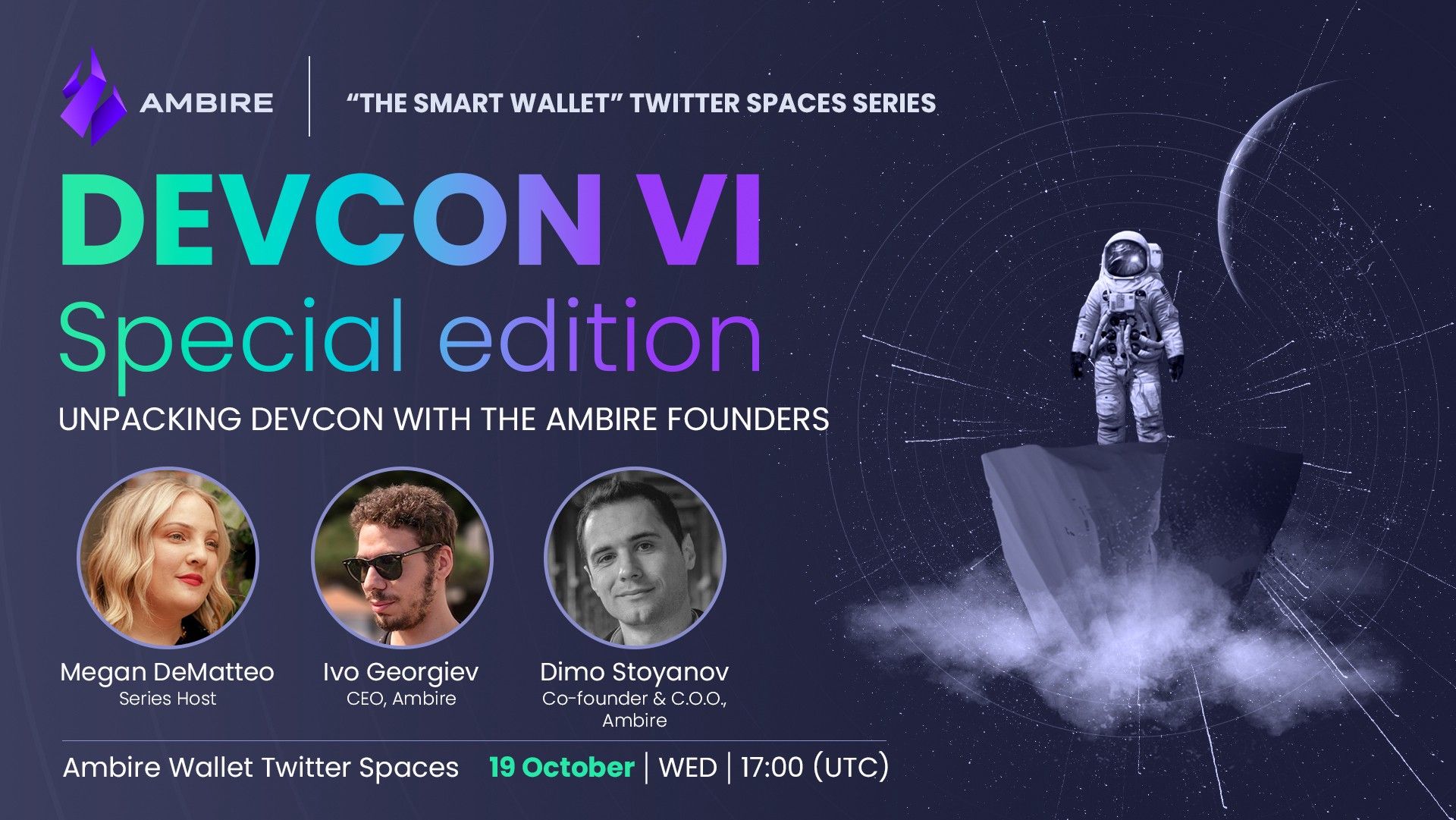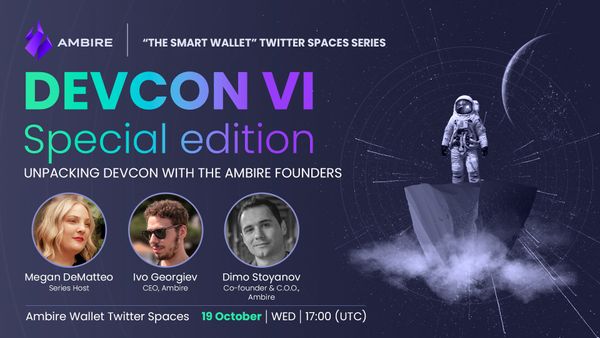 A special Twitter Spaces edition, with insights and tales from our week in Bogotá
Listen to episode 12 here.
Buenas, Ambire fam 🙌
We're back from 🇨🇴 Devcon VI 🇨🇴, and boy, was it a blast 💥 Not just loads of fun, but also crisp Ethereum wisdom, some old and new frens, plus a fresh wave of Ambire fans 🔥
With so much to unpack, we decided to make a special edition of our Twitter Spaces, dedicated to the Bogotá event.
👉 Tune-in this Wednesday at 17 UTC, on Ambire Wallet's Twitter, for some hot takes and precious insights from the biggest Eth event of the year 🙌
🫣 Sneak peak on what we'll cover
'Twas a week full of exciting things for us in Columbia, and we're so eager to share them with you 😃 Megan is already on standby with lots of questions, and for the first time in the series we'll have as guests both Ambire founders: Ivo Georgiev, our CEO, as well as Dimo Stoyanov, our COO. So be sure to join and hit us with your own queries 🙋‍♂️🙋‍♀️🙋
Here's a short overview of what we set-out to cover in this special episode:
the place: all Devcon event locations are special and chosen with great care by the organizers, and Bogota made no exception; why and how the mountain capital was relevant to the event and Ethereum in general 🇨🇴
the talks: there were some great panels and speeches, from insider know-how to network roadmaps to visions for the future — listen for the alpha, prep for the moon 🚀
the work: yes, Ambire was a sponsor, a super-networker and killer-swag-maker; our CEO Ivo was a speaker and he packed a full house 🔥
the fun: you know us, we're always down for laughs, but this Devcon really raised the bar; join us on the joytrain, the more the merrier 🥳
🥳 Perks and Recreation
A special episode needs some special engagement protocols, right? 😆
That's why we have some nice surprises lined-up for you, some right during the episode 🎁 Check our Discord server for all the details (hint: crypto-prizes are in the mix 🤫)
And if in the meantime you get curious about something Devcon-related, drop your ideas and questions on our socials, or straight in the live talk: we're happy to have an open discussion and let you pick our brains 🧠
That's all for now, folks ☑️
See you Wednesday 😉
---
Interested in Ambire? Follow us: