The Smart Wallet Series on Crypto Crisis PR: How (not) to do it right
Explore the intricacies of managing public relations in the volatile crypto industry. Gain insights into what works and what doesn't in crisis situations.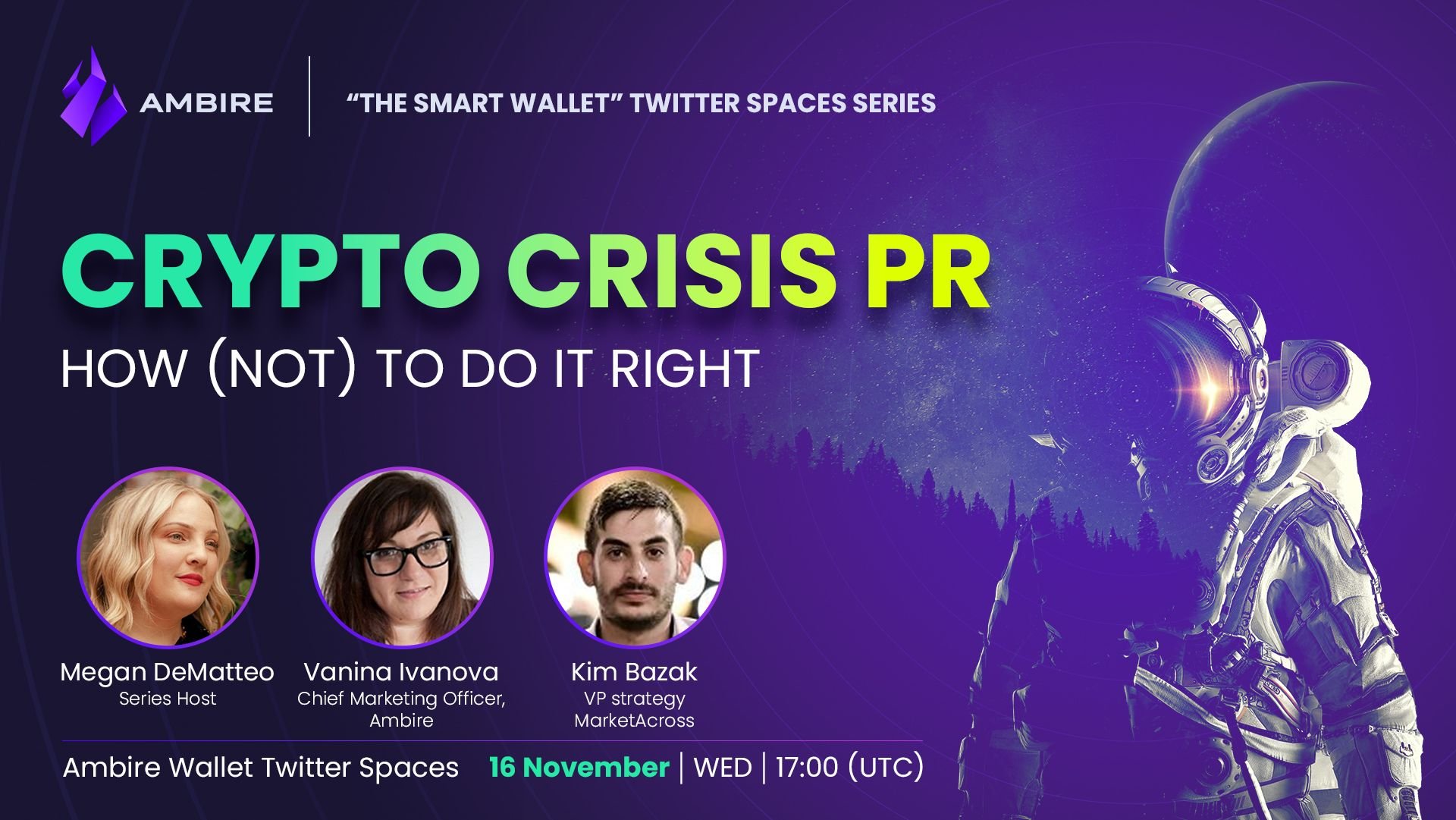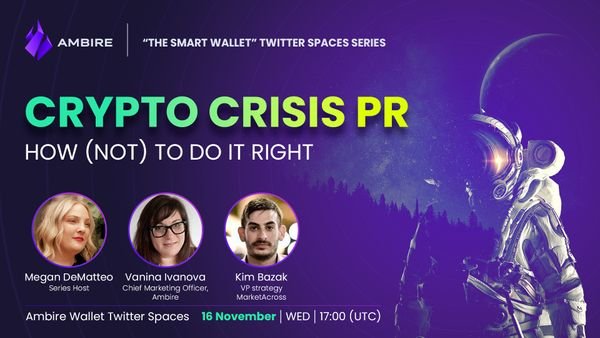 Episode 14 of the Ambire Twitter Spaces puts a wider lens on the FTX/Alameda story
Hey there, 🔥Ambirers🔥

Yes, the Smart Wallet Series is back
and
No, we can't ignore FTX created a crisis.

Some conclusions of the aftermath are already clear: we've been preachin' self-custody and decentralization since Ambire launched, but maybe now we can all sum it up as:
➡ OYM — Own Your Money

Other conclusions remain to be drawn, so we propose a talk on how the FTX narrative unfolded and a look at what lessons could help our crypto agora in the future.
Tune-in tomorrow, at 17 UTC, on Ambire's Wallet's Twitter:
PR Review: FTX 🪡Needles & Threads🧵
Seems like ꩜forever꩜ ago since the last Smart Wallet Series episode, although it's only been a bleep.
The FTX/Alameda scandal hit the crypto scene, while its aftermath continues in the mainstream public's eye. The debate born around exchange regulations opened a discussion on self-custody in decentralized systems vs. 3rd party custody solutions (in the context of asset security). And these ideas have, in turn, put the spotlight on the centralized financial mechanisms that allowed the FTX situation.
Meanwhile, the latest media establishment response raises even more eyebrows:
As with any major event, there are many reverberations, yet aside from the information itself, we think it's also worth looking at how it is put in front of us, where it's communicated in the public sphere, and what the voices are consciously — or not — bringing forth.

Our next Twitter Spaces episode brings a crypto lens to crisis PR. Joining our host Megan DeMatteo will be Kim Bazak, Strategy&Consumer Success VP at Market Across and Ambire CMO Vanina Ivanova.

For the last 5+ years, Kim has worked almost exclusively with crypto and Web3 companies on PR and marketing projects. In his role as VP of Strategy at leading crypto marketing firm Market Across he's encountered many image crises and brand critical moments, gathering insights and a precious perspective.
Vanina is no stranger to the Smart Wallet Series, and this time she'll bring her marketing strategist acumen — with both web2 and web3 experience in managing brand communication, it will be interesting to see what threads she and Kim pull together with Megan, uncovering fresh viewpoints for us.

📡 Anything else?
Well yeah, a couple of things:
This Twitter Spaces episode comes with community activities, as usual, so have a look at our Discord server for more details and crypto surprises. We're also having some live activations, so make sure you listen for the precious queues 😉

To our Ambire fam, one last shout-out: 🚢 hold steady as she goes, frens; we hodl and buidl, reassured that we own our money.
---
Interested in Ambire? Follow us: