Statement About Recent Events on Upbit
This is an overview of recent events on the South Korean exchange Upbit.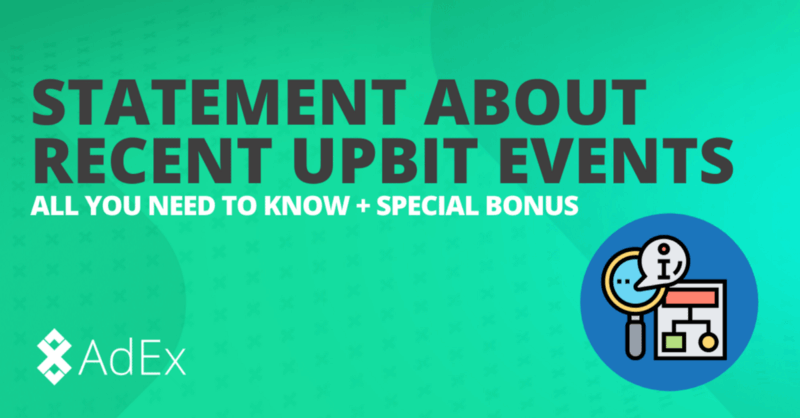 This is an overview of recent events on the South Korean exchange Upbit.
🇰🇷 For Korean, scroll down 🇰🇷 한국어로 보시려면, 스크롤을 밑으로 내려주세요 🇰🇷
---
Last week the centralized South Korean exchange Upbit issued a notice about potentially delisting 25 tokens, ours included. They did not provide us with any particular reasons about this decision. However, it is a known fact that there is currently strong regulatory and governmental pressure on Korean exchanges, and this is the reason for such actions.
We immediately got in touch with the Upbit team and provided them with a large amount of information about our project, company, token, and user base — information that they have received from us on multiple occasions in the past. Unfortunately, Upbit's review of AdEx confirmed that ADX would be delisted.
What is important to understand here is that Upbit's decision is based on the regulatory climate, not on AdEx's quality as a project. The delisting of ADX is in no way an evaluation of our company and products.
In fact, it's just the opposite of this: we found ourselves on the notice list because of AdEx's popularity around the world and in Korea in particular.
AdEx is а project with proven long-term value
We are one of the first successful blockchain companies on the market, and we have proven our value in time. Out of all projects launched during the large crypto wave in 2017, we are one of the few still standing — and growing.
Our native token is designed as a long-term hold, and ADX fans who opted in for holding have been reaping significant staking rewards — staking ADX brings sustainable annual returns of over 50%.
We have consistently over-delivered on our roadmap, and we just announced a business expansion into DeFi by revealing the AdEx Wallet that will help us solidify our market position.
Put simply: we are here for the long run.
Potential delisting impact: mild
A considerable part of the ADX trading happens on Upbit, however we expect the impact to be minimal.
The majority of ADX holders are long-term supporters of ours who have been holding and staking their tokens.
We strongly encourage Upbit users who trade ADX to move their tokens to AdEx Staking, which is an option that aligns strongly with what's best for AdEx.
Anyone affected by Upbit's decision should also consider alternative exchanges:
Special BONUS
We understand that this may cause some inconvenience, therefore we would like to offer a special bonus to anyone who chooses to withdraw their ADX tokens from Upbit and deposit them on the AdEx staking portal.
The bonus will be 5% of the staked amount and paid out in staked tokens. The bonus will be distributed on July 1, 2021 based on users' actions in the period from 18th to 30th June included.
On July 1, we will carry out an airdrop and everyone who is eligible will receive their bonus automatically.
But wait, there's more — if the total ADX that comes from Upbit and is staked exceeds 5 million ADX, the bonus will be doubled to 10%!
The tokens for the bonus will come from a buyback.
---
AdEx 팀, 최근 업비트 유의종목 지정에 대한 공식 발표
지난 주 한국의 거래소 업비트(Upbit)는 AdEx를 포함한 25개의 토큰을 상장폐지할 가능성이 있다고 통보했습니다. 그들은 우리에게 이 결정에 대한 상세 이유를 제공하지 않았습니다. 하지만 현재 한국 거래소에 대한 규제와 정부의 강한 압박이 가해지고 있는 것은 알려진 사실이며, 바로 이런 조치의 원인이라고 생각합니다.
우리는 즉시 업비트 팀과 연락을 취하여 우리의 프로젝트, 회사, 토큰, 유저 베이스에 대한 다양한 정보를 제공했습니다 — 과거 여러 차례 제공한 정보입니다. 안타깝게도 업비트가 AdEx를 검토한 결과는 ADX가 상장폐지될 것으로 결정되었습니다.
여기서 이해해야 할 중요한 것은 업비트의 결정이 프로젝트로서 애드엑스의 자격이 아니라 규제 분위기에 따른 결정이라는 점입니다. ADX의 상장폐지는 결코 우리 회사와 제품에 대한 평가가 아닙니다.
사실, 이는 정반대입니다: 우리는 전 세계적으로 그리고 특히 한국에서 애드엑스의 인기로 인해 공지 목록에 우리가 추가된 것을 알 수 있었습니다.
AdEx는 이미 입증된 장기적 가치를 갖춘 프로젝트입니다.
우리는 시장에서 초기에 성공한 블록체인 회사 중 하나이며 적시에 우리의 가치를 입증했습니다. 2017년 대규모 암호화폐 물결 가운데 시작된 모든 프로젝트 중에서 우리는 여전히 성장하고 있는 얼마 안되는 프로젝트입니다.
우리의 네이티브 토큰은 장기간 보유하도록 설계되었으며, 보유하는 ADX 팬들은 높은 스테이킹 보상을 받고 있습니다 — ADX를 스테이킹하여 얻는 연간 수익률은 50%를 상회합니다.
우리는 지속적으로 로드맵 보다 초과 달성했으며, 시장 입지를 공고히하기 위해 AdEx 지갑을 공개하여 DeFi 분야로 비즈니스 확장을 발표했습니다.
간단히 말해서, 우리는 장기적으로 운영할 프로젝트입니다.
잠재적인 상장폐지의 영향: 경미함
ADX 거래의 상당량이 업비트에서 일어나고 있지만 그 영향은 미미할 것으로 예상됩니다.
ADX 보유자의 대다수는 그들의 토큰을 보유하고 스테이킹해 온 우리의 장기 지지자들입니다.
우리는 ADX를 거래하는 업비트 사용자들이 ADX 토큰을 AdEx Staking으로 옮길 것을 강력히 권장합니다. 이 옵션은 AdEx에 가장 적합한 옵션입니다.
사용자들은 업비트를 대체할 다른 거래소를 이용할 수 있습니다:
스페셜 보너스
우리는 이번 사건으로 인해 사용자들이 다소 불편할 수 있으므로, 업비트에서 ADX 토큰을 인출하여 AdEx staking 포털에 예치하기로 결정한 모든 사용자에게 특별 보너스를 제공하고자 합니다.
보너스는 스테이킹 금액의 5%를 스테이킹된 토큰으로 지급됩니다. 보너스는 6월 18일부터 6월 30일까지 이용자들의 행동에 기반하여 2021년 7월 1일에 배포될 예정입니다.
7월 1일, 에어드롭을 통해 대상자 전원에게 자동으로 보너스를 지급합니다.
더 많은 보너스가 제공됩니다 — 업비트에서 출금된 총 ADX가 500만 ADX를 초과할 경우 보너스는 10%로 설정되어 두 배가 제공됩니다!
보너스 토큰은 바이백을 통해 제공됩니다.
---
Interested in Ambire? Follow us: