'Smart Wallet' Twitter Spaces Returns: Season 2 Comes with New Guests, New Insights and More Fun
Season 2 of Smart Wallet Twitter Spaces is here, offering a fresh lineup of guests and new insights into Ethereum, stablecoins, and more.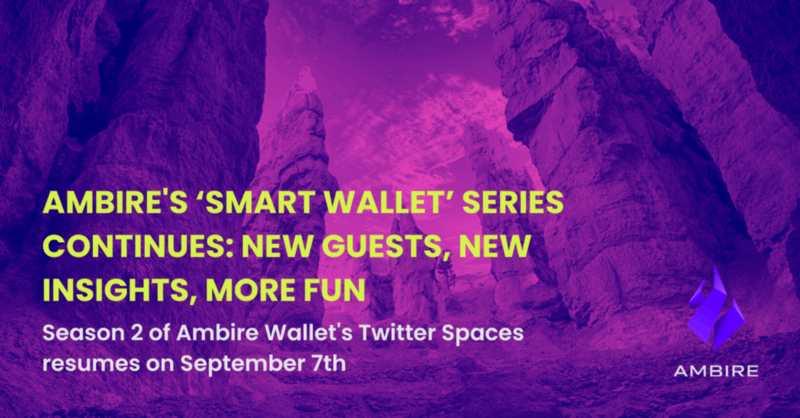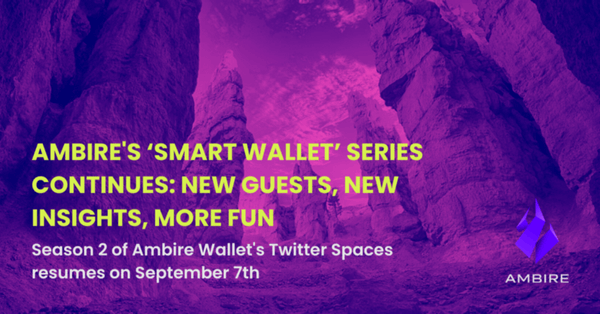 Join us on September 7th on Ambire Wallet's Twitter for a new round of crypto talks, tech know-how, and laughs
Yes, Ambire fam, the Smart Wallet series resumes on September 7th, taking on new challenges 💪
🗓 Same time, same place, you know it: on Ambire's Twitter page, every Wednesday at 17:00 UTC.
🧐 Season 1 in review
Quite the 🎢 ride we've had, these last Smart Wallet weeks, wouldn't you say?
🧮 Six episodes, six guests, one resident invitee, over 1000 attendees and the nicest host in crypto — that's our tally for the first round of our Twitter Spaces. And let's not forget the community prizes for questions and quizzes, where we rewarded the show's fans with over 10.000 WALLET tokens 💸
Here's a short break-down of what we saw these past episodes:
— In the intro edition, Ambire CEO Ivo Georgiev and host Megan DeMatteo set the context for the series, explaining what smart wallets are and what to expect from them
— The second space saw Arth Patel, Head of Engineering at Socket, discussing our multi-chain future with Ivo
— On the 3rd show we had OG Nemo from LobsterDAO joining for a look at how UX is evolving in crypto, barriers for mass adoption and some juicy VC insights
—The 4th episode had an all-female cast looking at the importance of communities in crypto and how they can shape our smart wallet future: Meg hosted Ambire CMO Vanina Ivanova and Near NYC's Community Manager Joanna Orlova
—By episode 5 we were deep-diving in how crypto will make our future, taking into account the issue of regulations: Danish Chaundhry, currently leading FMFW.io exchange and a previous bitcoin.com CEO, discussed at length with Ivo and Meg but left us wanting more
— The season finale brought Richard Meisnner, Head of Engineering at (Gnosis) Safe in dialogue with Ivo Georgiev, guiding us through their perspectives on how to best engineer our smart wallets for the future
All in all, we listened to a lot of interesting subjects and debates during the shows, so here are a few of our favorite take-outs from the series so far:
"In technology terms, what it [the smart wallet] means is that every user account is a smart contract. And what this enables is basically account abstraction: where usually a normal account will be just the private key, so just a really large number securing the funds, with the smart contract you can do a lot more: you can do 2-factor authentication, you can split the keys in multiple shards and have your phone confirm all your transactions or you can have rules — like, for example: don't spend more than that amount per day." (Ivo Georgiev)
"Wallets are kind of like a portal to our web3 world and we will have more and more situations in which people would not just use DeFi but they will be using decentralized gaming platforms, they will start using different NFT platforms, they will have different user flows. Depending on the user flow, I think it would also be important to navigate and help users understand how and for what they can use their wallets." (Nemo)
"Whatever we build, we always build products that we want to use ourselves, products that we are proud of, products that we can't stop talking about, products that we want to give to our friends and family and get them to use either the wallet or even the advertising platform, even though it is a little bit more specific. That's the core of Ambire Wallet and I think that this is what sets us apart and gives us an edge over other crypto wallets that exist in the space." (Vanina Ivanova)
"We believe that the future is multichain precisely because of the tradeoffs that different chains have to make. Because generally the scalability trilema exists and with it you cannot really have security scalability and liveness at the same time. How this translates to UX is that for games you want to prioritise speed, performance and fast confirmations, but for DeFi and financial applications obviously you want to prioritise security." (Ivo Georgiev)
What are your best take-outs from the spaces you listened to? Let us know in the comments below, or join the discussions on Discord.
And if you missed an episode or just haven't managed to tune in yet, you can check the recordings from season one right here.
👀 A peek at the Season 2 outlook
For the second installment of our Smart Wallet series, we've got a lot of exciting things in the making: awesome guests, even cooler engagement tools, and prizes for the community.
Season #2 means double the fun, y'all 🥳
We'll be taking things up a notch and going deeper into the tech and its intricacies. As we're on the brink of the Merge, be sure we'll explore what the future of Ethereum is going to bring for smart wallets, but expect to also delve into the world of stablecoins, in crypto market strategies or community building.
We've got even more pulp for you on our second edition, so be ready 😉
P.S. A special shout-out and lots of Ambire 💜 goes out to our community: thank-you all for supporting and being a part of this project 🙏 As a listener, as a speaker, as a member of our social channels helping us keep the conversation going, thinking of better questions, subjects or jokes — we could not have done this without you 🤗
---
Interested in Ambire? Follow us: