'Smart Wallet Twitter Spaces' Launches This Week: Ambire CEO Ivo Georgiev Is Megan DeMatteo's First Guest
Ambire Wallet and Megan DeMatteo kick off a new Twitter Spaces series, diving deep into the future of Smart Wallets.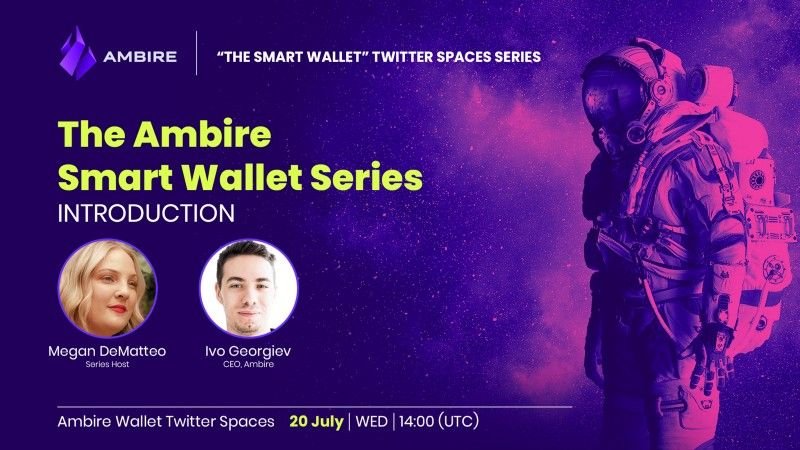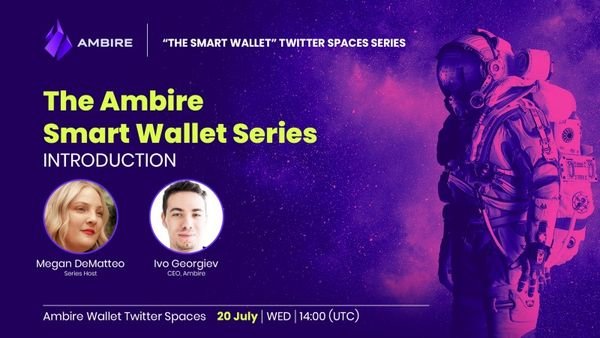 Ambire Wallet powers a Twitter Spaces series where Smart Wallets will be explained, analyzed, and challenged as leading the future of EVM tools
Episode 1 recording can be listened to here.
As the Web3 scene grows and pushes for new developments, we feel it's a must to inform and spread knowledge that can guide not just our users, but also fellow builders and communities. In the end, we all want to create reliable and future-proof models, projects and behaviours, don't we?
That's why we're announcing a new and exciting project that Ambire has co-created: the 'Smart Wallet Twitter Spaces' series is part of our efforts in educating the crypto community, focusing on Smart Wallets and their capabilities as premier asset management tools for navigating EVM networks on Web3.
Read on for the full scoop and see when the first episode goes live 👇
Smart Wallets Get Their Own Twitter Spaces
The 'Smart Wallet Twitter Spaces' series will be hosted by finance journalist Megan DeMatteo and will debut this Wednesday, July 20th, at 14:00 UTC.
Megan is a seasoned writer and key opinion leader in the finance and business space, having previously collaborated with publishers such as Time, CNBC, Business Insider, CoinDesk etc. Just like us, she believes it's imperative to have a clear understanding of the tools and options available in the already crowded crypto-space — as a journalist she understands the power of information, and the importance of sharing it with the public.
Our own Ivo Georgiev (Ambire Co-founder & CEO) will be Megan's first guest, in an open-discussion format that will include a Q&A section where everyone is invited to participate.
To kick-off the digital meet-ups, the first episode will cover the basics of smart wallets, naturally including a lot of insights into Ambire Wallet and its ecosystem.
The following episodes will cover different topics, from security to wallet hygiene, the future and sustainability of Smart Wallets and of course their different applications in the crypto environment. The series is poised to run weekly until the end of September, having different guests for each episode.
Meanwhile, make sure you tune-in to our Twitter page on Wednesday at 14 UTC, to listen to the first episode and get your intro into Smart Wallets. Afterwards, you can join us on our Discord channel and chat about it with our team.
Live informed and prosper 🖖
P.S. Who would you want to hear on the Ambire Twitter Spaces? Drop your suggestions for guests, and we'll do our best to invite some of them — the list for the series is open, so give us a shout on our community channels of leave your ideas as comments, below this post ✍️
---
Interested in Ambire? Follow us: