'Smart Wallet' Series Goes All-In: Danish Chaudhry, James Young and Ivo Georgiev Tackle Freedom & Crypto
Episode 5 of Ambire's Twitter Spaces explores the concept of freedom in the crypto space, featuring Danish Chaudhry, James Young, and Ivo Georgiev.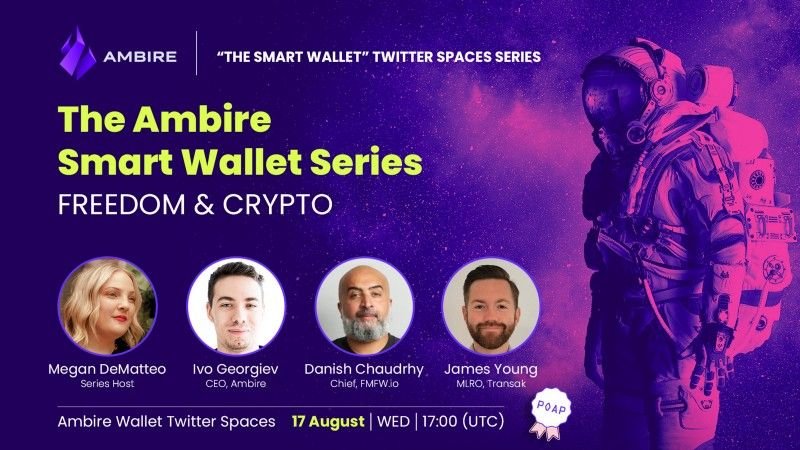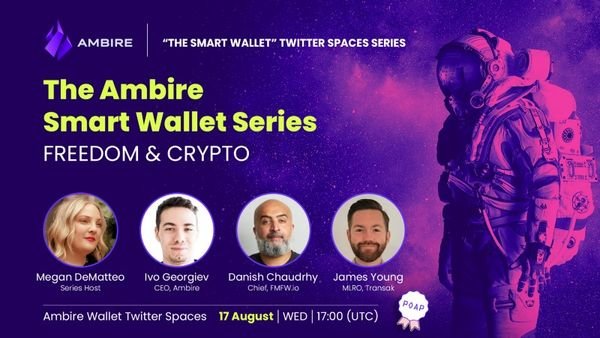 Episode 5 of Ambire's Twitter Spaces Explores what Freedoms the Crypto Revolution Brings
Listen here to the recording from episode 5.
High tides this week once more as we've got a 🔥 topic lined-up for Wednesday — you know it, 5PM UTC, on Ambire's Twitter Page.
Freedom is a vast subject, let's see what to expect ⬇️
🧐 How freedom translates into product builds, regulations, and compliance
Last week's episode we debated the role of communities, how they are shaped and in turn shape the crypto world themselves. So this week, we're pivoting from the social angle to a broader topic, but one just as in-tune with our true human nature: the freedom and liberties that crypto can unlock 🔐
Jumping into this subject from a user perspective, our host Meghan DeMatteo will hype the discussion between Ambire CEO @Ivshti, Transak Europe's James Young and crypto OG @djchaudhry.
A former bitcoin.com CEO, Danish Chaudhry is currently leading FMFW cryto exchange. Coming from a TradFi financial background, he is a promoter and an investor in the blockchain space.
Our other invitee, James Young, is a Money Laundering Reporting Officer (MLRO) and Head of Compliance for the UK and Europe at Transak. He brings a wealth of experience from leading payments institutions as well as from the FCA's Enforcement Division, where he started his career. James will help us navigate the path of freedom & regulations in crypto ☑️
Now you know how our episode is gonna roll, remember to tune-in on Ambire's Twitter for your weekly dose of crypto debate 🤓
P.S. We've also got community activities for the episode, as you already know: a new post-episode trivia quiz will be brewing in Discord — prize info coming soon on our server channels. See you there 😉
---
Interested in Ambire? Follow us: