Web3 on Fire: Layer2 Innovations in Gaming, Metaverse, & Identity
In this episode of Web3 on Fire, Rob and Roy explore the world of Layer2, discussing its growing significance in Web3. From gaming to the metaverse, discover how Layer2 solutions like LightLink are revolutionizing industries and redefining digital identity.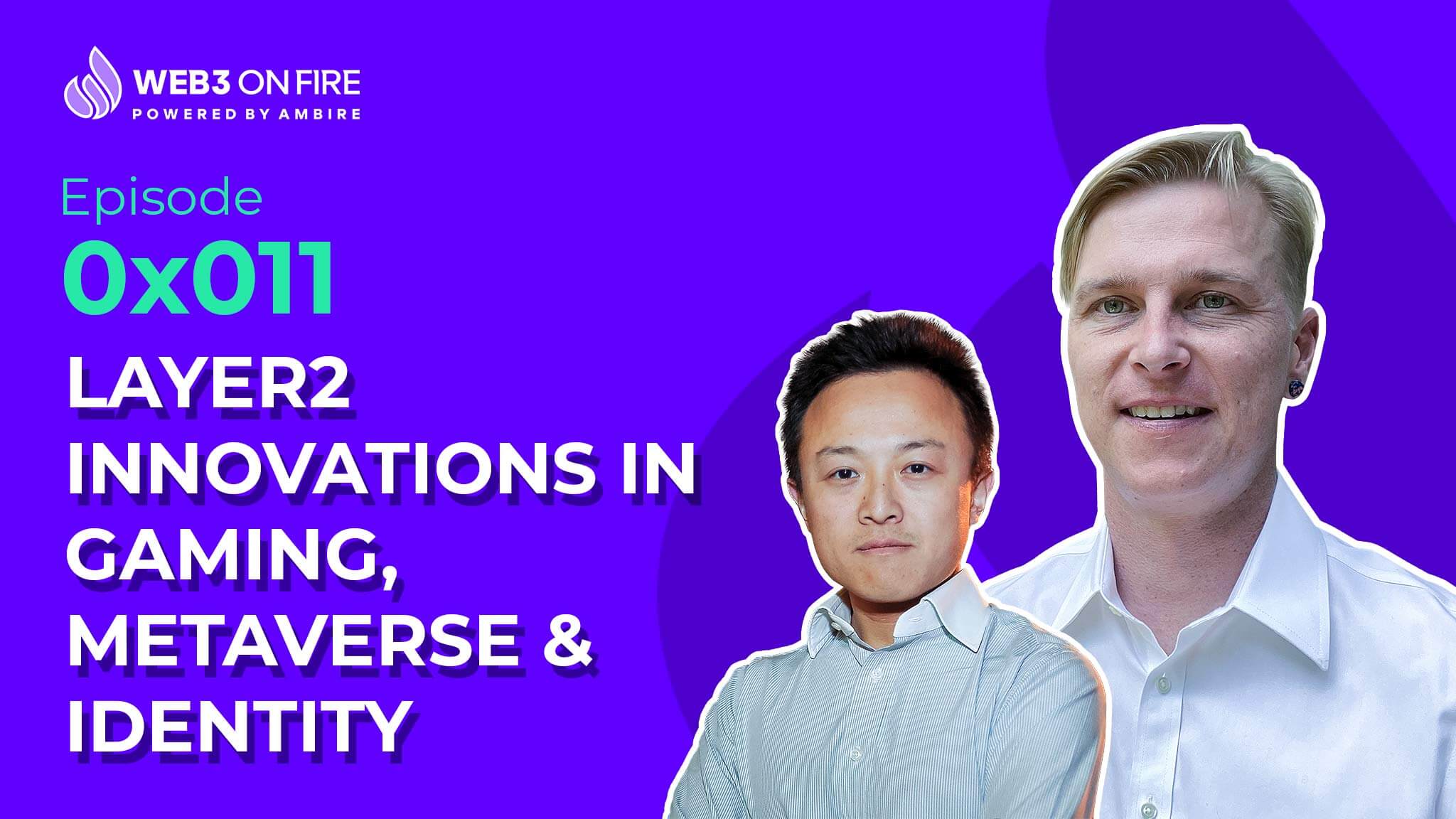 In the 11th episode of Web3 on Fire, Rob engages in a detailed discussion with Roy Hui, Co-Founder & CEO of LightLink. As they delve into the intricacies of Layer2, the significance of these solutions in the expanding Web3 domain becomes clear, offering scalability, speed, and enhanced user experiences.
Listen to the episode below:
Roy Hui's journey into tech and crypto
Roy Hui's tech journey spans over two decades, marked by innovation and entrepreneurial spirit. From his early days in computer science to launching various tech ventures, Roy's passion for technology has been evident. His transition into the crypto realm was a natural progression, culminating in the establishment of Power, a pioneering web three builder. Roy shared his experiences during the 2017 ICO boom, highlighting the challenges and opportunities that led him to focus on Layer2 solutions.
The genesis and vision of LightLink
LightLink's inception was driven by the need to bridge the gap between private enterprise blockchains and public solutions. Roy emphasized the challenges of ensuring interoperability and transparency, leading to the creation of LightLink. He also touched upon the complexities of deploying robust smart contracts in the Web3 ecosystem and the importance of user-centric design.
Technical aspects and differentiators of LightLink
LightLink's technical foundation is rooted in the EVM-based ecosystem, with a strong emphasis on Solidity. Roy discussed the platform's enterprise mode tokenomics, which offers a unique approach, allowing for gasless transactions and bulk buying capabilities. But what truly sets LightLink apart is its commitment to addressing developer challenges in Layer2 and valuing community feedback, ensuring continuous refinement and innovation.
Applications and potential of LightLink
Roy elaborated on Web3's transformative potential, with LightLink driving innovations in gaming, the metaverse, ticketing, payments, and supply chain management. He shared insights into how Layer2 solutions like LightLink are revolutionizing these sectors, offering scalability and efficiency. Furthermore, the platform's approach to digital identity in Web3 was highlighted, championing decentralized and user-centric solutions.
The role of Layer2 in Web3's future
Ethereum's scalability challenges are well-known, and Roy emphasized the role of Layer2 solutions like LightLink in addressing these issues. He shared his vision of enabling real-time, decentralized gaming experiences and fostering the growth of virtual worlds through Layer2.
The future of gaming, metaverse, and identity with Layer2
Layer2 solutions are not just about scalability; they're about redefining industries. Roy provided insights into how platforms like LightLink are set to revolutionize the gaming industry, offering immersive and decentralized experiences. He also discussed the potential of the metaverse with Layer2, enabling richer and more complex virtual worlds.
Conclusion
Reflecting on the insights shared by Roy Hui, it's evident that Web3 technologies hold immense potential. LightLink, with its innovative approach to Layer2, is poised to play a pivotal role in this evolving landscape, shaping the future of gaming, the metaverse, and digital identity.
Stay Tuned!
Don't miss out on the latest insights and discussions shaping the Web3 space. Subscribe to Web3 on Fire on your favorite streaming platform, be it Google Podcasts, Apple Podcasts, Spotify, or Podchaser. Stay informed, stay inspired!
---
Interested in Ambire? Follow us:
Discord | X (Twitter) | Reddit | GitHub | Telegram | Facebook