How to withdraw funds on the AdEx Platform
This is a tutorial for publishers and advertisers on the AdEx platform who want to withdraw their funds to a wallet of choice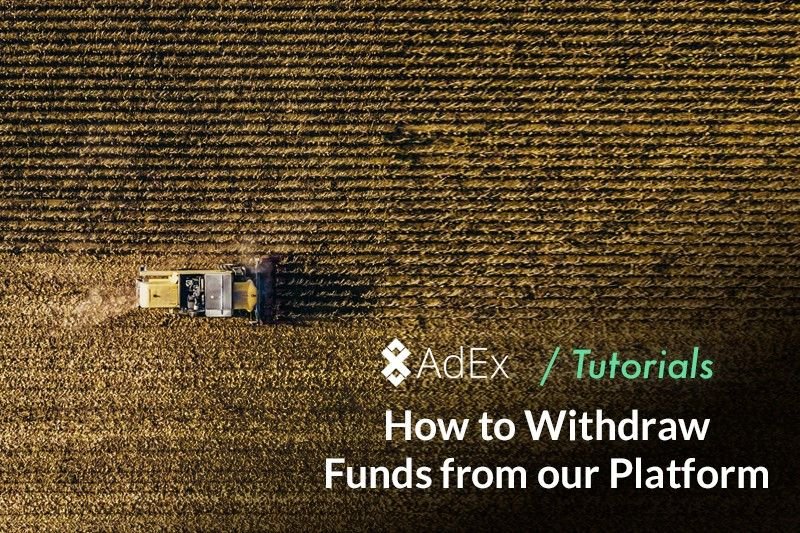 This is a tutorial for publishers and advertisers on the AdEx platform who want to withdraw their funds to a wallet of choice
The AdEx Platform is live and we are happy that our publishers are already generating revenue and effectively monetising their websites' traffic.
In this tutorial we'll show you how to withdraw funds in few simple steps. On the AdEx Platform there is no withdrawal limit and you can have your funds whenever you decide and transactions can be as little as you want — just make sure to have enough funds to pay the Ethereum network fees.
The steps are the same both for advertisers and for publishers.
Step 1: On your dashboard, click on "Account" in the left sidebar menu.
Step 2: In the Account section of your Dashboard, click on the blue "Withdraw from Identity" button.
Step 3: On the next screen, choose a valid wallet address and the amount of DAI you want to withdraw.
Important: If you don't have experience with DAI wallets or you don't have one, please read our tutorial "How to Get DAI Stablecoin" first.
Step 4: On the Transaction overview window you can once again check the info you entered. If you are ready hit "Withdraw".
Important: On this window you'll see the network fee. Make sure the sum you are withdrawing is larger than the network fee, otherwise the transaction will fail. In this case the network fee is 0.3 DAI and we are trying to withdraw 0.2 DAI. The transaction is impossible.
This is it. Now you know how to withdraw funds from the AdEx Platform, so you better start earning!