How to get DAI Stablecoin
A guide for everyone who wants to own DAI stablecoin — no matter if you are experienced with crypto or just starting.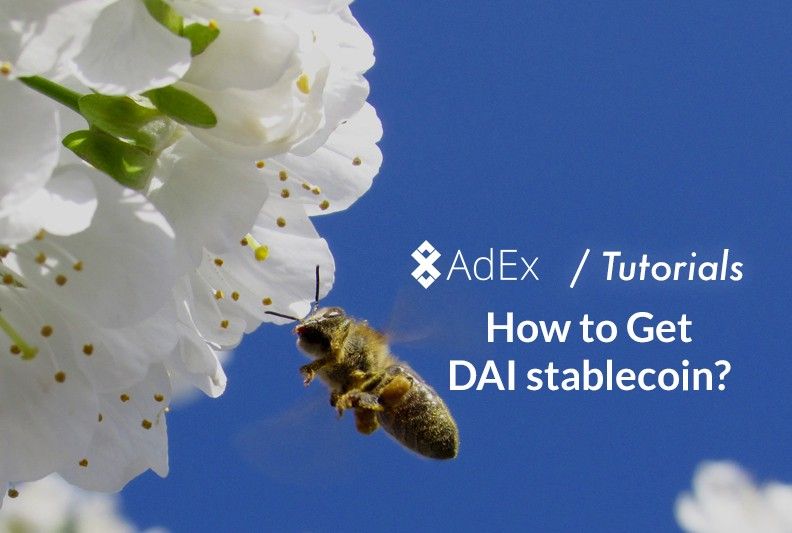 How to Get DAI Stablecoin
A guide for everyone who wants to own DAI stablecoin — no matter if you are experienced with crypto or just starting
This tutorial is written to help new advertisers on the AdEx Platform get DAI stablecoin — the payment currency used on our platform. Anyway, we hope that it might be useful to anyone willing to buy DAI.
What is DAI?
DAI is a stablecoin — a cryptocurrency that is fixed to another stable asset — In this case, the US dollar. It was introduced in 2014 by the MakerDAO Foundation and we believe that it is currently the optimal stablecoin to use on AdEx (and possibly the only truly decentralized one). To learn how it works, watch this video:
So let's see how you can buy DAI stablecoin.
Have you worked with cryptocurrency before?
If yes, skip this section and continue to the list of crypto exchanges, supporting DAI. If you haven't used any crypto currency before, let's start with a quick tutorial.
What is a crypto wallet?
A cryptocurrency wallet is a software program that stores private and public keys and interacts with various blockchains to enable users to send and receive digital currency and monitor their balance. You can watch this explainer video by Blockgeeks:
To store and use DAI we recommend the following Wallets:
How to buy DAI with fiat money?
If you don't have previous experience with cryptocurrency, you'll most likely buy crypto for fiat currency — USD, GBP or EUR probably.
To buy DAI with fiat you'll have to go to a crypto exchange supporting fiat pairs. Here are some of these exchanges:
To use an exchange, you'll have to pass KYC ("Know Your Customer") procedure, meaning that you'll have to verify your identity.
Why KYC ok
Exchanges operating with cryptocurrency, especially the ones that operate with fiat too, are liable before financial regulators and are mandated to have KYC procedures. This is why all recognized exchanges will ask their users to pass KYC procedures — usually submit photos of the user's face, valid ID document or bank statement.
Most people are concerned when a website asks them to upload their ID documents, but this is a standard procedure and to a certain extent it is a protective measure for the user too. If you are worried by KYCs, think of them as the procedures that are needed to open a bank account. Exchanges go the extra mile to ensure the security of the data they hold for their users.
How to get DAI with crypto
Experienced crypto users will most likely want to convert their existing crypto assets to buy DAI. All above-mentioned exchanges support crypto pairs with DAI, so here we'll add some crypto-only custodial exchanges that support DAI:
If you want to use token swap service to turn your crypto into DAI, you may use any of these:
If you are confident enough to use non-custodial crypto exchanges, these are the ones supporting DAI:
Disclaimer: The information above is only intended to inform you of various options. Please make sure to conduct your own research when selecting a wallet, exchange, etc. to use. AdEx Network cannot be held liable for any event that has occured based on you reading this article.
---
Interested in Ambire? Follow us: