How to Accept Bids as a Publisher
This tutorial will show you how to accept or cancel an active bid, and how to check your bids history on the AdEx Platform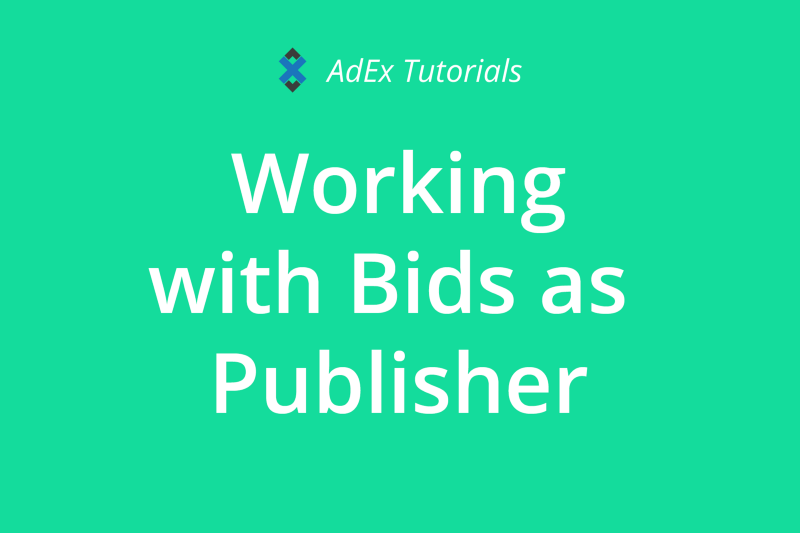 This tutorial will show you how to accept or cancel an active bid, and how to check your bids history on the AdEx Platform
In this series of short tips we will walk you through the AdEx platform to make sure you have all the information needed to take full advantage of it.
After you learned how to create publisher channels and added some ad slots to them, you are now ready to accept advertisers' bids. This step-by-step tutorial will show you how to do that.
Step 1: In order to see the open bids you have for a particular ad slot, go to the "Open bids" tab for the particular slot. There, you will be able to see all the available bids for slots of the same specifications.
Step 2: Once you select a bid you'd like to accept, click on the "Accept bid" button.
Step 3: On the next step, you will be able to preview the actual ad creative, as well as the bid details. If everything looks good, click on "Continue".
Step 4: On the next screen, you'll see the transaction details in plain text. Set your gas limit and gas price and click on "Sign and accept". Note that you must have sufficient ETH balance to sign and submit the transaction, otherwise you'll get an error message.
Step 5: At this point, you'll be asked to submit the transaction; click on "Submit".
Once you submit the transaction, you have successfully accepted the bid.
---
Checking bids history
Once you have accepted your first bid, you will notice a new tab appearing on the left — "Transactions". This is where you can check all the bids transactions.
You can also go to the particular ad slot you want to check, then select the "Active" tab.
When the ad starts rolling on your ad slot, you will be able to see how it is performing under the "Statistics" tab.
Now you have all the knowledge to start offering ad space on the AdEx Platform!
Ad more channels and ad units and make it rain!
If you have further questions or perhaps you would like to suggest improvements and/or new features, please do not hesitate to do so: You will find the AdEx team on our Discord channel.
A quick recap:
---
Interested in Ambire? Follow us: