AdEx Update — October 27, 2020
In the past couple of months we focused on the AdEx staking services and came up with a ton of new features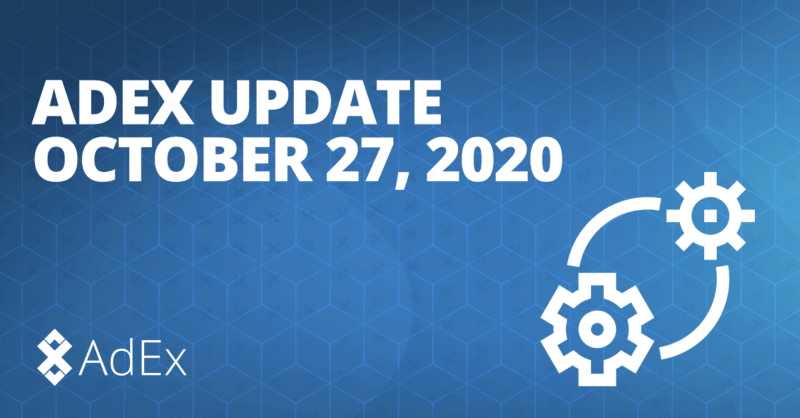 In the past couple of months we focused on the AdEx staking services and came up with a ton of new features
The past couple of months have been intense for AdEx Network, and for the DeFi world. We focused on the AdEx staking services and came up with a ton of new features. Of course, we kept working on the advertising platform as well. See what's new and improved.
Platform development and growth
We expanded the deposit options available to advertisers. They can now top up their accounts not only with DAI or credit cards but also with bank transfer and debit card deposits in various currencies. We have also enabled BTC, ETH and XRP top ups.
We expanded the platform targeting options so advertisers can now target by device — there's an option to select if your ads appear on desktop, mobile or both.
A number of small UX improvements have been added to make the use of our platform easier and more error-proof: tool tips, warning messages, etc.
Platform growth: We surpassed 4600 registered advertisers and publishers. We are processing roughly 35 million impressions (i.e. 35 million micropayments settled on Ethereum) per month.
Last but not least, we updated our product roadmap so that it's clear where we're headed.
If you are an advertiser looking to branch into cost-efficient, ethical, privacy preserving advertising for your products or services, sign up now:
START ADVERTISING WITH ADEX ◀️ ◀️ ◀️
AdEx Staking
A lot has been going on with the AdEx staking ecosystem during the past few months. Check out the highlights below:
If you have ADX tokens just lying around, not making you any money, put them to work:
START STAKING NOW 💰 💰 💰
AdEx in the news
---
Interested in Ambire? Follow us: