AdEx Update — May 15, 2020
As we are gearing up for what is going to be a very weird summer, our team is here with another update from the AdEx HQ.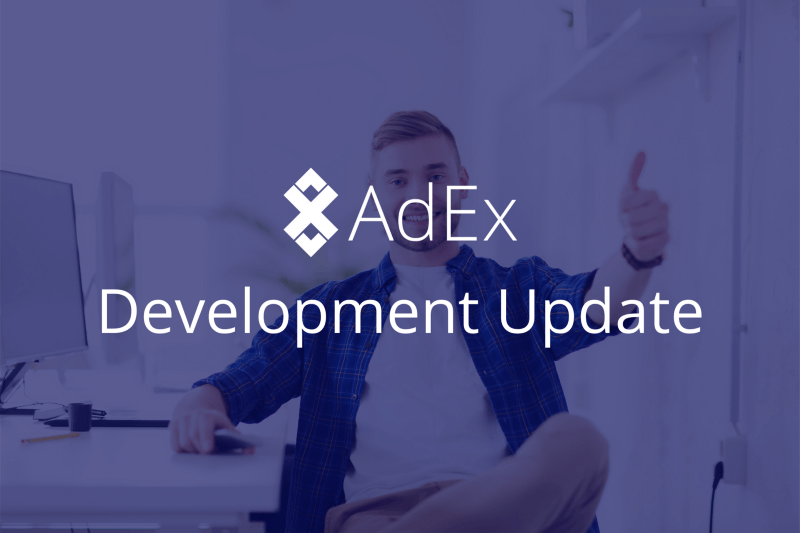 As we are gearing up for what is going to be a very weird summer, our team is here with another update from the AdEx HQ. Read on to learn what's new.
Platform
We have revamped our top up page, and we have added a few new payment options for funding your adex accounts. Advertisers can now use Wyre to make USD deposits by credit card, Ramp for bank transfer deposits in GBP and EUR, and PayTrie for bank transfers in CAD. Of course, you can still top up your account with DAI.
Publishers can now see which ads displayed on their channels perform best, and can also see a statistics breakdown by country.
We have added a new policy for accounts used both as a publisher and as an advertiser. If such an account launches an ad campaign, the ads from it won't be displayed on the publisher side of the same account so it doesn't "cannibalize" the budget. P- assback data can now be modified by publishers for every ad slot — they can edit both the fallback image and the URL.
We have introduced improvements for our receipts. We remind you that advertisers can get a receipt for every campaign after the end of the campaign, and publishers can generate receipts on a monthly basis.
We've made general improvements to the UI and UX of the platform for better performance, and we have fixed minor bugs.
Validators update
There is a new validator release available — we've named it X Æ A-12 and no, we have no idea how to pronounce that either. Sorry. See the release here.
Our Rust validator is now used in production. As our developer Lachezar, who's working on the Rust validator said, "this gives us the safety, reliability and performance that comes with the unique capabilities of the language. Because of this, most of the bugs are prevented while the Validator is still being developed. It uses the machine resources at their maximum capacity for more throughput with the safety in mind that comes from the language itself." Well, our Rust team definitely deserves a pat on the back!
What's coming up
On top of this, we are working on significant improvements of our targeting. We're bringing you enhanced geo targeting, various targeting categories, and the option to whitelist/blacklist publishers.
We're also releasing a neat page that will show publishers which are their verified channels and will allow them to re-submit channels that didn't pass the verification initially.
Growth and adoption
We are happy to report that our platform use keeps growing steadily. We have surpassed the 2,000 user benchmark, and we are currently serving an average of 70 million impressions per month.
If you are an advertiser looking to optimize your ad budgets and take advantage of ethical ads and 100% transparent reporting, you can still take advantage of our 30% cashback promo, learn more about it here.
Staking update
To date, there are more than 7 million ADX tokens staked — 7,396,791 to be precise. Staking rewards are being distributed monthly, so if you hold our native tokens and haven't staked them yet — you can do it through our staking portal.
Team growth
We are happy to introduce to you our new business development and sales associate — Veselina Yaneva. Veselina holds a BA in Social Studies and an MA in Organizational Studies and Business Development from the university of Tilburg in the Netherlands. She has extensive biz dev experience and is looking forward to driving up AdEx adoption.
---
Interested in Ambire? Follow us: