AdEx Update — February 24, 2020
Things have been going great at AdEx — since we opened the platform for free registrations, we have seen some amazing growth.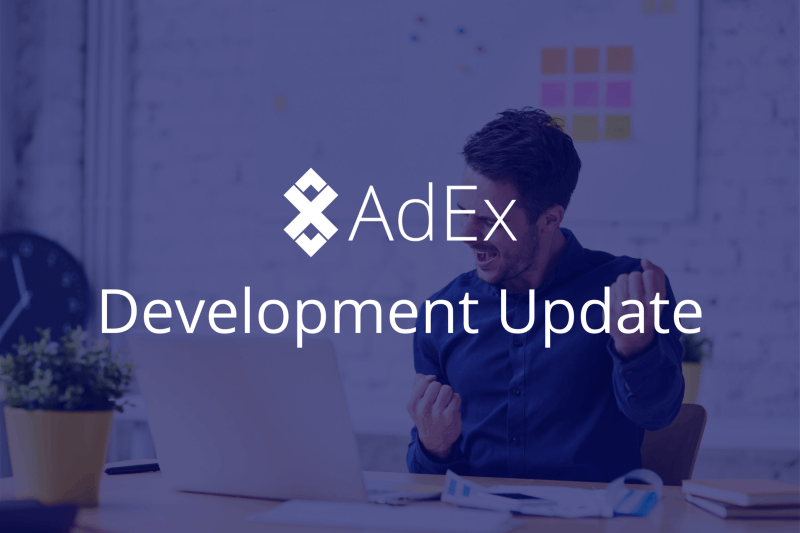 Things have been going great at AdEx — since we opened the platform for free registrations, we have seen some amazing growth. As usual, we're working day and night to ensure that our platform delivers the performance and features our advertisers and publishers expect — check out what's new below.
Platform
Withdraw bugfixes: We have fixed several different withdrawal bugs; all of the bugs only prevented withdrawals when a user tried to withdraw the maximum amount in their accounts but this has now been solved and withdrawals work as expected.
Analytics improvements: the analytics data now loading faster, and displays revenue more accurately.
We remind you that you can already download reports/receipts for your completed campaigns.
We have introduced account usernames. This was mentioned in our previous update as "Account ENS" but we changed it to "Username", which is much friendlier.
We have changed the way revenue is displayed when it's spread over channels and is insufficient to cover the channel sweep fees. Read more about it here.
New ad policy
Starting February 24, 2020, we implemented a new policy: publishers are only allowed to have 2 ad slots per page. In addition, the two slots must be of different sizes; for example, you can have 1 banner which is 728x90 and another one which is 250x300 but you can't have two ad slots that are both 250x300.
For publishers, this improves user experience for your users, but does not hurt your revenues since impression payments are rate-limited anyway. For advertisers, this ensures your ads are adequately placed without too much surrounding noise.
Platform growth
We have currently surpassed 190 million monthly impressions — more than 100% growth since our last update a couple of weeks ago. The number of platform users is also growing steadily, and needless to say, our team is thrilled to see this adoption rate.
Incident report
On February, at approximately 12:00 CET, we had an unplanned downtime of various functionalities of the Platform and all ad serving for about 4 hours. This was caused by overwhelming traffic to a critical component, the Market. Since all ad campaigns are currently sourced by the Market, all ad serving stopped. Some Platform functionalities also depend on the Market.
The validators were unaffected, and no impression payments were dropped/lost. As far as we know, the system fallbacks worked as intended, with the AdView collapsing or displaying the fallback image.
We discovered misconfigured caching policies, which would, by design, ease the load on the Market. As soon as we fixed those, the CPU load dropped from approximately 100% to around 10% and we started handling requests properly.
We appreciate the patience and understanding of everyone affected.
Scheduled maintenance
To ensure we are able to cope with the rapidly increasing loads, we've scheduled a maintenance window on March 2, 2020, most likely during business hours (9:00–17:00 CET).
During this time, parts of the Platform may become unavailable, and ad serving might stop (the fallback image will be displayed or the ad will be collapsed in the absence of a fallback image). No payments for actually generated impressions will be lost, but there might be periods with zero impressions.
We will perform upgrades to the Tom and Jerry validators, which should ensure they're horizontally scalable and able to handle increasing loads.
AdEx in the news
---
Interested in Ambire? Follow us: