[deprecated]AdEx Tutorial: Placing a Bid for an Ad Unit
Once you have successfully created your ad units, you can go ahead and place bids for them. This step-by-step tutorial will show you how to…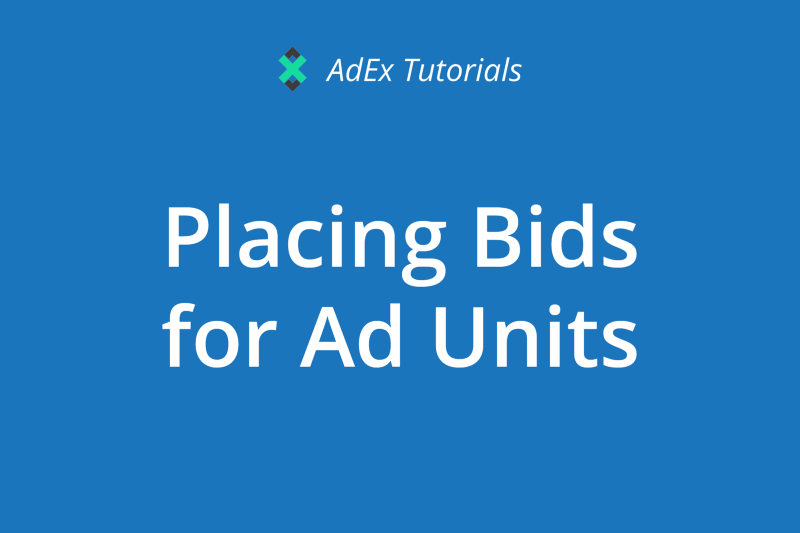 Once you have successfully created your ad units, you can go ahead and place bids for them. This step-by-step tutorial will show you how to do that.
NB: You will need to have ADX tokens in your AdEx Exchange in order to place a bid. See our tutorial about adding tokens to the Exchange.
Keep in mind that each accepted bid guarantees you placement on one publisher slot, so if you want your ad to appear with more than publisher, simply place more bids. You can place as many bids as you want for each of our ad units.
Step 1: Go to your advertiser dashboard, then select "Ad units".
Step 2: Select the ad unit, for which you want to place a bid, and click on "View".
Step 3: When you've opened the unit, click on the little blue bid icon in the upper right corner of the screen.
Step 4: There are now three things you need to specify:
Clicks target: the number of clicks you want your ad to achieve;
Bid amount: the amount of ADX tokens you are bidding for your entire click target;
Timeout: the period, for which you want the ad to run.
When you're ready, click on "Continue".
Step 5: Check if all the details you entered are correct, and if they are, click on "Place the bid".
Step 6: Sign the transaction in the Metamask window that will pop up.
Once you sign, the bid will appear on the ad unit page.
To place more bids, simply repeat the steps above.
---
Interested in Ambire? Follow us: