AdEx Tutorial: How to Create a New Advertising Campaign
This is a quick tutorial on creating an advertising campaign on the AdEx Platform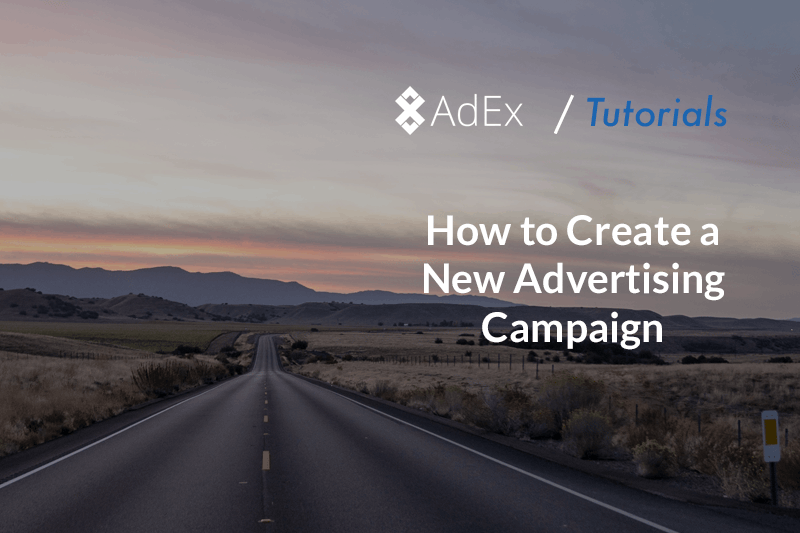 This is a quick tutorial on creating an advertising campaign on the AdEx Platform
In this series of short tips we will walk you through the AdEx platform to make sure you have all the information needed to take full advantage of it.
"Campaign" definition
On AdEx Network a campaign is a group of different ad units (or just one), where timelines and bids are applicable for the entire campaign, and targeting may be specific for each ad unit.
Now that we have cleared this up, let's see how to create campaigns.
How to create a new advertising campaign on the AdEx Platform
Step 1: Make sure you are logged on the AdEx platform as an advertiser. On the sidebar menu click on the "New Campaign" blue button.
Step 2: On the next screen, choose which existing ad units to assign to your campaign. If you don't have any, go back to the first tutorial on creating ad units.
Step 3: On the next screen, set the validators, the campaign total budget, your CPM price and start and end dates of your campaign. When you click on the dates slots, small calendar will open for you to select dates, then hit "Continue".
Choosing validators: For now you have one option for advertising platform validator and one for publisher platform validator. Very soon you'll be able to choose among different validators.
Step 4: Preview your campaign and check if everything looks good. If you need to make any edits, use the "Back" button. If things look fine, just save it.
Your campaign is now created and it will start running whenever the "Start date" is set.
Something's not the way it should be? Go to our Discord channel or contact you AdEx point of contact and we'll be happy to help.
---
Interested in Ambire? Follow us: