[deprecated]AdEx Tutorial: Adding an Ad Unit to an Advertising Campaign
In a previous tutorial we already explained that campaigns in the AdEx DApp are there to help you organize your active, running ads — but…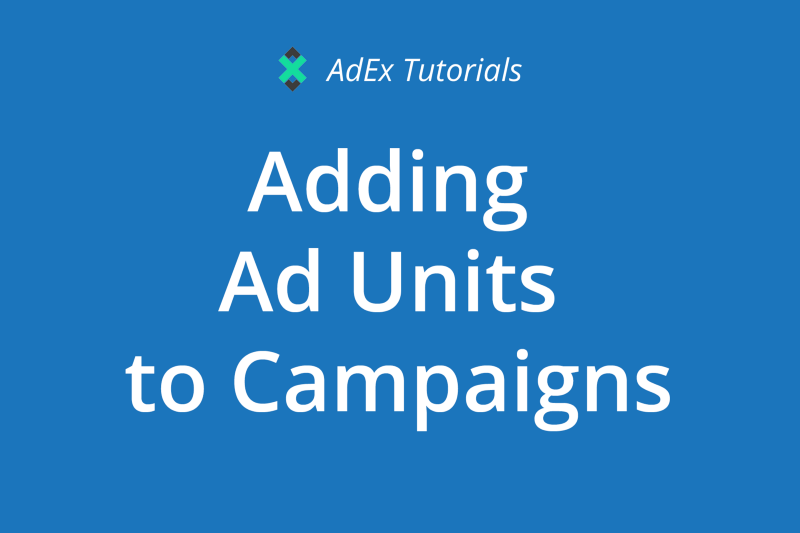 In a previous tutorial we already explained that campaigns in the AdEx DApp are there to help you organize your active, running ads — but settings like targeting, time frames and bids are set on an ad-unit level.
If you would like to link certain ad units to a particular campaign, there are two ways to do that — by creating a brand new ad unit within the campaign, or by linking an existing unit and a campaign.
Option 1: Create new unit in a campaign
Step 1: Go to the "Campaigns" section of your account.
Step 2: Select the one you want to work with and click on "View".
Step 3: Once you've opened the campaign, click on the orange link that reads "Add new unit to this campaign".
Step 4: Make sure that the "New ad unit" tab is selected (it's the default tab).
Step 5: From there on, the steps replicate creating a new unit from the "Ad units" section of your account (see detailed tutorial here):
Step 6: Once you've saved the ad unit, it will show in the campaign.
Option 2: Link existing unit to a campaign
If you have already created your campaign and your ad units separately, you can link them to each other.
Step 1: Open the campaign to which you want to add a unit or more, then select the "Existing ad unit" tab:
Step 2: Click on the little green plus sign next to the unit you'd like to add to the campaign:
The unit will then be added to the campaign.
---
Interested in Ambire? Follow us: