[deprecated]AdEx Tutorial: Accepting Bids as a Publisher
This tutorial will show you how to accept or cancel an active bid, and how to check your bids history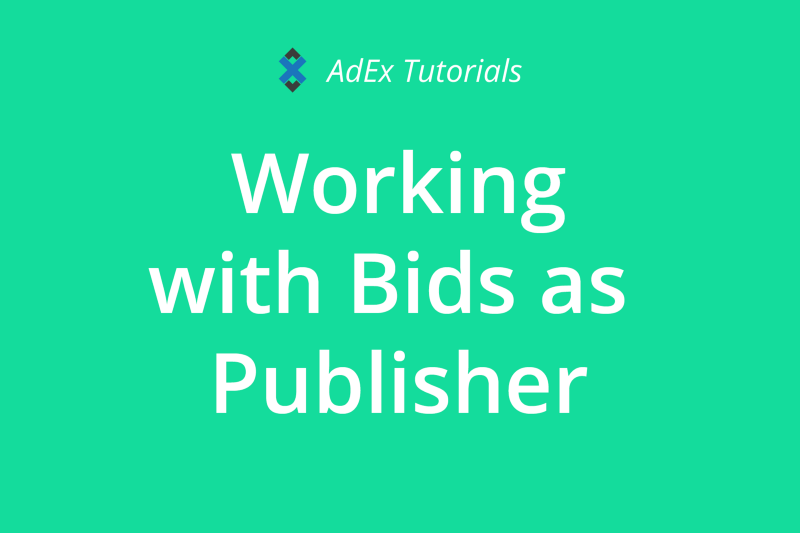 This tutorial will show you how to accept or cancel an active bid, and how to check your bids history
Step 1: In order to see the open bids you have for a particular ad slot, go to the "Open bids" tab for the particular slot. There, you will be able to see all the available bids for slots of the same specifications.
Step 2: Once you select a bid you'd like to accept, click on the blue "Accept bid" button.
Step 3: On the next step, you will be able to preview the actual ad creative, as well as the bid details. If everything looks good, click on "Continue"
Step 4: On the next screen, you'll see the transaction details in plain text. Click on "Sign and accept".
Step 5: At this point, you'll be asked to submit the transaction using Metamask. Set your gas limit and gas price, then click on "Submit". Note that you must have sufficient Ether balance to sign and submit the transaction, otherwise you'll get an error message.
Once you submit the transaction, you have successfully accepted the bid.
---
Checking bids history
Once you have accepted your first bid, you will notice a new tab appearing on the left — "Transactions". This is where you can check all the bids transactions.
You can also go to the particular ad slot you want to check, then select the "Bid History" tab.
---
Canceling an active bid
If for some reason you would like to cancel an active bid, go to the respective ad slot, then select the "Bid history" tab and click on the green button "Give up button". Please note that if you cancel an active bid before it is completed, you will not be paid, even if the ad has already generated clicks or impressions.
---
Interested in Ambire? Follow us: