5% Upbit Staking Bonus: How to Get It
Last week we announced that we have a special bonus for anyone who was affected by Upbit delisting AdEx.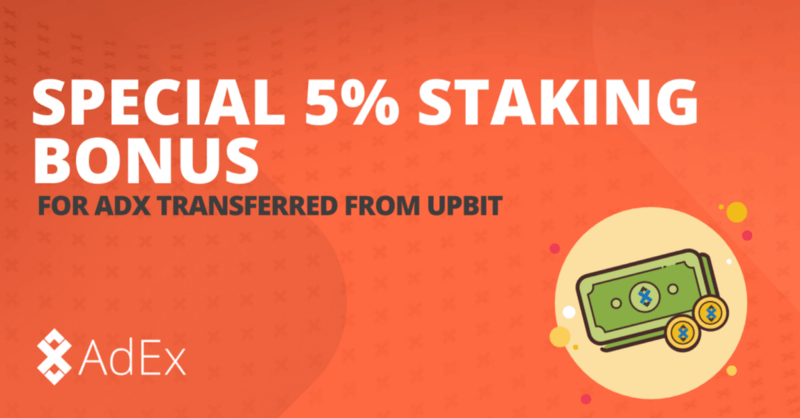 Last week we announced that we have a special bonus for anyone who was affected by Upbit delisting AdEx.
The bonus is available to anyone who has tokens on Upbit and chooses to move them to the AdEx staking portal instead. Here's all you need to know about it.
What is the bonus amount?
The bonus will be 5% of the amount you have staked. However, we like to give back to our community so if the total number of ADX staked within the bonus period exceeds 5 million tokens, we will bump the bonus amount to 10%!
When is the bonus valid?
To become eligible for the special bonus, you need to move your tokens between June 18 and June 30, 2021.l
Can I take advantage of gasless staking?
Indeed you can! In fact, gasless staking was designed precisely for cases like this — staking directly from an exchange and optimizing gas costs. The only requirement to benefit from gasless staking is to transfer 5,000 tokens or more.
What do I need to do to claim the bonus?
If you move ADX from Upbit to AdEx Staking, you don't need to do anything to claim the bonus. On July 1, we will carry out an airdrop and everyone who is eligible will receive their bonus automatically.
Can I get the bonus if I move my tokens from another exchange, and not from Upbit?
Unfortunately not. However, our team is constantly trying to come up with lucrative bonuses so keep an eye on our profiles to make sure you don't miss any future promotions.
What wallets does the AdEx staking portal work with?
To stake ADX on our staking platform, you need either Metamask, or a WalletConnect compatible wallet except TrustWallet.
Different wallets integrate the WalletConnect protocol in different ways, so some of our users have reported having difficulties with it. This is why we recommend using Metamask.
I have never used metamask before, how do I get started?
Metamask is a very user-friendly wallet. If you have never used it before, you may want to check out this easy and detailed tutorial on getting started with Metamask.
Does it matter which staking pool I choose?
No. Both the Validator Tom and the Loyalty staking pools make you eligible for the bonus.
Keep in mind that the Loyalty pool is not accepting new stakers because it has reached its cap — someone needs to unstake in order to free more space in it.
Where are the bonus tokens coming from?
The tokens for the bonus will come from the ADX buybacks we perform on a regular basis.
I want to learn more about AdEx Staking, where do I start?
Our team has put together a neat guide, find it in our help center: Get started with AdEx Staking. You can also join the conversation in our Telegram chat to meet other members of the AdEx community.
---
---
Interested in Ambire? Follow us: